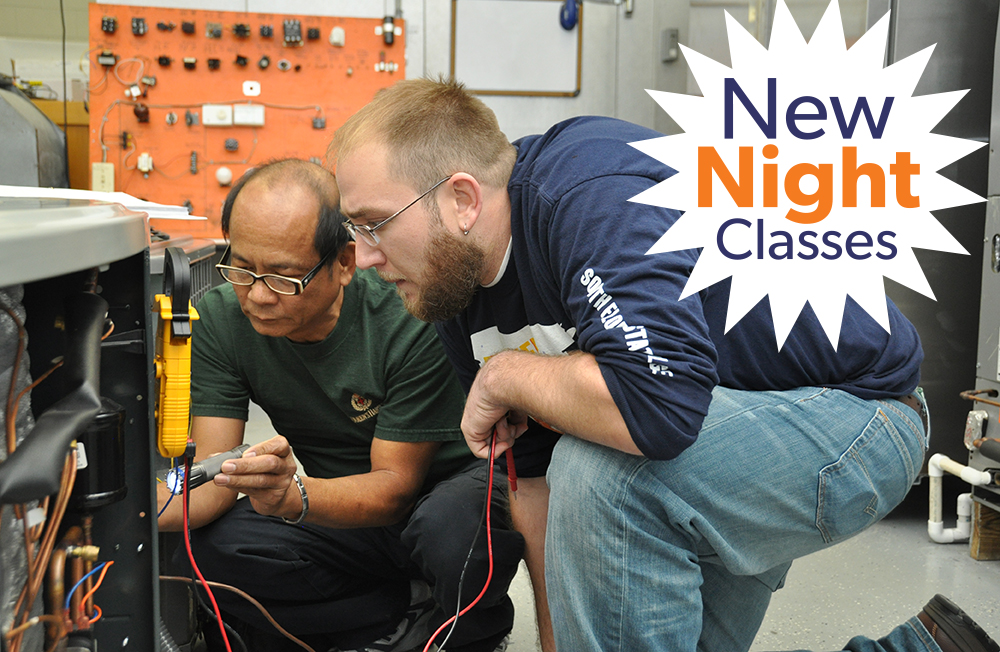 Become a commercial air conditioning and heating technician by attending approximately one year of daytime classes or 22 months of evening classes.
Through classroom instruction, hands-on practice in SFSC's HVAC laboratory, and internships with local air conditioning contractors, you will:
Learn how to inspect, maintain, and repair air conditioning and heating systems
Benefit from flexibility in scheduling and planning your educational program
Earn an occupational certificate
Achieve EPA Refrigerant Containment Certification
Learn Valuable Skills
HVAC technicians install, maintain, and repair complex new systems and must be comfortable with using computer technology to troubleshoot problems. SFSC's experienced HVAC instructors will teach you:
Fundamentals of residential and commercial air conditioning and heating systems
Electrical systems and controls
Troubleshooting electrical and refrigeration issues
Energy management
Indoor air quality
Maintaining and repairing ice machines
Earn Your Certificate Through Day or Evening Classes
Beginning in January 2017, students will have the option of completing the Air Conditioning, Heating, and Refrigeration occupational certificate through daytime or evening classes. Students can complete the program in approximately 16 months by attending daytime classes or 22 months by attending evening classes.
The new evening classes will meet 6-10 p.m., Monday-Thursday, at the Highlands Campus. For more information, email Tom Bush or call 784-7117.
The evening program is accepting students for these terms:
| | |
| --- | --- |
| First: | Jan. 4-April 26 |
| Second: | May 8-Aug. 22 |
| Third: | Aug. 29-Dec. 14 |
Financial aid is available. To apply for student grants and loans, complete the online Free Application for Federal Student Aid (FAFSA) today. Contact the Financial Aid Office if you need assistance completing your FAFSA.
Career Opportunities
In Florida, central air conditioning and heating systems are standard components in every building, from small homes to hospitals, schools, shopping centers, and business complexes. Florida's subtropical climate and growing population causes it to rank among the states with the highest demand for HVAC service workers.
The Department of Labor's Bureau of Labor Statistics predicts that the demand for HVAC technicians will grow by 14 percent through 2024, much faster than average for all occupations. For this technically demanding work, HVAC employers give preference to applicants who have completed an occupational certificate training program or apprenticeship.
Commercial Air Conditioning Apprenticeship
If you are already employed in the air conditioning industry and would like to advance your career, learn how the Commercial Air Conditioning Apprenticeship Program may be for you.
More Information
Tom Bush
Chair, Technical-Industrial Education
Professor, Commercial Air Conditioning Technology
thomas. bush@southflorida.edu
863-784-7117