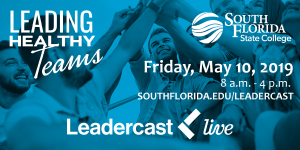 Leadercast 2019: Leading Healthy Teams
Leadercast Live is the largest, one-day leadership event on the planet and on Friday, May 10, South Florida State College will become one of 700 locations worldwide to host the simulcast. For an admission fee of $50 per person, you can attend an all-day event and hear inspiring broadcasts by nine global achievers:
Juliet Funt, CEO, Whitespace at Work
Ginger Hardage, former senior vice president of culture and communications, Southwest Airlines
Carla Harris, vice chairman and managing director, Morgan Stanley
Gayle King, co-host, CBS This Morning, and editor-at-large, O, the Oprah Magazine
Dr. Caroline Leaf, communication pathologist and cognitive neuroscientist
Patrick Lencioni, founder, The Table Group
Marcus Samuelsson, award-winning chef, restaurateur, author, and TV personality
Craig Springer, executive director, AlphaUSA
Andy Stanley, leadership communicator and best-selling author
A breakfast and networking period will begin at 8 a.m., followed by Leadercast from 9 a.m. to 3:30 p.m. Lunch is included with admission. You may attend all or any portion of Leadercast. For more information on the Leadercast event at the SFSC campus in your community, contact:
Tina Gottus
Highlands Campus
863-784-7388

Asena Mott
DeSoto Campus
863-784-7040

Teresa Crawford
Hardee Campus
863-784-7061
To attend, call 863-784-7405. Provide registration with the following course number:
Highlands event CRN 30721, Hardee event CRN 30723 and DeSoto event CRN 30722.
Continuing Education Credits are offered for attending:
Nursing – 4.75
Human Resources – 4.75
Professional Development – .4
Title Sponsor:

Gold Sponsor: