UPDATE: Tomorrow's Million Dollar Hole-in-One Golf Shootout will be delayed one hour until 9:30 a.m. due to frost. For questions about the event, please contact foundationmail@southflorida.edu.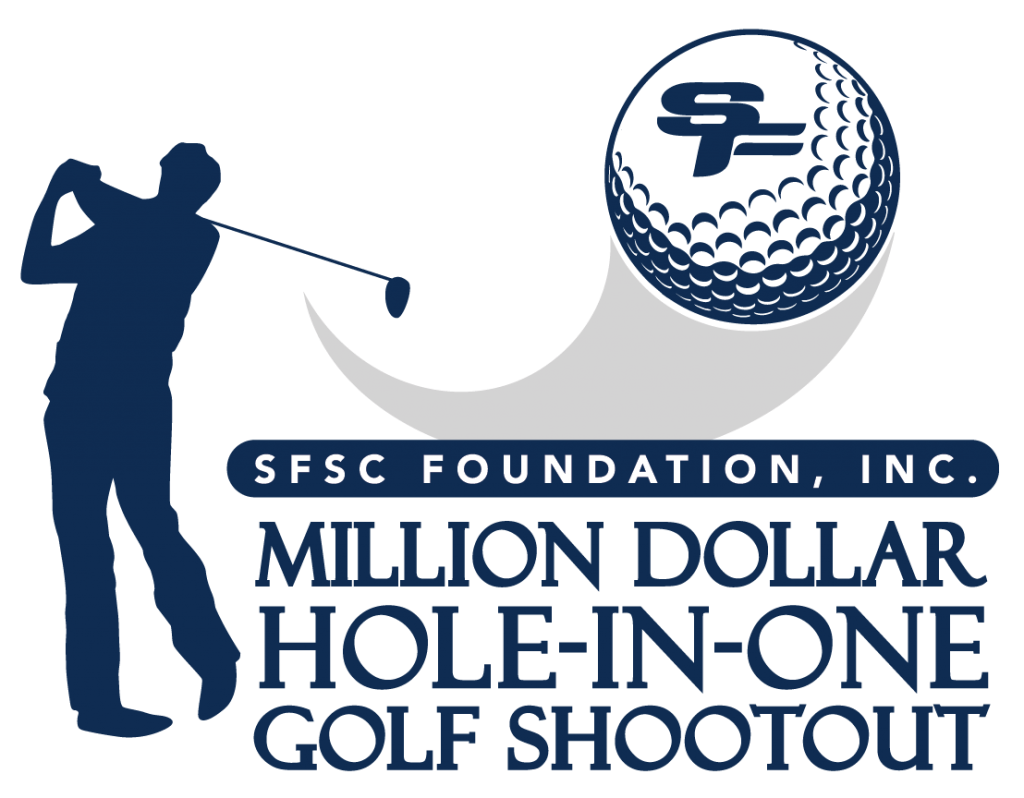 Million Dollar Hole-in-One Golf Shootout Flyer (PDF)
The SFSC Foundation will host its inaugural Million Dollar Hole-in-One Golf Shootout Jan. 18-20, 2018, at the Sun 'N Lake Golf & Country Club in Sebring. Proceeds benefit SFSC's Athletics programs.
Qualifying rounds take place, Thursday, Jan. 18, and Friday, Jan. 19, from 8:30 a.m. to 5:30 p.m., at the Sun 'N Lake Golf Club in Sebring. The qualifying shots will be from approximately 135-150 yards. The cost to participate in $10 per bag of 10 golf balls. Cash, checks, and credit cards will be accepted.
Twelve golfers will advance to the final round on Saturday, Jan. 20, to compete in the $1 Million Hole-in-One Shootout at 9 a.m.
Each golfer participating in the final shootout will get one shot for a hole-in-one from 165 yards away.  A $1 million annuity, payable over 40 years, will be awarded if a contestant does make a hole-in-one during the final shootout with second place receiving $250, third receiving $100 and fourth receiving a $50 gift card from Sun 'N Lake Golf Club. Should more than one contestant make the hole-in-one in the finals, the $1 million prize will be split equally. Should no one make the hole-in-one, then the closest to the hole will win $500 and the second, third and fourth place prizes will be awarded as described above.
All amateur golfers, age 18 and older, are eligible to try for the $1 million prize.  A contestant is an amateur if they meet the USGA Rules of Amateur Status on the date of the event. If a participant currently holds or has ever held a card issued by the PGA Tour or similar international governing body, he or she is considered a Tour Professional, regardless of whether or not they are active.
Sponsorship opportunities are available. For more information or to reserve your sponsorship, call the SFSC Foundation at 863-453-3133 or email foundation@southflorida.edu.
Award Sponsor
For a donation of $1,500, you will receive:
Name on award table
Four breakfast tickets for Saturday shootout
Golf sign on qualifying range
Signage/banner at tournament
Four entries in qualifying round
Hitting Zone Sponsor
For a donation of $250, you will receive:
Golf sign on qualifying range
Name at registration area
One entry in qualifying round
Qualifying Round Sponsor
For a donation of $100 you will receive:
Golf sign on qualifying range
Event Sponsor

Media Sponsors