Summer Cyber Workshop
Although the workshop will not be offered during summer 2021, we look forward to bringing it back in summer 2022.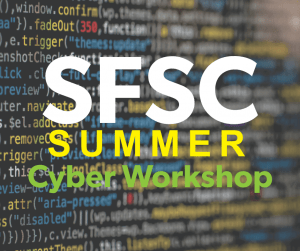 For more information, call 784-7032
Dates:
Week 1

Minecraft Coding Tech Camp
Don't just play Minecraft, create your own world! If your child loves Minecraft and wants to learn how to design and program new ideas into their worlds, then join us in this awesome Minecraft Coding Tech Camp. 
What Kids Will Learn
In Minecraft Coding Tech Camp, kids become the ruler of their own world, controlling their mobs and creatures while learning to change, customize, and edit their Minecraft territory. Kids learn how to code with a block-based visual programming language, using if-then and while-do statements, variables, and loops. With these tools, they automate processes inside the game, such as farming and mining.
Code Builder is a feature that allows students to learn coding in Minecraft using tools like Code.org, Tynker, Scratch, and Microsoft MakeCode. Students can use blocks of code to build and create in Minecraft.
Minecraft also helps prepare students for the future workplace, building skills like collaboration, communication, critical thinking, and systems thinking. The open learning environment gives students the freedom to experiment, encouraging creative self-expression and problem solving.
Week 2

Summer Cyber Workshop
The SFSC Highlands Summer Cyber Workshop is a five-day technical camp designed to excite middle school students about cybersecurity and STEM career opportunities. Students will learn important cyber defense skills to protect their personal devices and information from outside threats through hands-on instruction and fun activities in a well-equipped computer training classroom. Instructors use curriculum developed by the U.S. government and prominent industry leaders.
Time:
7:30 a.m. – 12:30 p.m.
Fee:
$95 per week, includes breakfast, but no lunch
Who can attend?
Students who have completed grades 6 – 8.