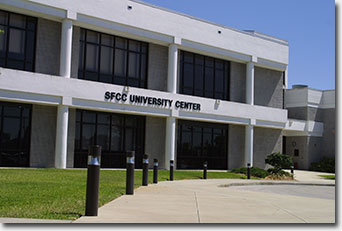 Welcome
South Florida State College is accredited by the Southern Association of Colleges and Schools. To provide options for upper division degrees, SFSC has partnered with several public and private colleges and universities to provide degree programs close to home. Our partnership degree programs offer the same high-quality degrees that are provided on the home campuses. However, at the SFSC University Center your classes will be smaller, so you will receive more personal attention and may experience more social interaction with your peers. Classes are offered primarily at the Highlands Campus. Some programs offer classes through distance education, including Web-based and online options.
Majors are offered in:
Bachelor's Degrees
Master's Degrees
Eligibility
Because the SFSC University Center programs are designed as 2+2 partnerships, students are expected to have completed an associate in arts degree (A.A.) or associate in science degree (A.S.) or have earned 60 credit hours of college-level classes before applying to the upper division institution.
Students who have completed bachelor's degrees must still meet the university admission requirement of the institution being considered.
Students who do not have an A.A. or A.S. degree may request individual evaluations to determine their eligibility.
Program Descriptions
Bachelor's:

Master's:

Schools: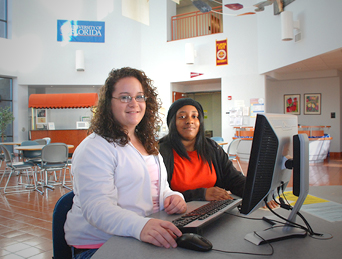 Steps to get started:
Select your program/degree

Contact the SFSC University Center to obtain information on the various programs or the program of your choice. After you have reviewed the information and would like to meet with someone to pursue admissions, etc., call, e-mail or stop by the SFSC University Center. We will direct you to an advisor from one of our partnering schools. The advisor will be able to answer your questions about their programs, prerequisites, admissions standards, transcripts, and tuition.

Apply for admission

Apply to the school of your choice (from the list below). You are eligible to become a SFSC University Center student after you have completed your A.A. or A.S. degree or have completed the equivalency of your freshman and sophomore year of college. Applications may be completed online (click appropriate link from within selected school list below), or pick up a hard copy application form at the SFSC University Center.

You must meet the admission requirements of the partner school, which becomes your home campus while you are attending classes at the SFSC University Center. The courses for your degree program will be taught at the SFSC University Center at the Highlands Campus, or may be offered through distance learning via the Web or two-way interactive TV.

Apply for financial aid

Students interested in receiving grants, loans, or other financial aid must complete the FAFSA. Contact the Office of Financial Aid through the home campus. Phone numbers and Web sites are listed below.

Register for classes

Each partner institution has its own specific registration process. The SFSC University Center will direct you to the program advisor who will assist you with registering for classes and paying your fees.

The tuition and fees to attend the partnership institution is the same as the cost of attending the home campus in most instances. Some colleges or universities may offer a tuition discount. Check with the program advisor to find out.

Attend class

Classes are offered primarily in the evenings, which cater to students who have commitments during the day. However, some programs that meet as a cohort group may require some day time and/or weekend attendance. Your program advisor will explain these requirements before you enter the program. Most SFSC University Center classes meet on the Highlands Campus, located at 600 West College Drive, Avon Park, Fla.

Note: The Organizational Management Program meets at the Hardee Campus in Bowling Green, Fla., on U.S. Highway 17 North.