Foundation-Sponsored Events
Howl at the Moon Dueling Pianos
Performing at

The SFSC Foundation Legacy Showcase and Fundraiser
May 7, 2022, Alan Jay Wildstein Center for the Performing Arts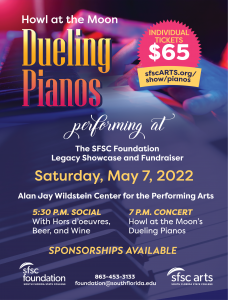 5:30 p.m.: Social with hors d'oeuvres, beer, and wine
7 p.m.:  Howl at the Moon Dueling Pianos Concert
Plan to attend this fun evening filled with the musical entertainment featuring the Howl at the Moon. The piano-playing vocalists take song requests from the crowd; no genre, decade, or artist will stump these expert entertainers! Song request donations will benefit the SFSC Foundation. Come out and have a good time while supporting SFSC students.
Tickets are $65 per person and will be sold online starting March 25. Tickets can purchase HERE.
Sponsorship opportunities are available. For more information, call the SFSC Foundation at 863-453-3133.
Orange Sponsors 
Terry and

Filomena

Atchley
Blue Sponsors
| | | |
| --- | --- | --- |
| The Avanti Company | Bowen and Son Roofing, Inc. | Jane and David Durando |
| | | |
| --- | --- | --- |
| David and Michelle Leidel | Dr. Tom and Nancy Leitzel  | Turner Furniture |
SFSC Foundation Jacaranda Jubilee

Nov. 28, 2022, Veranda of the Hotel Jacaranda
Join us for a festive evening of hors d'oeuvres, desserts, drinks and music while viewing the Avon Park Christmas parade from the veranda of the Hotel Jacaranda. We will showcase our student culinary chefs as they prepare and serve the hors d'oeuvres. Feel the holiday cheer as we kick of the season with this jubilee!
Reservations required: $60/reservation
SFSC Foundation Giving Tuesday
Nov. 29, 2022, online all day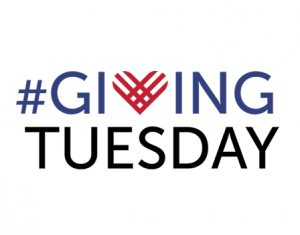 The Tuesday after Cyber Monday is set aside as the "Opening Day of the Giving Season." On this day of national giving, we invite you to pause and contemplate the good you can do to enrich the lives of our current and future students at South Florida State College. We are counting on you to help us continue serving our SFSC community. We ask that you plan to set aside any dollar amount that fits within your budget and donate on #GivingTuesday to the SFSC Foundation to support today's students, tomorrow's leaders. Every dollar counts!
On Giving Tuesday and every day, make an online donation to the SFSC Foundation.
SFSC Foundation Christmas Luncheon
Dec. 8, 2022, Dining Rooms of the Hotel Jacaranda
Dine at the grand ol' Hotel Jacaranda for a delicious holiday meal and peruse the holiday décor throughout with friends and/or family. Socialize with your friends and neighbors in and around our community, feeling the holiday cheer. We thank you for you for your support of the SFSC students, our future leaders.
Reservations required: $50/reservation.
SFSC Foundation Million Dollar Hole-In-One Golf Shootout

Jan. 12-14, 2023, Sun 'N Lake Golf Club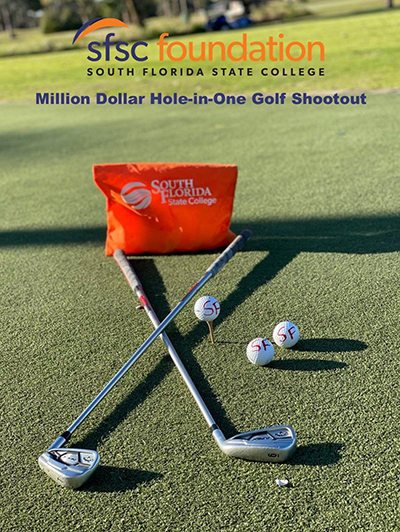 Head out to the Sun 'N Lake Golf Club's driving range and aim for closest to pin on Thursday, Friday, or Saturday. The top 12 closest to pin, our leaderboard, will be asked to come back and try their best to swing for a hole-in-one on Sunday on the 18th hole of Deer Run golf course. Hit the hole-in-one, and you win $1,000,000.
All golfers are welcome. The cost is $10 for a bag of 10 balls, and you can purchase an unlimited number of bags. If you qualify on the leaderboard but get bumped off by another competitor, you can come back and battle your way back on the leaderboard until the qualifying rounds end on Saturday, Jan. 14. This event benefits SFSC Athletics.
Qualifying Rounds at the Driving Range
Thursday and Friday, Jan. 12-13 at 11:30 a.m. to 5:30 p.m.
Saturday, Jan. 14 at 7:30 a.m. to TBD
Shootout at the 18th Hole
Sponsorship opportunities are available. For more information, call the SFSC Foundation at 863-453-3133.