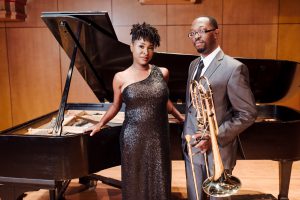 June 7, 2022 – South Florida State College (SFSC) Performing Arts presents The McCain Duo on Thursday, June 16 at 7 p.m. at the Alan Jay Wildstein Center for the Performing Arts in a free concert in recognition of Juneteenth. Hailing from Mobile, Ala., the McCains are dedicated to promoting the works of Black and other underrepresented composers. Gospel singer Andrea Mathis, together with family and friends, will also perform.
Described by the Dallas Arts Society as a pianist with "power and finesse" and by the Austin Chamber Music Center as having a "sense of color, balance, and texture," Artina McCain has built a three-fold career as a performer, educator, and speaker. Recent performance highlights include guest appearances with the Oregon East Symphony, the Memphis Symphony Orchestra, and the Austin Civic Orchestra. As a recitalist, her credits include performances at the Mahidol University in Bangkok, Hatch Recital Hall in Rochester, Cummer Museum of Art and Gardens in Jacksonville, Fla., and the Desoto Arts Commission in Desoto, Texas. 
Bass trombonist Martin McCain's career spans an impressive range of musical genres. He is a four-time winner of the Global Music Awards and was featured as their "Emerging Artist" in Billboard magazine. A third-generation musician, McCain maintains a versatile performance schedule as a soloist; recording artist; chamber, orchestral, and jazz/commercial musician; and educator. With performances described by the International Trombone Association Journal as "solid and masterful" with what Glissando Magazine calls a "warm and beautiful tone."
The duo has performed throughout Asia at Mahidol University in Thailand, The University of Toronto in Canada, and Radio Television Hong Kong. U.S. highlights include performances at the Gateways Music Festival in New York, the American Trombone Workshop in Virginia, The Great American Brass Band Festival in Kentucky, and most recently the Music Teachers National Association Convention. Their concerts and recordings have been broadcast on NPR's Performance Today, CKWR Toronto, and KMFA Classical Austin.
"The McCains are known for their inspiring mix of classical, jazz, and gospel programming," said Cindy Garren, director of cultural programs at SFSC. "The audience can expect to hear a range of music from George Gershwin to 'Battle Hymn of the Republic.' It will be a lovely musical celebration and I encourage folks to observe Juneteenth at the Wildstein Center."
The free performance is supported in part by a grant from the National Endowment for the Arts. Tickets are available at sfscARTS.org and also at the door. The Alan Jay Wildstein Center is located on the Highlands Campus of South Florida State College at 600 West College Drive in Avon Park. Parking is free and the concession stand accepts cash only.