The primary purpose of the Foundation is to solicit, receive, and manage charitable donations in support of South Florida State College (hereinafter call the College), its programs, staff and students. The Foundation is an organization which the Board of Trustees of the South Florida State College (herein after called Board of Trustees) after review, has annually certified to be operating in a manner consistent with the goals of the College and the best interests of the State. The Foundation recognizes that the Board of Trustees will review the Foundation annually for certification purposes. In addition, the Foundation shall create an environment conducive to "Friend-Raising" in support of the College and shall plan and conduct such special functions and ancillary activities as may be beneficial to the Foundation and the College.
The SFSC Foundation provides financial support for today's students with the opportunity for enhanced access to an affordable, quality education, training, and experience they will need to excel as tomorrow's leaders.
As a partner in building a better community, the SFSC Foundation promotes higher education with student scholarships, support of instructional programs, technology, and new and improved facilities. A donation through the Foundation supports the College, improve students lives, and enhances our community.
Your donation to the SFSC Foundation is an investment that yields life-changing returns.
There are a variety of ways to support the South Florida State College Foundation. Donations can be made to the Foundation by mailing in a check, credit card over the phone, or through the Paypal link or button below. 
There is an optional note section in Paypal for you to provide where you would prefer the Foundation to apply your donation (i.e. Partnership Project, scholarship, general support, etc.).
Are you ready to make a donation and support SFSC? 
Make checks payable and mail to:
SFSC Foundation
600 West College Drive
Avon Park, FL 33825
To contact the SFSC Foundation:
863-453-3133
Donate to the SFSC Foundation
Your donation to the SFSC Foundation is an investment that yields
life-changing returns.
Foundation Newsletter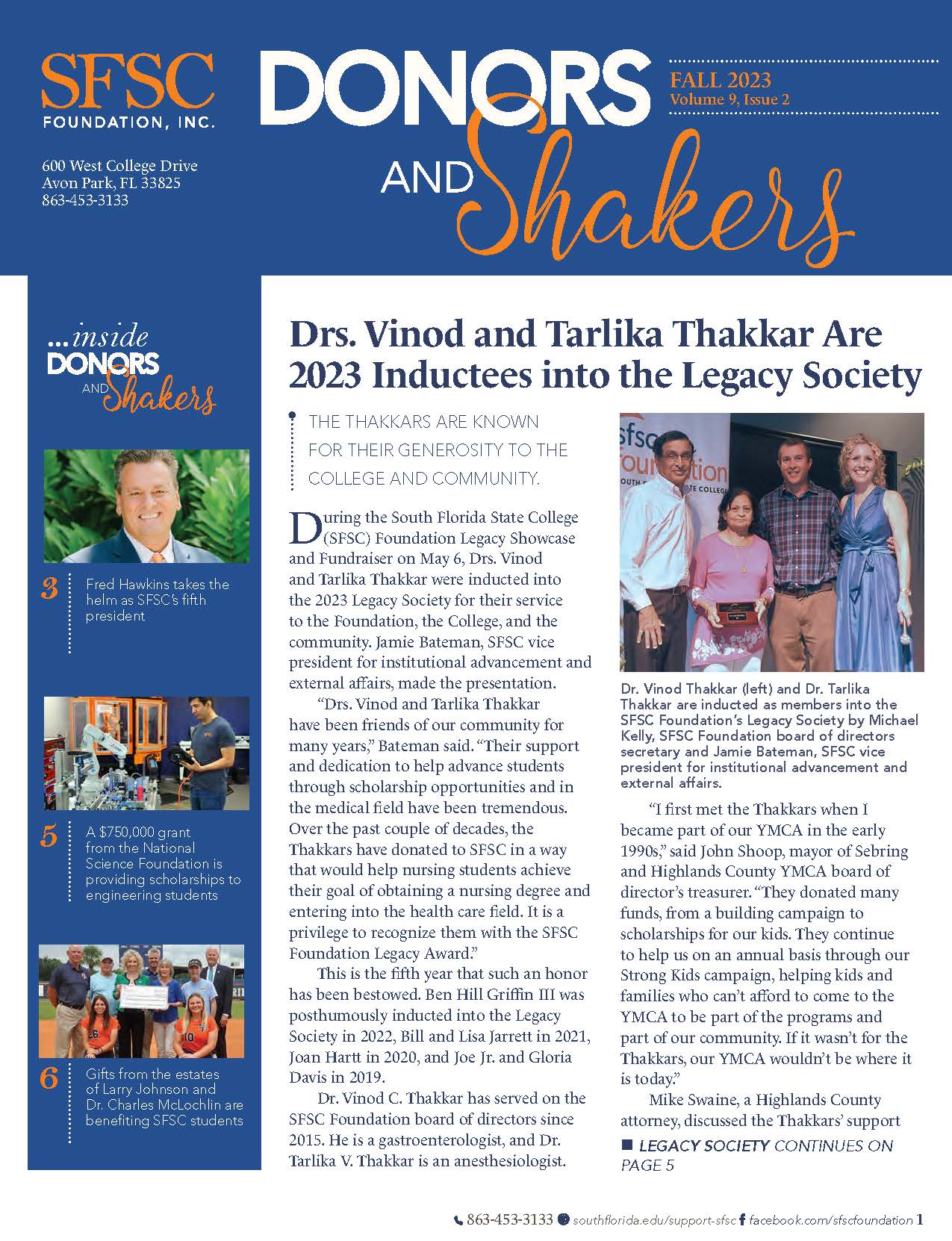 Fall 2023
Spring 2023
Fall 2022
Spring 2022
Fall 2021
Spring 2021
Fall 2020
Spring 2020
Fall 2019
Spring 2019
Fall 2018
Spring 2018
Fall 2017
Spring 2017
Fall 2016