Panther Softball Coach's Corner
Carlos Falla III
Head Softball Coach
863-784-7038
fallac@southflorida.edu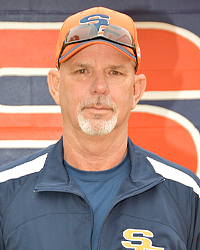 Coach Carlos Falla begins his 19th season as head coach of Lady Panthers Softball. Previously, Falla was the head coach at Webber International University, where he led the WIU Warriors to seven conference and six regional tournament appearances. Falla received the Conference Coach of the Year award in 1998, and during his tenure as head coach at WIU, Falla accumulated a record of 339 wins and 229 losses.
During Falla's 19 years, the Panthers have qualified for the FCSAA State Tournament six times. Over the past 19 years, the Panthers have transitioned 65 players to four-year institutions.
Coach Falla graduated from Sebring High School in 1978 and was selected as a member of the National High School All-Star Baseball Team. He attended Abraham Baldwin Agricultural College (1978-81) and graduated from Webber International University, receiving a bachelor's degree in business administration.