2022 AFC Calendar
Please see the list of events that pertain to the SFSC Chapter of AFC. Registration for the events listed can be found on the AFC's website at myafchome.org. If you have any questions about these events or registration, please contact Eileen Johnson, AFC director of administration and finance, at ejohnson@myafchome.org. 
Please note: Commission conference dates may change.
January
Jan. 27-28 – Leadership Conference (Hybrid) at Polk State College/Virtual
February
Thursday, Feb. 3 – Access AFC Region 4, Difficult Conversations, 2-3 p.m., Zoom
Monday, Feb. 14 – Kindness Grams Sale, 10 a.m. – 2 p.m., Building B
April
Friday, April 22 – AFC Region 4 Conference at South Florida State College
July
July 14 and 15 – Campus Safety Symposium at Daytona State College
November
Nov. 15-18 – 73rd Annual Meeting and Conference at Sheraton Panama City
---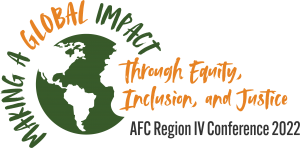 On Friday, April 22, 2022 join Region IV for Making a Global Impact Through Equity, Inclusion, and Justice, a conference to learn and discuss trending topics with your peers and fellow AFC members.
For more information, email Tina Adams, Region IV director, at adamst@southflorida.edu or Melissa Kuehnle, president of the SFSC Chapter of AFC, at kuehnlem@southflorida.edu.