Give Back. Get Involved. 

SFSC Alumni Events and Meetings
Alumni Advisory Council Meeting
Friday, Oct. 1, 2021, via Zoom
Friday, Dec. 3, 2021, via Zoom
If you wish to be a part of the Council, please contact the Alumni Office at 863-453-3133.
Alumni Networking Social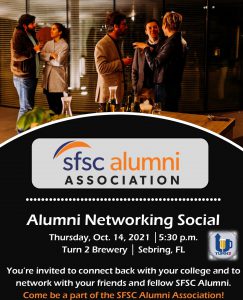 Thursday, Oct. 14, 2021, 5:30–7 p.m.
Turn 2 Brewery, Sebring, Fla.
Join us for a social to mingle and network with your fellow alumni. It is a great opportunity for our Panther community to gather and experience part of what an alumni base has to offer. We look forward to connecting with our alums and to expand our connections.
Please RSVP at alumni@southflorida.edu.
SFSC Foundation and Donations
The South Florida State College Foundation enhances community awareness of the College, solicits and accepts gifts, receives bequests, and manages and helps to appreciate cash gifts or non-cash gifts donated to the SFSC Foundation. Such contributions are tax deductible to the full extent allowed by the law. 
Funds received by the SFSC Foundation are distributed to endeavors that benefit the College and subsidize its students, staff, and programs. The SFSC Foundation offers scholarships and provides funding to maintain educational facilities. 
Donate today to help our goal to enrich the lives of our current and future students at South Florida State College. Go Panthers! 
Get connected with your
SFSC Alumni Association

13 East Main Street
Avon Park, FL 33825
863-453-3133
alumni@southflorida.edu

Support Fellow Panthers