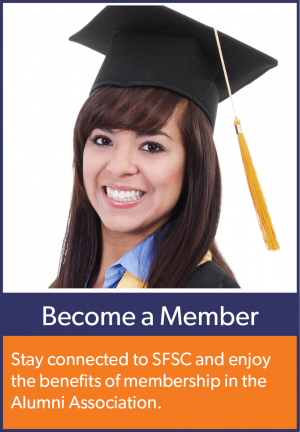 SFSC Alumni Association
Membership in the SFSC Alumni Association is extended to any person who holds one of the following degrees, certificates, or diplomas conferred by South Florida State College:
Baccalaureate degree
Associate degree (associate in arts, associate in science, or associate in applied science)
College credit certificate
Occupational certificate
Apprenticeship certificate
SFSC high school diploma or State of Florida high school diploma earned through SFSC
An honorary degree as conferred by the SFSC president and SFSC District Board of Trustees
Affiliate membership may be extended to any person who is, or has been, associated with the college.

Complete the online application for membership to the Alumni Association. For more information, email the alumni association coordinator or call 453-3133.
Benefits of Membership
Alumni Gear
The SFSC Bookstore in Building B on the Highlands Campus sells an array of apparel, accessories, and gifts to spread Panther pride. You can also access the SFSC Bookstore online and have Panther gear shipped right to your doorstep. 
Events and Meetings
Our next meeting date and location is not yet determined. Please check back here or follow the SFSC Alumni Association Facebook page for updates.
Contact the Alumni Association
13 East Main Street
Avon Park, FL 33825
863-453-3133