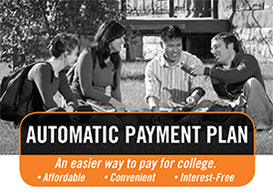 Advantages
Easy online enrollment
Monthly payment plan
Flexible payment options
No interest
Payment Options
Automatic bank payment (ACH)
Credit card/debit card
Cost to Participate
$30 – $40 enrollment fee per semester depending on the number of payments (ACH and credit card)
Nonrefundable returned payment fee if a payment is returned
Tuition Installment Plan
To help you meet your educational expenses, SFSC offers a convenient budget plan. This is not a loan program. You have no debt, there are no interest or finance charges assessed, and there is no credit check. You may budget your tuition in the following ways:
Automatic Bank Payment (ACH): Payments may be made from your savings or checking account.
Credit Card Option: Your monthly payment will be automatically charged to the credit card you designate.
Payments for both options are processed on the 20th of each month and will continue until the balance is paid in full.
Please review the e-Cashier Web site for maximum amounts students can budget for both in-state and out-of-state residents.
Simple Steps To Enroll:
Log into your Panther Central account
Go to Student Tab
Click on Tuition Payment Plan