South Florida State College: 1965-2023
From Scrub Pine to SFCC
SFSC was established in 1965 by the Florida Legislature to serve the educational needs of Highlands and Hardee counties. The college began operation in August 1966 in temporary facilities provided at no cost to the State by public-spirited citizens of the city of Avon Park. The facilities were renovated, air conditioned, and partly furnished through the voluntary contributions of many interested individuals and organizations in both Highlands and Hardee counties and by the municipalities of Avon Park, Bowling Green, Lake Placid, and Sebring.
As of the summer of 1966, an empty supermarket became known as a college library, classes were held in a former hotel, and a movie theatre parking lot was available to SFJC students, employees, and visitors. These facilities had been converted to form the temporary quarters of a new college – South Florida Junior College. The permanent site planned for the college was 1.5 miles south of Avon Park. It was a wilderness of scrub pine and palmetto patch that stretched between two lakes and among orange groves. The college would officially move onto this site in 1969.
In 1984, South Florida Junior College became known as South Florida Community College. Today, SFSC has three campuses and several off-site centers, including the Highlands, Hardee, and DeSoto campuses, and Lake Placid Center. In 2003, the college opened the Hardee and DeSoto campuses to give residents of those counties easier access to a college education.
Programs of Study
When SFSC's first classes began on August 21, 1966, the college offered an associate in arts degree. The original faculty of 14 full-time instructors and administrators welcomed a student population of 164 full-time students and 119 part-time and evening students.
Today, SFSC serves over 19,000 residents of Highlands, Hardee, and DeSoto counties. Students graduating with associate in arts degrees can concentrate in more than 60 fields of study. Students can earn an associate in science, an associate in applied sciences, or college credit or occupational certificates. In 1992, SFSC became one of the first community colleges in Florida to offer bachelor's degree programs through partnerships with public and private universities. It now offers three native bachelor's degree programs—the Bachelor of Applied Science in Supervision and Management (BAS-SM), the Bachelor of Science in Nursing (BSN), and the Bachelor of Science in Elementary Education (BSEE). Residents can receive advising and instruction in these academic fields without having to drive long distances or move away from the tri-county area.
Further Expansion
SFSC's current Administration building (Building F) was one of the first buildings constructed on the Highlands Campus and, for many years, housed the college science labs. Training in the allied health, physical sciences, and natural sciences are critical to Florida's economy. Technological changes, the expansion of SFSC's allied health programs, and further demand for physical and natural science courses dictated the need to create a new facility. For that purpose, the Dr. Norman L. Stephens Jr. Health and Science Education Center was opened for classes in fall 2007.
South Florida State College Through the Years
April 25, 1960:
At its regular meeting, Avon Park City Council approved a resolution to establish a Junior College. According to the resolution, "the City Council of the City of Avon Park, Florida, wishes to record its approval of this proposed area Junior College, that will serve a great educational, social and economic need for our community." Passed and adopted.
Aug. 15, 1960:
In a special meeting of the Avon Park City Council, the City offered 35 acres of land to erect the future site of the Tri-County Junior College. The property would lie east of US 27, south and north of the east, west clay road nearest the Wayside Park.
The Advisory Board of the Florida Alcoholic Rehabilitation program offered 24 acres of property, contingent upon acquiring adjacent lands from the City to the south and Sachsenmaier to the north, on Highway 27, south.
It was indicated that the State operating budget would be $250,000 per year.
July 7, 1965:
South Florida Junior College was founded.
Sept. 16, 1965:
The Highlands-Hardee Junior College Advisory Committee was appointed by the State Board of Education. The first committee meeting was held at Griffin's Restaurant, Avon Park.
The board was composed of Highlands and Hardee County professionals and businessmen: Rex Bond, a Sebring banker, was named chairman; Vaughan Driggers of Wauchula was named vice chairman; and George Douglass of Sebring, Highlands County Superintendent of Public Instruction, was executive secretary for the board. Other members of advisory committee were: Norman Heston of Sebring, Dr. Elver M. Hodges of Ona, Dr. W.L. Howard of Wauchula, Hue E. Nunnallee of Avon Park, Dr. Stanley N. Reeves of Wauchula, C.L. Reynolds of Lake Placid, and G. Franklyn Ward of Avon Park.
They established a four-member selection committee to conduct a search for the College's first president. Dr. James Wattenbarger and James Strawbridge, of the State Department of Education's Junior College Division, attended the meeting and felt the two-county junior college would have to operate in temporary quarters for at least two years before a permanent campus could be established.
The Advisory Committee chosen to select the president before attempting to seek the temporary quarters. The Presidential selection committee members were Rex Bond, George Douglass, Dr. E.M. Hodges, and Hue Nunnallee.
Nov. 18, 1965:
Dr. William A. Stallard became the first president of Highlands-Hardee Junior College. He would assume duties on Dec. 15, 1965 at an annual salary of $15,500. Dr. Stallard was hired away from Manatee Junior College in Bradenton, where he served as dean of Specialized Education.
Feb. 2, 1966:
Plans for the renovation of the Todd Building and second floor of the Brickell Building in Avon Park were approved by officials in Tallahassee for the Junior College's temporary facilities. The cost of the renovation was estimated at $50,000. A citizens' committee was formed to begin raising funds for the project.
Feb. 9, 1966:
The Avon Park City Council appropriated $10,000 towards the construction of a temporary Junior College site.
Feb. 23, 1966:
College tuition and fees were released. The matriculation fee for 12 semester hours or more was $60, part-time fees were $7 per credit hour, and the College application fee was $10.
May 5, 1966:
The first SFJC athletic scholarships were awarded to five baseball and basketball players.
Aug. 22, 1966:
Classes began in SFJC's temporary quarters in the Todd, Touchton, and Brickell buildings in Avon Park.
1966:
A chapter of the Florida Association of Junior Colleges (later known as the Florida Association of Community Colleges; now the Association of Florida Colleges) was organized at SFJC.
Jan. 9, 1967:
The Avon Park City Council deeded land to the Junior College. The City Council unanimously carried that the City deed portions of Lots 3 and 4, Blk. 5, Section 34 (from Webster property, west to the highway) to the Junior College.
Feb. 15, 1967:
The Panther basketball team ended its first season with 19 wins and 14 losses.
April 30, 1967:
SFJC graduated its first students, Ann Hunt Kahn of Sebring and Bobby Miles Terrell of Wauchula, in the lobby of SFJC's classroom complex in the Brickell Building, Avon Park.
Aug. 1968:
SFJC began a Vocational-Technical Program with courses in Refrigeration and Air-Conditioning and in Radio-Television Electronics. The Vo-Tech building was the first structure in use at SFJC's new site.
Nov. 7, 1968:
Groundbreaking ceremonies were held at SFJC's permanent site.
Dec. 4, 1968:
SFJC was admitted to full accreditation. SFJC was the first junior college to gain full accreditation in less than three years.
Dec. 4, 1969:
SFJC held a dedication of its nine-building permanent site on College Drive in Avon Park.
Jan. 1970:
The staff moved into SFJC's permanent facilities on College Drive.
1974:
The vocational buildings, a bookstore, and a student center were constructed on the SFJC Campus.
1975:
An Auto Body shop was added to the SFJC campus.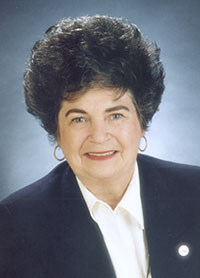 Dr. Catherine P. Cornelius
Aug. 7, 1977:
Groundbreaking ceremonies were held for the South Florida Community Auditorium.
Aug. 1978:
The 1500-seat South Florida Community Auditorium on the SFJC campus was completed at a cost of $1.3 million. The first program in the auditorium was held on Nov. 4, 1978.
1982:
The SFJC Gymnasium was completed.
Dec. 1983:
Dr. Richard Morley was named interim president of SFJC until a new president was hired. He replaced Dr. William Stallard upon his retirement in January 1984.
March 1984:
South Florida Junior College became South Florida Community College by action of the College District Board of Trustees. According to Peggy Shackleford, chairman, District Board of Trustees, "This name change more clearly identifies the College with its objectives in serving as a community-related institution throughout the three-county College district."
May 15, 1984:
The South Florida Community College Foundation, Inc. held its first official meeting. The Foundation was established to offer grants and scholarships to SFCC students from the tri-county area and was launched with over $10,000 in preliminary donations.
July 1, 1984:
Dr. Catherine P. Cornelius became president of SFCC. She came to SFCC from Daytona Beach Community College, where she had served as vice president of Academic Affairs and Institutional Planning.
Oct. 1, 1984:
SFCC officially opened the DeSoto Center in the Fountain Plaza, Arcadia. The Center had three classrooms and an office.
Dec. 10, 1984:
The SFCC Lake Placid Center on Interlake Boulevard, Lake Placid, officially opened.
Dec. 18, 1984:
The SFCC Cultural Series, later known as the SFCC Artist Series, opens its first season with six programs.
1988:
The South Florida Community College Foundation, Inc. acquired the Hotel Jacaranda. As member of the community, the College and its Foundation were concerned with the economic redevelopment of Avon Park. The hotel and restaurant would later serve as a College dormitory and training ground for culinary students.
Summer 1990:
The SFCC Hardee Center opened its doors at 324 North Sixth Avenue in Wauchula. Laura White served as Hardee Campus coordinator (1990-94) and was followed by Dr. Josephine Thompson (1994-2001).
Aug. 1992:
The Panther Network went on air for the first time to provide students with further educational opportunities through telecourses and to provide other local programming.
Sept. 22, 1999:
SFCC dedicated the SFCC Crews Center to house the SFCC Truck Driving Academy and the child care program.
Dec. 4, 2002:
Museum of Florida Art and Culture (MOFAC) opened on the SFCC Highlands Campus.
Aug. 28, 2002:
The College dedicated the SFCC University Center, which was established to house bachelor's degree programs offered in partnership with public and private universities.
Sept. 3, 2002:
Dr. Norman L. Stephens Jr. joined SFCC as president.
Jan. 29, 2003:
SFCC dedicated the Dental Education Center.
Aug. 2003:
The DeSoto Campus officially opens.
Sept. 30, 2003:
Approximately 300 people attended the dedication of the SFCC DeSoto Campus.
Oct. 2, 2003:
The Hardee Campus officially opened. The SFCC Hardee Campus was dedicated on that same day, attracting approximately 300 guests.
January 2004:
The Hardee Campus' inaugural 11-month licensed practical nursing (LPN) program officially began with 12 students. The next class of students began in January 2005, staggering it with the traditional fall start of the Highlands Campus LPN program.
July 7, 2005:
To kick off a two-year celebration of the college's 40th anniversary, over 150 people gathered in the Panther Gymnasium for a Founders Day Luncheon. Those attending were founders of the college or their family members, current employees, public officials, and alumni.
Oct. 21, 2006:
SFCC celebrated its 40th anniversary with an open house on the Highlands Campus. Staff and faculty were on hand to give public tours of the campus and discuss college programs. A full slate of entertainment featured everything from a preview of a Florida historical drama to rock, folk, and jazz concerts. A special welcome was extended to alumni and former staff and faculty members, many of whom helped establish the college in 1965.
March 27, 2007:
SFCC commissioned artist and SFCC alumnus Keith Goodson to create a three-panel mural on the cylindrical cooling tower in the center of the Highlands Campus after the hurricanes of 2004 had ravaged the cooling tower's facade. The mural, called the Tower of Enlightenment, depicts various aspects of SFCC and its mission. It was dedicated in a ceremony on March 27, 2007 and now serves as a centerpiece for the Highlands Campus.
Aug. 27, 2007:
Classes began at the Health and Science Education Center (HSC). After five years of planning, SFCC concluded construction of the facility on June 29, 2007 and dedicated its $12 million HSC on Oct. 24, 2007.
Feb. 27 and 28, 2010:
An 11-month renovation project transformed the 31-year-old SFCC Auditorium into the SFCC Theatre for the Performing Arts. The community was invited to celebrate the dedication of the theatre with a red carpet gala on Feb. 27 and an open house of music and tours on Feb. 28. On March 1, Neil Berg's "101 Years of Broadway" was the first Artist Series performance in the new theatre.
Aug. 1, 2011:
SFCC became a tobacco-free college.
November 2011:
During SFCC's 10-year reaffirmation of its accreditation, the Southern Association of Colleges and Schools Commission on Colleges (SACSCOC) visitation committee found no recommendations in compliance and that all SACS standards were met. In other words, SFCC got an A+ on its report card.
July 1, 2012:
SFCC's accrediting agency, the Southern Association of Colleges and Schools Commission on Colleges (SACSCOC) upgraded the college's institutional status to Level II. This status change allowed the College to launch its first baccalaureate degree program, the Bachelor of Applied Sciences in Supervision and Management (BAS-SM), and required the College to implement various protocols and processes that are unique to bachelor's degree programs.
July 1, 2012:
As part of the College's institutional status change, SFCC became known as South Florida State College. The previous September, the SFCC District Board of Trustees unanimously voted to change the name of SFCC to South Florida State College. To reflect that status change and the College's core values, artist and SFSC alumnus, Keith Goodson, designed a new College seal. It was unveiled on July 1, 2012.
July 1, 2013:
Dr. Thomas C. Leitzel became SFSC's fourth president.
2015:
A new College Vision Statement was developed: "South Florida State College will become … a globally aware academic destination driving regional transformation through innovative collaboration."
Oct. 1, 2015:
The SFSC Theatre for the Performing Arts was named the Alan Jay Wildstein Center for the Performing Arts to recognize a major gift toward the SFSC Foundation's $10 million capital campaign, the Partnership Project. Comedian and pioneering car builder and mechanic, Jay Leno, presented the inaugural performance at the Wildstein Center on Nov. 19, 2015.
2015-16:
SFSC held a yearlong celebration of its 50th Anniversary with events at each of its campuses: a luncheon for retired employees and former trustees; a Panther 5K Run/Walk and 50-mile bike ride; "That 60s Show" at the performing arts center, featuring music from the decade SFSC was founded; a sock hop at Lake Placid Center; a mud run at the Hardee Campus; an alumni artist "Coming Home" exhibition at MOFAC; employee appreciation lunches at all campuses; publication of a 50th anniversary commemorative book; and more. During an Avon Park City Council meeting, City Council members delivered a proclamation declaring July 7, 2015 South Florida State College 50th Anniversary Day.
Dec. 6, 2017:
SFSC began a partnership with the Hardee County Industrial Development Authority (IDA) to secure a $150,102 United States Department of Agriculture (USDA) Specialty Crop grant to research and grow olive trees to replace lost citrus production. During the two-year project, an olive grove was established on the northeastern edge of the SFSC Highlands Campus and an SFSC faculty member collaborated with the IDA to engage SFSC students in research, education, and extension activities to expand olive production in Central Florida.
March 27, 2020:
SFSC entered into a partnership with Hemp4Water™, a not-for-profit corporation, on the Florida Industrial Hemp Pilot Project to research the use of industrial hemp in the removal of nitrogen and phosphorus from Florida's lakes and rivers. It was the first bio-remediation project using industrial hemp on water in the United States. SFSC provided the research site, a certified lab, lab technicians, academically qualified researchers, and other resources to carry forth the research. Hemp4Water™ provided contacts, research, and materials unique to this project.  
2022:
The Southern Association of Colleges and Schools Commission on Colleges (SACSCOC) reaffirmed SFSC's institutional accreditation for 10 years. SACSCOC also approved SFSC's Quality Enhancement Plan (QEP) which focuses on improving attainment rates through student advisement by way of an initiative called Panther Pathways. Guided pathways provide students with clear academic program maps, help students choose and enter pathways, provide support services to help students stay on track, ensure that students are learning, and provide students with career development support. 
The Aspen Institute recognized SFSC as one of the Top 25 colleges in the nation, which places the College in the top 2% of all colleges in its sector.