Panther Volleyball Coach's Corner
Head Volleyball Coach
863-784-7037
kim.crawford@southflorida.edu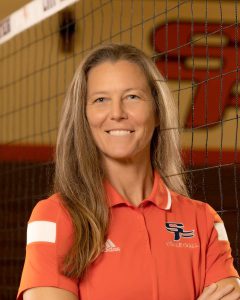 Kim Crawford begins her 21st year at South Florida State College. Crawford has had the great fortune of coaching many talented players and outstanding young ladies.
As a middle blocker at SFSC, Crawford amassed 901 kills and 597 total blocks. Two of her records stand today: season kills (552) and blocks in a match (25). She became SFSC's first and only female All-American athlete in 1993. Crawford helped lead the Panthers to the Suncoast Conference Championships in 1991 and 1992 under Coach Terry Quarles.
Crawford continued her playing career at Florida Southern College (FSC), where she earned two First Team All-American awards and was the Sunshine State Conference Player of the Year her senior year. She recorded 1,101 kills, 79 solo blocks, and 148 block assists as a middle hitter under Coach Lois Webb. She graduated with a Bachelor of Science degree in Physical Education: Recreation in 1995. In 2009, she was inducted into the FSC Hall of Fame.
Crawford played professionally in Europe for two years (1996-98) on the Bud Light Professional Beach Tour for Team Nike (1996) and on the Professional California Grass Tour (1996).
Crawford has been trained at the national level by Olympic coaches and has worked with Olympic athletes. She brings a wealth of playing experience and technical knowledge to the court.
In addition to her many outstanding accomplishments as an athlete and head coach at SFSC, Crawford has taken her love and passion for volleyball to our community.
She shares her vast knowledge of indoor and sand volleyball by offering summer weekly camps and private lessons to young athletes of all ages.
In 2012, Crawford founded the Xcel Volleyball Club to provide young athletes with the experience of team participation and competition.
As a result of her extraordinary career as an athlete, her successful years as head volleyball coach at SFSC as well as her many years of mentoring countless young athletes in the community, Crawford serves as an inspiration to athletes and fellow coaches on and off the court.
Tammy Needham
Assistant Volleyball Coach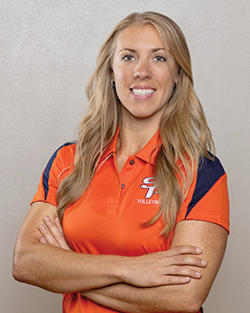 Tammy Needham begins her second year as the assistant volleyball coach for the Lady Panthers Volleyball Team. She specializes in defense.

Needham began playing volleyball when she was in the seventh grade. For four years, she played as a starter on the varsity volleyball team at the Samuel W. Wolfson High School in Jacksonville, Fla. She received a scholarship to play volleyball at Webber International University for four years, starting as a libero. While at Webber, she learned to love the sport of beach volleyball, which she still enjoys playing as an amateur competitor.

Needham was named the NAIA National Volleyball Scholar-Athlete in 2008 and 2009. She was part of the team that won the Sun Conference Championship in 2008. She received her bachelor of science in sports management from Webber in 2010.

Needham managed Anytime Fitness in Avon Park for 13 years. She now works in real estate with Century 21. In 2021, she coached for the Xcel travel volleyball league. She finds joy in contributing to the personal development of athletes and helping them be the best versions of themselves, on and off the court.