Graduation Procedures for
College Commencement 
Location: Alan Jay Wildstein Center for Performing Arts
IF YOU ARE A GRADUATE PARTICIPATING IN COMMENCEMENT*, CHECK YOUR PERSONAL AND COLLEGE EMAIL INBOX FOR INFORMATION.
Are you ready to apply to graduate?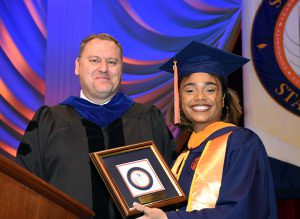 All graduates must complete pre-graduation procedures to participate in Commencement services:
See your advisor and get a degree audit to ensure you have completed or are in the process of completing all program requirements.
Have you taken and completed the Florida Civic Literacy Exam? Check with your advisor to see if this is a requirement for you. If you need to take this test, you must pass it prior to being awarded your degree.
Complete the Graduation Application and pay the $15 processing fee
The current application will close on Wednesday, Oct. 25 for participation in the Thursday, Dec. 14 Commencement ceremony. You may still apply to graduate after that date but you will not be walking in the ceremony.
If you want to walk in the ceremony, indicate that you will participate in the December ceremony, otherwise, you will choose "will not attend."
If you are participating in the Commencement ceremony, purchase your cap and gown package on or before Nov. 1. We ask that you do not borrow cap and gown packages. If you do, the package must be preapproved prior to Nov. 1.
You will receive an email confirmation that the process was successful.
If you have received any type of student loan, you are required to conduct an in-person exit interview with your financial aid advisor.
Tickets
Not required
Regalia
Students who plan to attend a Commencement ceremony must order their caps and gowns through the College Bookstore. Regalia MUST be purchased from the SFSC Bookstore by Wednesday, Nov. 1, 2023.
Bachelor's Degree Program
Cap, Gown, and Tassel Package: $49+tax
Hood: $39+tax
Associate Degree Program
Cap, Gown, and Tassel Package: $39+tax
Hood: $26+tax
Certificates and Diplomas
Cap, Gown, and Tassel Package: $39+tax
Additional tassels can be purchased for $8 each. All regalia purchased is subject to sales tax. Payment is due when orders are placed. Student ID and receipt must be present to pick up regalia. For information, call the SFSC Bookstore at 863-784-7112.
Ceremony
Dec. 14, 2023, Commencement details will be available when we have the final numbers of graduates participating in the ceremony. The date and time will be available by mid-November. 
Please do not bring these items to the Alan Jay Wildstein Center for the Performing Arts:
Aerosol or spray cans
Air horns, whistles, or other noise-making devices
Lighters or candles
Flags and flag poles
Signs and banners
Camera tripods and extension cords
Wrapped gifts
Pets other than service animals
Weapons
Laser pointers
Frisbees or other projectiles
Confetti, glitter, or streamers
Silly string, beach balls, or other inflatable items
Balloons are not allowed in the center
Jewelry and flowers may not be worn on Commencement gowns
Directions
FROM ARCADIA: Travel north on U.S. 17 to Zolfo Springs. Turn right onto State Road 64, and travel east to Avon Park. Turn right onto U.S. 27. Heading south, drive approximately 2 miles; turn left at the light at College Drive.
FROM WAUCHULA: Travel east on East Main Street (State Road 636) to State Road 64. Continue east to Avon Park, and turn right onto U.S. 27. Heading south, drive approximately 2 miles; turn left at the light at College Drive.
FROM I-4:  Take exit 55 onto U.S. 27, heading south towards Haines City. Continue south to Avon Park, approximately 48 miles. Continue on U.S. 27, south of downtown Avon Park, approximately 2 miles. Turn left at the light on College Drive.
Diplomas and Certificates
The Registrar is the official authority responsible for certifying that all graduation requirements have been met. Diplomas and certificates will be processed at the end of the term when the requirements are fulfilled. It takes approximately six to eight weeks for a student to receive his or her diploma or certificate by mail after the end of the term.
Official SFSC Transcripts
Graduates of South Florida State College may order official transcripts through the National Student Clearinghouse.
Frequently Asked Questions
Below you will find important questions and answers for the 2023 Commencement.
How do I learn when my ceremony will be held?
If you have applied for graduation and purchased a cap and gown, please see the email that was sent to you. This contains the information for your ceremony. If you do not see this email, look in your junk or spam folder. You can also call 863-784-7107 for details.
How long is the ceremony?
Your ceremony will last approximately one hour.
Where and when can I pick up my cap and gown?
The SFSC Bookstore on the Highlands Campus will begin distributing caps and gowns on the determined date during the normal business hours of 8 a.m. to 5 p.m.
Can I bring anything with me to the ceremony?
Graduates should only bring keys and phones that can fit inside their gowns. Do not bring bags, purses, backpacks, or anything else that must be carried.
Will the ceremony be live-streamed this year? 
Yes. On the day of Commencement, there will be a clickable image on the homepage of southflorida.edu to take you straight to the live coverage.