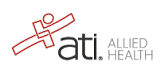 WHAT TO EXPECT WHEN TAKING THE ATI TEAS EXAM (PDF)
SFSC uses the ATI Test of Essential Academic Skills (TEAS) exam by Assessment Technologies Institute (ATI) as the entrance exam for these nursing programs:
---
The TEAS is offered year around; however, you may only take the exam three times in a calendar year with a three-month wait period between testings.
---
The ATI® TEAS consists of four sections (209 minutes with 170 questions):
Reading (64 minutes with 53 questions)

Key ideas and details (22 questions)
Craft and structure (14 questions)
Integration of knowledge & ideas (11 questions)
Pre-test questions (6 questions)



Mathematics (54 minutes with 36 questions)

Numbers and algebra (23 questions)
Measurement and data (9 questions)
Pre-test questions (4 questions)



Science (63 minutes with 53 questions)

Human anatomy & physiology (32 questions)
Life and physical sciences (8 questions)
Scientific reasoning (7 questions)
Pre-test questions (6 questions)



English and Language Usage (28 minutes with 28 questions)

Conventions of standard English (9 questions)
Knowledge of language (9 questions)
Vocabulary acquisition (6 questions)
Pre-test questions (4 questions)
 ATI® TEAS Target Scores
The target scores to be considered for admission to the program are competitive.  Scores in the mid-70 range and higher are predictive of program acceptance and success; however, scores in this range do not guarantee acceptance.  Scores are reviewed annually and are, therefore, subject to change based on current ATI® data.
Generic RN/Transition (LPN to RN)
| | |
| --- | --- |
| Test Content Areas | Target Score |
| Reading | 75% |
| Mathematics | 65% |
| Science | 65% |
| English | 65% |
Practical Nursing (PN)
| | |
| --- | --- |
| Test Content Areas | Target Score |
| Reading | 70% |
| Mathematics | 65% |
| Science | 65% |
| English | 65% |
Scheduling

Scheduling Your Exam 
You must schedule an appointment with the SFSC Testing Center to take your exam by using its online scheduling system.
The TEAS exam is given in the Testing Center, located in Building B (second floor), Highlands Campus.
You have 209 minutes to complete the exam. All yourself enough time to finish your test. If you do not complete your exam before the test time expires, you will not be allowed to return to finish it at a later date.
The testing fee is payable on the day you take the exam (payable at the Cashier's Office in Building B).
If you are applying to both the Generic Nursing (RN) and Practical Nursing (PN) program, you will choose the option of ATI TEAS – Both (ADN/RN & LPN/PN) Program for the group selection. This will allow you to take the test only once and be counted towards each of your applications.
 Before Exam Day 
You must set up your ATI® user account prior to arriving test day.
After setting up your account, you will receive a username and password. Remember this, as you will need this to sign in on your exam day.
 Exam Preparation 
ATI® Nursing Education has developed self-guided study materials to help you target your study for the TEAS test. Visit com to purchase study materials.  Study guide also available at the SFSC Library and for purchase at the SFSC bookstore.
You can study for the exam with a Test Prep Review by Mometrix.
 Exam Day 
Bring valid form of photo identification.

SFSC ID card
Driver's License
State-issued Photo ID
Passport

Know ATI® user account username and password.
Arrive fifteen (15) minutes prior to your scheduled appointment time.
Check-in ALL electronic devices and personal items into a secure locker prior and during testing (provided by Testing Center).
No guests or children allowed in Testing Center with testing candidate.
Exam Retakes 
Applicants who wish to retake the exam to achieve a higher score must retake the entire exam.
There must be a minimum of three (3) months between test dates.
Each test is considered a combined complete entity.
There will be NO combination of scores from separate tests.
ATI® TEAS exam scores are valid for five (5) years.
Exam Score Submission/Results (TEAS exam taken at SFSC)
After completing the TEAS exam, your test will be scored immediately, allowing you to view your TEAS scores report at that time. Your score report includes your total and content area scores. In addition, the report identifies specific topic areas you missed along with information on where you can review the content.
You can access your ATI TEAS Score report at any time through your ATI account under My Results.
These scores will automatically be available to Health Sciences and added as part of your application. The scores must be available by the application deadline.
Exam Score Submission/Results (TEAS exam taken at other institution)
If you have taken the TEAS at another college, you may elect to submit those scores as part of your application to the nursing program rather than retake it at SFSC. In that case, you must visit the ATI Testing Store to purchase and send an official TEAS transcript to SFSC.
These scores must be received by Health Sciences by the application deadline.