In 1965, the Florida Legislature approved development of a state-supported public junior college in Florida's Heartland and went on to form a College Advisory Board that secured facilities and land for the College's campus, recruited faculty and administrators, and gave the College its first name—South Florida Junior College (SFJC). The Board also hired the College's first president—Dr. William E. Stallard. Members of that College Advisory Board were: Chairman Rex E. Bond, Vice-Chair Vaughan Driggers (front, second from right), George Douglas, Norman Heston, Dr. E.M. Hodges, Dr. W.L. Howard, Hue E. Nunnallee, Dr. Stanley Reeves, C.L. Reynolds, and G. Franklyn Ward (front, second from left).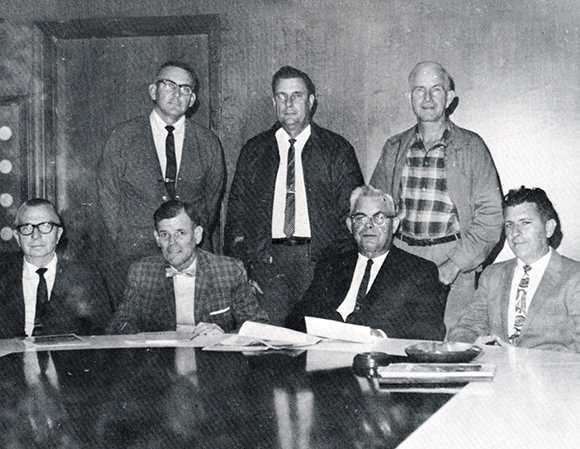 In 1968, the Florida Legislature removed control of the state's junior colleges from public school boards, and the College Advisory Board was reorganized into the SFJC District Board of Trustees with the same members. 
Appointed by the Florida governor, members of South Florida State College's (SFSC) District Board of Trustees hire the College president to handle the day-to-day operations of the College. The District Board of Trustees affirms the College's mission, establishes policies, oversees the budget, and approves the educational programs and services needed to serve the College's district of DeSoto, Hardee, and Highlands counties.
Over the years, members of SFSC's Board enjoy attending the College's commencement ceremonies, sporting events, anniversary celebrations, and fundraisers. They've walked through the dusty shells of campus buildings under construction to get a firsthand glimpse of facilities for emerging or growing educational programs. Our Board members have been strong advocates for the College. They go out into the College's communities—the communities in which they live and represent—to explain how the College is serving those communities and making residents' needs a priority.
So, we honor all members of the SFSC District Board of Trustees past and present. Their names appear during the decades they were appointed with their years of service in parentheses.