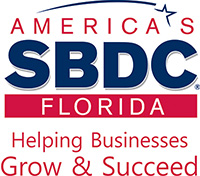 Are you interested in…
Increasing Sales?
Reducing Costs?
Improving Cash Flow?
Winning Government Contracts?
Obtaining Financing?
Improving Managerial Skills?
Starting a New Business?
Buying an Existing Business?
Writing a Business Plan?
If the answer is "yes" to any of the above, the Florida SBDC of the Heartland can help you create a strategy to strengthen and grow your business.
The Florida SBDC of the Heartland provides no-cost confidential consulting as well as business training seminars to current and potential entrepreneurs. No-cost individual consulting is by appointment, and there is a nominal charge for training workshops. Consultations are currently being held virtually using Microsoft Teams. Services available for local businesses and entrepreneurs include consulting in the following areas:
Accounting
Advertising
Business Basics
Business Planning
Compliance Issues
Disaster Preparedness Planning
Financing
Government Contracting

Government Incentives
International Trade
Management
Marketing
Minority/Women Certification
Taxes
Technology Transfer
The Florida SBDC of the Heartland features a two-hour seminar each month on the "Steps to Starting a Small Business."
If you are ready to jump-start your business, want to attend business seminars, or seek one-on-one consulting, simply contact:
Tres Stephenson
863-784-7378
whs@usf.edu
And, get started TODAY! Tres Stephenson is a business consultant at the Florida SBDC of the Heartland, a satellite office of Florida SBDC at University of South Florida Muma College of Business, SBDCTampaBay.com/highlands. The Florida SBDC at USF is a member of the Florida SBDC Network, a statewide service network funding in part through cooperative agreements with the U.S. Small Business Administration (SBA), Defense Logistics Agency, state of Florida, and other private and public partners; hosted by the University of West Florida; and nationally accredited by the Association of SBDCs.
State Designated as Florida's Principal Provider of Business Assistance [§ 288.001 Fla. Stat.]
For the most current class schedule, visit southflorida.edu/corpedschedule.