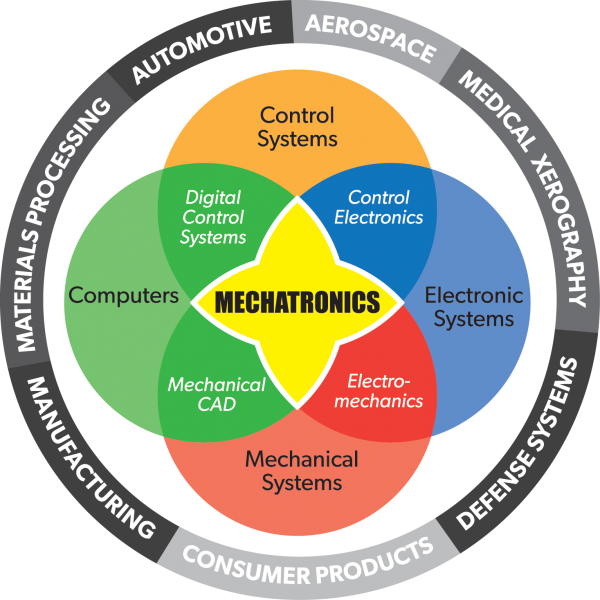 What is Mechatronics?
Mechatronics is a multi-disciplinary subfield of engineering that deals with the design and operation of computer-controlled, electro-mechanical systems. Mechatronics is the applied aspect of engineering; it is a profession in which technology, applied science, and mathematics are used to create hands-on engineering solutions. Mechatronics technicians typically assist the design, development, and engineering staff and work closely with others to install, maintain, operate, modify, and repair unmanned, automated, robotic, or electro-mechanical equipment and component parts.
Program Description
The SFSC Mechatronics Program includes six college credit certificates and numerous industry certifications that lead directly to an Associate in Science (AS) degree in Engineering Technology. This program is designed to prepare you to meet the ever-changing and increasingly complex manufacturing processes found in today's advanced manufacturing workforce. Graduating from this program will prepare you to step into high-skill, high-wage positions. The Mechatronics Program provides you with the technical skills, professional attitude, and the fundamental engineering technology background to be successful in today's rapidly changing, high-performance production and advanced manufacturing workforce.
The Mechatronics Program will equip you with a thorough understanding of production processes, quality systems, safety, and automation (including the use of programmable logic controllers (PLCs)) for modern manufacturing processes. You will become proficient in instrumentation, device networking, and systems functionality required in today's advanced manufacturing processes. Process improvements, including predictive maintenance, vibration, alignment, and quality work practices using Lean Manufacturing and Six Sigma will be emphasized in the curriculum.
Is this the right program for you? 
People in this career often know a lot about:
Mechanical – knowledge of machines and tools, including their design, use, repair, and maintenance
Engineering and Technology – Knowledge of the practical application of engineering science and technology. This includes applying principles, techniques, procedures, and equipment to the design and production of various goods and services.
Production and Processing – Knowledge of raw materials, production processes, quality control, costs, and other techniques for maximizing the effective manufacture and distribution of goods
English Language – Knowledge of the structure and content of the English language including the meaning and spelling of words, rules and composition, and grammar
Mathematics – Knowledge of arithmetic, algebra, geometry, statistics, and their applications
People in this career often have these skills:
Repairing – Repairing machines or systems using the right tools
Equipment Maintenance – Planning and doing the basic maintenance on equipment
Operation Monitoring – Watch gauges, dials, or display screens to make sure a machine is working
Troubleshooting – Figuring out what is causing equipment, machines, wiring, or computer programs to not work
Quality Control Analysis – Testing how well a product or service works
Operation and Control – Using equipment or systems
Critical Thinking – Thinking about the pros and cons of different ways to solve a problem
Equipment Selection – Deciding what kind of tools and equipment are needed to do a job
People in this career often have talent in:
Arm-Hand Steadiness – Keeping your arm or hand steady
Manual Dexterity – Holding or moving items with your hands.
Reaction Time – Quickly moving your hand, finger, or foot based on a sound, light, picture, or other command
Multi-limb Coordination – Using your arms and/or legs together while sitting, standing, or lying down
Control Precision – Quickly changing the controls of a machine, car, truck, or boat
Finger Dexterity – Putting together small parts with your fingers
Near Vision – Seeing details up close
Hearing Sensitivity – Telling the difference between sounds
Information Ordering – Ordering or arranging things
Program Sensitivity – Noticing when problems happen
What does a Mechatronics Technician do? 
What you might do in a day:
Repair worn, damaged, or defective mechanical parts
Replace worn, damaged, or defective mechanical parts
Maintain work equipment or machinery
Disassemble equipment for maintenance or repair
Observe equipment in operation to detect potential problems
Test mechanical equipment to ensure proper functioning
Reassemble equipment after repair
Clean equipment, parts, or tools to repair or maintain them in good working order
Adjust equipment to ensure optimal performance
Lubricate equipment to allow proper functioning
Inspect mechanical equipment to locate damage, defects, or wear
Analyze test or performance data to assess equipment operation
Record information about parts, materials, or repair procedures
Order materials, supplies, or equipment
Maintain repair or maintenance records
Interpret blueprints, specifications, or diagrams to inform installation or operation activities
Operate welding equipment
Cut materials according to specifications or needs
Enter codes or other information into computers
Train others in operational procedures
What does the equipment look like that I will train on?