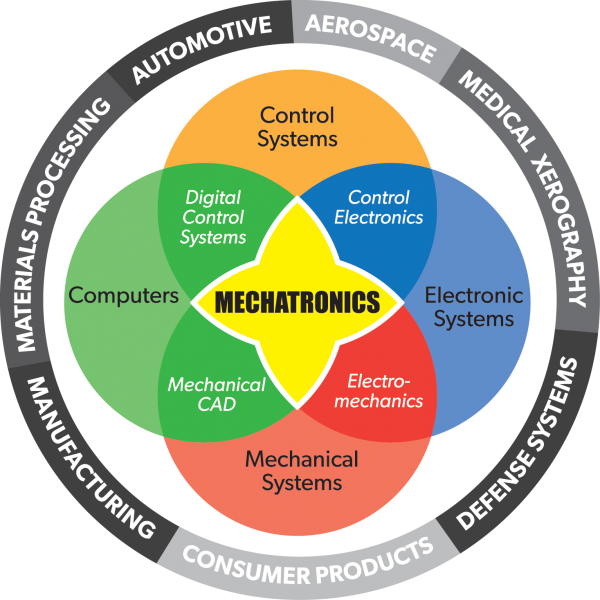 Mechatronics is a multi-disciplinary subfield of engineering that deals with the design and operation of computer-controlled electro-mechanical systems. Mechatronics engineers develop new sustainable solutions to industrial issues and innovate machinery for modern use.
Mechatronics technicians typically assist the design, development and engineering staff and work closely with others to install, maintain, operate, modify, and repair unmanned, automated, robotic, or electromechanical equipment and component parts.
Throughout 2017-18, SFSC is launching a Mechatronics program at the Highlands Campus, which will include a variety of stackable credentials. Students will train on equipment that is used in the field.
SFSC offers the Engineering Technology – Associate in Science (AS) degree, six college credit certificates in mechatronics, and two industry certifications.
Timeline for Future Expansion of the Program
| | |
| --- | --- |
| 2018-19 | Mechatronics and engineering programs will be expanded to the DeSoto Campus. A mini-mechantronics lab will be created at the Lake Placid Center. |
| 2019-20 | Create a mini-mechantronics lab at the Hardee Campus |
| 2020-2021 | Build a mobile engineering technology lab to travel to high school campuses |
Mechatronics Technician Job Profile
A Siemens-certified Mechatronic Systems Associate functions as a highly skilled technician who works with modules and components in complex mechatronic systems while having the ability to assess and analyze the system as a whole. Certified associates manage, investigate, repair, and troubleshoot mechatronic systems with the aim of ensuring operational efficiency and cost and process control. They usually carry out their work at production facilities, workshops, or in service sites that use complex mechatronic systems. Job skills and activities include:
Understanding and analyzing the technical specification of mechatronic systems, subsystems, modules, and components
Deriving and determining parameters for mechatronic systems and system elements
Measuring, interpreting, and analyzing electrical, PLC/microcontroller, and mechanical values
Assembling and installing tools and hardware systems
Performing scheduled and preventive maintenance
Installing, implementing, and modifying software tools used in mechatronic systems
Using troubleshooting skills to identify, foresee, and prevent possible problems, conflicts, and failures, and systematically and intelligently makes repairs
Programming mechatronic modules and systems, especially PLCs
Implementing PLC networks, including configuration and data transfer using bus systems
Analyzing systems logs
Incorporating relevant technical literature into understanding of system operation and using this information to propose procedural and operational changes
Observing and incorporating safety standards
Applying knowledge of process control technology, including all regulator types
Observing, following, and influencing cost control and process efficiency procedures