Emergency Medical Services
SFSC's Emergency Medical Services (EMS) program prepares students to become licensed as Emergency Medical Technicians (EMTs) or paramedics in Florida. Graduates can apply th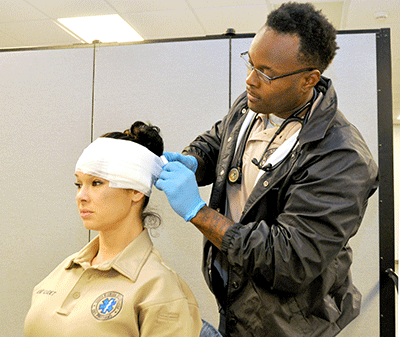 e credits they earn toward an Associate in Science (AS) degree in Emergency Medical Services.
Emergency medical technicians (EMTs) and paramedics provide first-line, life-saving medical care to sick and injured people and transport them to medical facilities, while working in conjunction with law enforcement officials and firefighters. They are employed by public emergency medical service agencies, private emergency medical service providers, fire services, industrial settings, hospital emergency departments, and flight services.
According to the National Association of Emergency Medical Technicians, EMTs conduct basic, noninvasive interventions that save lives and reduce harm to patients while they are being transported to a medical facility. Paramedics are the most highly trained medical responders, and they may perform invasive interventions and dispense medications in addition to performing the duties of an EMT. The U.S. Department of Labor's Bureau of Labor Statistics projects that employment of EMTs and paramedics will experience a nationwide growth of 23 percent in the next decade. In DeSoto, Hardee, and Highlands counties, EMTs and paramedics earn an average wage of approximately $16 an hour, according to the Florida Department of Economic Opportunity's Regional Demand Occupations List.