AVON PARK, Fla.–June 25, 2015–In 1970, U.S. troops were on the ground fighting in Viet Nam, the Beatles were at the top of the charts with "Let it Be," and the minimum wage was $1.60.
In August of that year, SFSC hired a young graduate student to teach at its newly constructed campus in Avon Park.
Fast-forward 45 years.
That rookie instructor, now a dean, is leaving SFSC. Donald L. Appelquist retires on June 30, closing a chapter in the college's history and making way for new leadership at its foundation.
"I intended to teach for one year and then return to graduate school to complete my doctorate, but I fell in love with teaching," Appelquist said. "Now, after teaching for 17 years and overseeing the foundation for 28 years, it is time to retire," he said.
Before coming to Avon Park, Appelquist was nearing completion of his doctorate in biology. He decided to take a break and thought a year teaching community college undergraduates the basics of biology would fill the time before returning to his studies.
After his first year, he signed up for another, and he kept signing up. With each successive year, his ardor for teaching pushed the doctorate degree farther down the road. Aft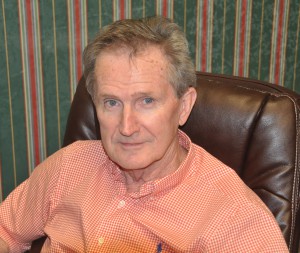 er, nearly two decades of classroom teaching, the doctorate unfinished, he had established himself as one of SFSC's top instructors.
From biologist to fundraiser.
But in 1987, Catherine P. Cornelius, then SFSC's president, stunned Appelquist with a request. She asked him to step out from behind the lectern and take up the twin posts of executive director at the college's newly formed foundation and the college's dean of resource development.
Appelquist said he had no experience as a fundraiser, which is mainly what college foundations do, although he did have experience writing grants connected with his research. Still, he thought it was time for a change, so he accepted the job.
"Don agreed to leave his faculty position to run the new foundation," Dr. Cornelius said. "A foundation that had only $15,000 in assets then."
For the next 28 years, Appelquist set out to transform the organization into a fully staffed fundraising and grant writing outfit.
"I estimate that we've raised about $30 million," he said. Much of that money has funded scholarships for students, help build out the campus, and bulked up the endowment, which now tops nearly $14 million.
Cornelius credits Appelquist with cultivating hundreds of supporters whose giving spurred the college to expand beyond Avon Park. Under his watch, the foundation acquired two former public schools—the Lake Placid Center in 1989 and the Teacherage, a historical building in Sebring, in 1993—bringing SFSC classrooms within reach of residents throughout Highlands.
More than fundraising.
Appelquist's responsibilities extended beyond fundraising. In 1990, the foundation assumed ownership of the Hotel Jacaranda, located in Avon Park's main street historical district. He set about securing historical preservation grants with an eye toward restoring the hotel—which had fallen on hard times—to the grandeur it acquired in the roaring 1920s.
The hotel became the base for the foundation, housing its offices and serving as symbol of the college's roots in Avon Park—SFSC's first classes met just across the street.
For Appelquist himself, the money and the buildings take second billing to one of the foundation's most successful initiatives—Take Stock in Children. The program, launched in 1997, matches at-risk high school students with mentors who guide them toward earning their diplomas, with college scholarships awaiting those who graduate and enroll in college.
"The sense of amazement and satisfaction I derive from seeing the immediacy of the impact this program has on at-risk kids who finish high school, then move on to college, is without measure," Appelquist said. "And not only them, I can see the affect it also has on the parents and siblings—it's a life-changing experience for everyone."
Accolades from colleagues
Appelquist has served under each of the four presidents who have headed up the college since its inception. Dr. Thomas C. Leitzel, SFSC's current president, who is poised to begin his third year, lauded the departing dean.
"We are enormously grateful for his dedicated service to SFSC and our community," Dr. Leitzel said. "He leaves us with a solid foundation — yes — an intentional play on words. From his efforts, the college will move forward to embrace and fulfill our vision."
But in his capacity as executive director of the foundation, Appelquist also answered to a board of directors who oversees its operations. Christy Crews, the foundation's current president, praised Appelquist for his efforts on behalf the students.
"Don has devoted his life to SFSC and its students, and untold numbers have benefited from his work," Crews said. "I wish him the best in retirement."
Change comes.
Applequist's retirement makes way for his successor, Jamie Bateman, to assume leadership of the SFSC Foundation. Batemen, currently executive director for the Florida Hospital Heartland Medical Center Foundation, will take over the reins from Appelquist on July 1, bringing 15 years of foundation experience with her.
Retirement has it benefits Appelquist said. In July, he will set off for a month in France, including a cruise down the Seine. Add in mountain climbing and a marriage, and his face breaks out into a smile.
But with two weeks before saying goodbye, Appelquist had occasion to stop and marvel at SFSC's transformation from junior college with a clutch of buildings to a four-year institution with three campuses and a center.
"Through it all there remains one constant," Appelquist said. "SFSC was and is a great place to spend a career."