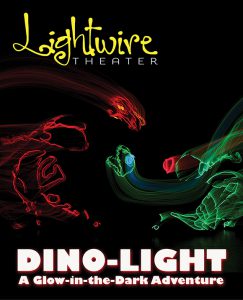 AVON PARK, Fla. – Oct. 25, 2019 – Lightwire Theater, a semi-finalist during season 7 of NBC's America's Got Talent and the 2014 winner of truTV's Fake Off, is coming to the Alan Jay Wildstein Center for the Performing Arts on the Highlands Campus of South Florida State College (SFSC) on Sunday, Nov. 10 at 3 p.m. for one performance of DINO-LIGHT.
"This 60-minute performance is perfect for young people," said Cindy Garren, director of cultural programs at SFSC.
Jarrett Family Foundation is sponsoring the performance which will raise funds for several local nonprofit organizations. "Guided by the institutional values of South Florida State College, this is a special community event to raise funds for the Avon Park Parent Teacher Organization, Big Brothers Big Sisters, Celebrate Birthdays, Mason G. Smoak Foundation, Take Stock in Children and more," added Dr. Thomas Leitzel, president of SFSC.
DINO-LIGHT tells the story of a famous scientist with magic powers who brings a friendly dinosaur to life. When the curious dinosaur wanders away from home, he discovers a world full of creatures that light up the darkness and help him find the true meaning of live.
Based in New Orleans, Lightwire Theatre is internationally recognized for their signature brand of glow-in-the-dark artistry, poignant storytelling, and evocative musical scores that create a unique audiovisual experience. DINO-LIGHT is a recipient of the prestigious Jim Henson Foundation Grant for its cutting-edge blend of puppetry, technology and dance. The performance has toured around the world and the performance at SFSC is its first visit to Central Florida.
"A variety of pre-show activities are planned in the lobby for young people," added Garren.   Music, games, and a free gift for the first 250 kids will be offered to add to the excitement of the performance.
Young people are encouraged to make a dinosaur mask and bring it to the performance to receive a raffle ticket. The raffle winner will receive a dinosaur-themed gift basket which includes free admission to Dinosaur World in Plant City.
Tickets are $10 and available online at sfscARTS.org, by phone at 863-784-7178, or by visiting the Alan Jay Wildstein Center for the Performing Arts box office at 600 West College Drive in Avon Park.