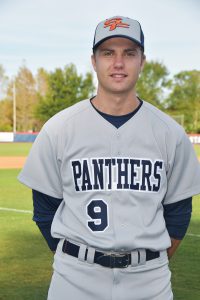 AVON PARK, Fla. – May 20, 2019 – South Florida State College (SFSC) baseball player P.J. Cimo was named the 2019 Suncoast Conference Male Student Athlete of the Year by the Suncoast Conference athletic directors and sport chairs at their meeting on Friday, May 17. Cimo is the sophomore co-captain of the SFSC Panthers and his leadership on and off the field earned him this recognition.
"Without question, one of the finest young men I have ever had the pleasure to coach. Congratulations to P.J. and his family for this honor; it is well deserved," said Rick Hitt, head baseball coach and athletic director at SFSC.
Cimo earned a 4.0 GPA during his two years on the SFSC Panther baseball team. He was named First Team All-Conference in 2019 and FCSAA All-Conference, All-State, and NJCAA All-American in 2018. Cimo was on the SFSC President's List all four terms and a member of the Tau Epsilon chapter of the Phi Theta Kappa academic honor society. He also participated in several department- and team-sponsored community service projects while at SFSC. Cimo is currently undecided on his future four-year school of choice.
For more information about athletics at SFSC, visit southflorida.edu or contact Rick Hitt at 863-784-7036 or Richard.Hitt@southflorida.edu.
ABOUT SOUTH FLORIDA STATE COLLEGE
SFSC is a comprehensive, open-access, higher education institution dedicated to providing a student-centered environment focused on learning and personal enrichment through quality programs and services. At its campuses in DeSoto, Hardee, and Highlands counties and through its online presence, the College offers certificates, associate degrees, and bachelor's degrees that lead to the continued success of its graduates and a variety of opportunities for the educational, cultural, and economic advancement of the service district. SFSC is one of the 28 institutions of the Florida College System.