AVON PARK, Fla.–June 25, 2015–South Florida State College graduated 11 law enforcement officers on June 23, handing them their diploma, challenge coins, and plenty of advice for their first assignment.
The class of one woman and 10 men filed into SFSC's University Center Auditorium on the Highlands Campus for the 7 p.m. ceremony and stood at attention while a color guard presented the Stars and Stripes. The auditorium's seats were filled with family and well-wishers, including Susan Benton, Highlands County's sheriff.
Before picking up their diplomas, the cadets, dressed in brown uniforms, heard a send-off speech from a guest chosen by the graduating class.
"Why do you want to be cops?" asked Mark Schrader, chief deputy for the Highlands County sheriff's department.
"Like most, you'll say you want to help people," Schrader said. "That's the best reason to be cop," he told the graduates.
He sounded notes of caution throughout his 20-minute speech. He spoke of the physical dangers inherent in police work, the lack of respect cops receive from some quarters, and exposure to the underside of society.
"Cops are the first on the scene when a child has been maimed, when a spouse has been abused, or when an innocent victim has been shot," Schrader said. Out of it all, though, he told graduates, comes a sense of calling that is special to police work.
"You'll have a noble feeling that you've done something to help someone," he said.
Richard Morey, SFSC's coordinator of criminal justice training, then called up the 11 graduates of the Basic Law Enforcement Program Class 244 to the stage to hand them their challenge coins, specially minted medallions that signify their achievement and bond as future law enforcement officers. SFSC trustees Kris Rider and Timothy Backer presented the diplomas.
Graduating that night were: Gilbert J. Absolu Jonathan M. Avery, Jonathan Avalos, Nicole D. Brown, Dustin Gilman, Esaul Hernandez, Frans Jansen, Felix Moros, Markais Neal, Yosmany Pantoja, Emmanuel Vazquez
Morey singled out Felix Moros and Esaul Hernandez for their achievements during the nearly six-month course. Moros earned top honors for his academic excellence while Hernandez scored the firearms award for his work on the shooting range.
Moros, who was tapped as class captain, took to the lectern to share his parting advice with his classmates.
"We used to be mechanics, retail salespersons, and college students," Moros said. "Tonight we graduate 11 of the newest and finest law enforcement officers in Florida."
Missing kids' birthdays, late night shifts, and the daily hazards of police work await them all, said Moros.
"Being in law enforcement, though, is not about us. It's about the community we serve," he said.
AVON PARK, Fla.–June 25, 2015–In 1970, U.S. troops were on the ground fighting in Viet Nam, the Beatles were at the top of the charts with "Let it Be," and the minimum wage was $1.60.
In August of that year, SFSC hired a young graduate student to teach at its newly constructed campus in Avon Park.
Fast-forward 45 years.
That rookie instructor, now a dean, is leaving SFSC. Donald L. Appelquist retires on June 30, closing a chapter in the college's history and making way for new leadership at its foundation.
"I intended to teach for one year and then return to graduate school to complete my doctorate, but I fell in love with teaching," Appelquist said. "Now, after teaching for 17 years and overseeing the foundation for 28 years, it is time to retire," he said.
Before coming to Avon Park, Appelquist was nearing completion of his doctorate in biology. He decided to take a break and thought a year teaching community college undergraduates the basics of biology would fill the time before returning to his studies.
After his first year, he signed up for another, and he kept signing up. With each successive year, his ardor for teaching pushed the doctorate degree farther down the road. Aft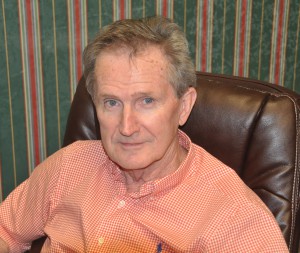 er, nearly two decades of classroom teaching, the doctorate unfinished, he had established himself as one of SFSC's top instructors.
From biologist to fundraiser.
But in 1987, Catherine P. Cornelius, then SFSC's president, stunned Appelquist with a request. She asked him to step out from behind the lectern and take up the twin posts of executive director at the college's newly formed foundation and the college's dean of resource development.
Appelquist said he had no experience as a fundraiser, which is mainly what college foundations do, although he did have experience writing grants connected with his research. Still, he thought it was time for a change, so he accepted the job.
"Don agreed to leave his faculty position to run the new foundation," Dr. Cornelius said. "A foundation that had only $15,000 in assets then."
For the next 28 years, Appelquist set out to transform the organization into a fully staffed fundraising and grant writing outfit.
"I estimate that we've raised about $30 million," he said. Much of that money has funded scholarships for students, help build out the campus, and bulked up the endowment, which now tops nearly $14 million.
Cornelius credits Appelquist with cultivating hundreds of supporters whose giving spurred the college to expand beyond Avon Park. Under his watch, the foundation acquired two former public schools—the Lake Placid Center in 1989 and the Teacherage, a historical building in Sebring, in 1993—bringing SFSC classrooms within reach of residents throughout Highlands.
More than fundraising.
Appelquist's responsibilities extended beyond fundraising. In 1990, the foundation assumed ownership of the Hotel Jacaranda, located in Avon Park's main street historical district. He set about securing historical preservation grants with an eye toward restoring the hotel—which had fallen on hard times—to the grandeur it acquired in the roaring 1920s.
The hotel became the base for the foundation, housing its offices and serving as symbol of the college's roots in Avon Park—SFSC's first classes met just across the street.
For Appelquist himself, the money and the buildings take second billing to one of the foundation's most successful initiatives—Take Stock in Children. The program, launched in 1997, matches at-risk high school students with mentors who guide them toward earning their diplomas, with college scholarships awaiting those who graduate and enroll in college.
"The sense of amazement and satisfaction I derive from seeing the immediacy of the impact this program has on at-risk kids who finish high school, then move on to college, is without measure," Appelquist said. "And not only them, I can see the affect it also has on the parents and siblings—it's a life-changing experience for everyone."
Accolades from colleagues
Appelquist has served under each of the four presidents who have headed up the college since its inception. Dr. Thomas C. Leitzel, SFSC's current president, who is poised to begin his third year, lauded the departing dean.
"We are enormously grateful for his dedicated service to SFSC and our community," Dr. Leitzel said. "He leaves us with a solid foundation — yes — an intentional play on words. From his efforts, the college will move forward to embrace and fulfill our vision."
But in his capacity as executive director of the foundation, Appelquist also answered to a board of directors who oversees its operations. Christy Crews, the foundation's current president, praised Appelquist for his efforts on behalf the students.
"Don has devoted his life to SFSC and its students, and untold numbers have benefited from his work," Crews said. "I wish him the best in retirement."
Change comes.
Applequist's retirement makes way for his successor, Jamie Bateman, to assume leadership of the SFSC Foundation. Batemen, currently executive director for the Florida Hospital Heartland Medical Center Foundation, will take over the reins from Appelquist on July 1, bringing 15 years of foundation experience with her.
Retirement has it benefits Appelquist said. In July, he will set off for a month in France, including a cruise down the Seine. Add in mountain climbing and a marriage, and his face breaks out into a smile.
But with two weeks before saying goodbye, Appelquist had occasion to stop and marvel at SFSC's transformation from junior college with a clutch of buildings to a four-year institution with three campuses and a center.
"Through it all there remains one constant," Appelquist said. "SFSC was and is a great place to spend a career."
AVON PARK, Fla.–June 23, 2015–South Florida State College's faculty recognition efforts got a boost from two Highlands County residents.
Bill and Lisa Jarrett pledged funds to endow a teaching chair for an SFSC faculty member dedicated to teaching business courses. The Jarretts founded the Bill Jarrett Ford dealership in Avon Park.
Laurie and Dr. Norm Stephens designated their donation to fund an endowment to support a teaching chair for any academic discipline taught at the college by a full-time faculty member. Dr. Stephens recently retired as SFSC's third president after serving in the college's top post for11 years.
"The Teaching Chair program gives us a way to show appreciation to excellence in teaching," said Donald L. Appelquist, SFSC Foundation executive director. 
Appointments to SFSC endowed teaching chairs are highly competitive, Appelquist said. Recipients are chosen by a selection committee, with advice and counsel from the college faculty. Selections are confirmed by SFSC's president Dr. Thomas C. Leitzel.
Faculty members appointed to a teaching chair are awarded $5,000 during two years, with half going toward professional development activities related to the professors' discipline of study and half as salary additive.
SFSC currently boasts three endowed teaching chairs. The Carol Emery Endowed Teaching Chair was established by a former SFSC mathematics instructor and benefits mathematics faculty.
Endowed teaching chairs in nursing and dental education, both funded by the Highlands County Health Facilities Authority, are awarded to faculty members who teach students in the health sciences.
"These chairs not only allow us to acknowledge current faculty, but also to attract the very best to our institution," Appelquist said.
SFSC offers prospective donors two levels at which to endow teaching chairs: one requires an endowment level of $50,000 and the other $100,000.  The Jarrett and Stephens families chose to endow their chairs at the $100,000 level.
"We would love to have a teaching chair available in every discipline, and it is our goal to do that very thing," Appelquist said. 
AVON PARK, Fla.–June 23, 2015–South Florida State College awarded the associate degree in nursing (ADN) to 33 students at a tradition-rich graduation ceremony last week.
The students completed SFSC's two-year registered nurse program and will soon sit for the national board examinations, aiming to start their careers later this summer.
The freshly minted nurses, all clad in white uniforms, sat shoulder to shoulder on the stage of SFSC's Theatre for the Performing Arts, with scores of family, friends, and well-wishers looking on from the audience.
Tonya Chancey, director of nursing at Next Generation Village Advanced Recovery Systems, took to the lectern to address the graduates and share her experience of a life in nursing.
Chancey, a former professor of nursing at SFSC, told the students they were entering a profession where service and dedication were not just bywords but the very essence of their calling.
She recalled the words of famed children's advocate Marian Wright Edelman: "Service is the rent we pay for being. It is the very purpose of life, and not something you do in your spare time."
Alysha Sargent, class president, recalled the ups and downs of the students' two-year pursuit of their degree, noting that they all had to sacrifice and lean on loved ones to earn the opportunity to take their seat on the theater's stage that night.
But before the class could take its turn observing ceremonies stretching back to the 19 century, they had an award of their own to confer. The class tapped Diorelly Marquez-Lopez, a nursing instructor at SFSC, as the recipient of the Golden Duck award. Each graduating class of SFSC nursing students gives the award to a person who contributes in a special way to their learning and development as a nurse. The award's significance is based on the D.U.C.K. motto: Developing, Understanding, Compassion, and Knowledge.
Continuing a custom initiated by Florence Nightingale, recognized as the founder of modern nursing, the graduating students received their nursing pins, as a symbol of their hard work and achievement. In contemporary graduation ceremonies, students accept their nursing pins from a person of their choice, in most cases a relative, who they see as a pillar of support in their lives.
One by one, husbands, mothers, and children mounted the stage, embraced their loved one, and pinned their new nurse.
The graduates, with the lapels of their uniforms now carrying their pins, then clasped a white lantern, which each graduate lighted in succession. This tradition, a rite of passage also initiated by Nightingale, signifies the courage, compassion, selflessness each new nurse is called to, Dr. Michelle Heston, SFSC's nursing program director, told the assembly.
"These unique values are yours now to pass along to your colleagues, but more important, to your patients," Dr. Heston said.
Then, in unison, the graduates recited the Nightingale pledge, a nurse's commitment of devotion to the welfare of the patient under his or her care.
Traditions observed, ceremonies complete, and few wet eyes in need of a tissue, the new nurses filed off the stage into the audience to greet their loved ones.
SFSC offers associate degree in nursing (ADN) options for students interested in becoming registered nurses: a two-year Generic-RN program and a one-year Transition-LPN to RN program. The college offers a one-year practical nursing occupational certificate program. Also, Licensed Registered Nurses (RNs) can earn a Bachelor of Science Degree in Nursing (BSN) in just two years, while attending classes one day per week at the SFSC Highlands Campus. For program entry requirements, consult the current SFSC College Catalog.
 The graduates are: Shiloh Ashby, Haley Britt, Angela Carlisle, Ceara Collins, Anais Cruz, Jennifer Culpepper, Kimberly Cummins, Sarah Donaldson, Nikki Feichtinger, Denise Fernandez, Bobbie Gilliard, Evelyn Jackson-Elder, Sheila Jean, Melissa Langdale, Guilmon Marasigan, Kimberly Martin, Kristen Massung, Crystal McCain, Christine McMillan, Breanna Mendoza, Lindsey Owens, Jillian Palmer, Paul Primeau, Claudia Regino, Eric Rodriguez, Laurie Rowe, Alysha Sargent, Sarah Smehyl, Ariel Vallejo, Courtney Williams, Rachel Williams, Valerie Worley.
AVON PARK, Fla.–June 18, 2015–Americans spend $55 billion a month at restaurants, according to the U.S. Department of Commerce, nearly $3 billion more than they do at grocery stores. Brennan Warner wants to get in on the action.
Warner is poised to start a trainee-management position at Ruby Tuesday next week. He credits his shot at the job to his finishing the culinary arts program at South Florida State College.
"If you want to get a head start in the restaurant business, SFSC's culinary arts program is the place to start—hands down," Warner said. "You're going to be looked at more seriously than someone without the training."
Warner, 28, said he was returning to his roots in the food service business. Out of high school, he worked in local restaurants, first helping out with the salad bar, taking over food preparation, and moving up to cook—mostly working at mom-and-pop eateries.
But in 2007, he opted for a new line of work. He graduated from SFSC's law enforcement program and started a six-year stint as a deputy sheriff, working for Glades and Highlands counties.
Now, Warren wants back in the kitchen.
"I love being in the kitchen," Warner said. "I enjoy the fast pace you find there, and I just love food."
To get reacquainted with his first love, Warner enrolled in SFSC's Food Management, Production and Services program last August. The 10-month occupational certificate course covers the gamut of food service, from kitchen organization to menu planning to cooking the perfect turducken. (What's turducken? It's chicken stuffed inside duck that is then stuffed inside turkey—all boneless.)
Graduates of the program find their way into every corner of the food service industry, said Timothy Hansen, professor of culinary arts. "We see graduates find jobs in Hilton and Marriott hotels, family-owned restaurants, and corporate establishments like Ruby Tuesday," he said.
"We even send graduates to the resorts out in Yellowstone National Park each summer, where they immerse themselves in the business and get see the west," he said. "One student stayed on and is doing very well for himself."
Hansen, known to his students simply as "chef," learned the food trade at New York's Culinary Institute of America, the nation's premier cooking school. After three decades in the kitchens of resorts and dinner clubs in the Midwest and New York, he chose to settle down in Sebring when SFSC offered him a teaching job.
"I've been teaching here for 16 years now," he said. "For me, it's fun, and I plan to keep on going."
The culinary program is housed Avon Park's Hotel Jacaranda, a historical structure that still serves visitors, both in its dining and guest rooms.
Students use the hotel's kitchen to master dicing onions, making donuts, and roasting turducken to perfection. To hone their skills, students handle all the food preparation for several events, including the SFSC Foundation's annual gala.
The students say Hansen's experience and hands-on teaching approach is key to their success.
"With his background, Chef Hansen brings a lot to the learning we do in the kitchen that's invaluable," said Jeremy Ethridge, a student who graduates this week with Warner and who has lined up a cooking post in the Navy.
"This definitely isn't flipping burgers," Ethridge said. "Chef Hansen has us prepare everything from scratch and turn it into food that tastes amazing."
With Americans now spending more on eating out than at home, prospects for employment in the restaurant industry remains upbeat.
Warner is hitching his future to Ruby Tuesday's success. The chain of casual dining restaurants boasts 737 locations, mainly along the East Coast. Managers at Ruby Tuesday can earn north of $45,000, according to Glassdoor.com, a website that tracks working conditions at American companies.
Warner has his sights set on moving up the management ladder. He said his goal is to move from manager to general manager within five years.
"If I had known about this course when I was coming out of high school, I would have done then," Warner said.
AVON PARK, Fla.–June 3, 2015–Take Stock in Children's 23 graduating high school seniors and their mentors were honored at the annual Mentor Appreciation and Senior Recognition Night on June 2 at the Hotel Jacaranda in Avon Park.
The TSIC graduates in attendance were:
Avon Park High School – Lacey Coleman and Rachel Gaidos
Sebring High School – Nathaniel Acosta, Kayla Bowen, Matthew Brown, Krystal Dombroski, and Sean Harrison
Lake Placid High School – Brittany Fraginals, Alexis Merlo, Devany Moore, and Alex Velazquez
DeSoto High School – Manolo Mejia, Amber Reid, and Alondra Morales
Hardee High School – Pagou Vue, Abigail Vargas, Angelica Montanez, and Julian Galvez
The graduates had an average weighed grade-point average of 4.33, and 10 were in the top 10 percent of their high school graduating class. Altogether, they completed 300 dual enrollment college credits. 
TSIC is a statewide program that provides college scholarships to at-risk middle students who agree to remain drug-free, stay out of trouble with the law, and maintain satisfactory grades throughout high school. Students are matched with mentors who meet with them regularly and help them prepare for college. The South Florida State College Foundation is the lead agency for TSIC in DeSoto, Hardee, and Highlands County. Since 2000, 363 students have graduated from the local TSIC program.
For more information about TSIC, call the SFSC Foundation at 453-3133.
AVON PARK, Fla.–June 1, 2015–After 40 years working at South Florida State College, Dean Jordan finally got promoted to dean, and she had to wait until her last day on the job for the honor.
Pamela "Dean" Jordan's retirement from the college's business office brings to a close the career of the college's third longest serving employee and an end to a long-running gag that tripped up many a new employee.
"We all called her by her middle name, Dean," said Anita Kovacs, SFSC controller and Jordan's supervisor. "But when new employees came by with an invoice, we'd tell them that needs Dean Jordan's approval, and they'd get flustered thinking they'd have to see to a college dean for approval."
It was only fitting, then, that as coworkers mustered in the college's board room to bid farewell to Jordan, they would surprise her with a certificate declaring her an honorary dean.
Despite the awe her name might instill in the new hires, coworkers saw her in a different light.
"Dean is one of the most personable employees I've worked with here," said Lynn MacNeill, SFSC's professor of communication, who has worked with Jordan since her hire in 1974. "From her first day on campus until this day, she has always been the easiest person to work with."
Before her retirement, Jordon, like MacNeill, was in line to take on the role of ROC, or resident old codger. A title college employees give to the longest serving employee, a role now held by Don Appelquist, who started with SFSC in 1970.
"I started here when I was 20 years old, and it's the only placed I've work since," Jordan said, as coworkers milled about the board room sharing stories about their time working with her.
When Jordan started, the college was a collection of small buildings lining the shores of Lake Glenada. Now nearly 3,000 students attend classes in two dozen buildings stretching across the college's 228- acre campus in Avon Park and satellite campuses in Lake Placid, Hardee and DeSoto counties.
She served as an assistant to the college's first president, William Stallard and ended her career as the coordinator of accounting.
"I've worked here nearly my entire life—it's the best place to work in Highlands County," Jordan said.
Her comments echoed the findings of a recent report handing top marks to SFSC for its work environment. SFSC was designated a Most Promising Place to Work based on the results of nationwide survey conducted by the National Institute for Staff and Organizational Development (NISOD) and the higher education magazine Diverse.
Jordan was born in Alabama but has called many places home. "I was an air force brat, so growing up we moved frequently." She moved to Highlands County when her father retired from military service and plans to stay put.
"I am going to devote my time to home renovations, a bit of travel, and lots of time with family and friends," she said.
Kovacs said she's waiting see how the business office will soldier on without Jordan.
"Dean was definitely the go-to person in our office," Kovacs said. "I think this will be a case of not knowing how much you miss someone until they're gone a month."
Jordon got a laugh out of her elevation to honorary dean in the waning hours of her time on campus.
"I've always told folks I am the only real dean around here," she said with a chuckle. "I can say that because it's my name."