AVON PARK, Fla. – July 29, 2016 – South Florida State College's graduated a class of 15 paramedics during an evening ceremony at the SFSC University Center Auditorium on July 27.
Receiving their paramedic certificates were: Front row, from left: Mark Kinsey, Brian Johnson, Aaron Eures, Ryan Huber, Kevin Cornine, Rebecca Crews, Cody Harden, Carlos Navarrete, and Danny Bailey. Back row, from left: Jacoben Jimenez, Dean Hrobar, Lance Meachum, Jeff Fussell, and Jason Stroppel, and Kevin Shireman.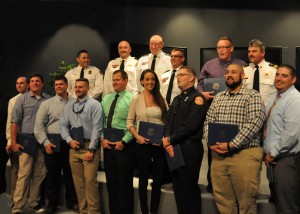 The graduates had just completed an 11-month college credit certificate course offered by SFSC's Emergency Medical Services (EMS) program. Paramedics work as part of an emergency response team called out to traffic accidents, fires, and other life-threatening situations.
Gary Hester, who is deputy manager of Polk County and oversees Polk's emergency management services, served as the ceremony's guest speaker. He praised the graduates for their willingness to serve their communities by choosing to become paramedics.
"There is no higher calling than serving your fellow humans when they are in need and danger," Hester said. "In my time managing emergency services, I've seen paramedics perform miracles in the most complex and daunting situations."
Hester noted he has observed paramedics intubate patients wedged between furniture and using flashlights gripped with their teeth for light. "Now contrast that with an intubation performed in an emergency room and you can see just how critical it is to have skilled, dedicated paramedics serving our communities," he said.
Several of the graduates received special awards. Dean Hrobar earned an award for the highest overall grade point average. The award for highest test scores for performance in the lab went to Danny Bailey.
Kevin Shireman received the "Most Heart" award for his dedication to completing the course and fostering an esprit de corps among the class.
The class president, Jeff Fussell, who serves as battalion commander with Polk County Fire Rescue, presented a plaque on behalf of his classmates to Steve Ashworth, chair of the SFSC EMS and Fire Science programs, for the dedication, devotion, and guidance he has shown by his leadership at the college.
SFSC offers a 300-hour course leading to employment as an emergency medical technician (EMT). EMTs provide entry-level patient care as part of an emergency response team.
SFSC also offers a two-year Associate in Science degree program in Emergency Medical Services, which includes training in both EMT and paramedic programs. Upon completing this program, graduates can work in a supervisory EMS capacity.
For more information, contact Steven Ashworth at 784-7272 or ashworths@southflorida.edu.
AVON PARK, Fla. – July 27, 2016 – Ever since she was a schoolgirl, Shaina Todd wanted to teach.
She kept her mind fixed on that goal from elementary school to her enrollment at South Florida State College.
In May, Todd walked across the stage at the Wildstein Center for the Performing Arts to pick up her Bachelor of Science in Elementary Education (BSEE) diploma at SFSC's spring Commencement.
Within weeks of earning her degree, the 21-year-old Hardee County native landed a teaching job at Bowling Green Elementary School. Todd will take over a kindergarten class from a retiring teacher. But not just any teacher.
With the start of the school year in August, Todd will step into Marilyn Best's classroom. It was Best who taught Todd in kindergarten at Bowling Green 16 years ago.
"I knew I wanted to teach, and my heart was always with the youngest children," Todd said. "So, when I learned that I would take over from my own kindergarten teacher, I thought this was too awesome."
Todd's connection with Best's kindergarten classroom goes back further. Todd's mother also had Best as a kindergarten teacher at Bowling Green, as did five of Todd's six sisters.
The oldest of seven girls, Todd said she always had a love for school and strove to earn high grades. In high school, she took classes as a dual enrollment student at the SFSC Hardee Campus, completing her secondary school courses while earning college credits.
"When I finished high school, I had already earned most of the college credits needed for my associate degree," Todd said. "SFSC's Hardee Campus offers a setting where you develop close bonds with the instructors and the advisors, so it was great place to study."
Todd said she had her sights set on getting her teaching credentials once she had completed her associate degree at SFSC, either at Florida Gulf Coast University or the University of Central Florida.
"I am first in my family to go to college," she noted. "My choice of school and my career direction is a big deal for me."
But just as she was weighing her options, SFSC launched its BSEE program in 2014, bringing a teacher education program to residents of the Heartland. Todd said it was an easy decision to stay with SFSC. One of the pluses: she could complete her internships at schools near her home in Hardee County.
It was an internship arranged through the SFSC BSEE program that led to Todd's selection as a kindergarten teacher by Bowling Green.
"I was assigned to intern in a second grade classroom at Bowling Green," Todd said. "The internship gave me an opportunity to work alongside the other teachers and to form ties with the school."
As last year's school term wound down, the staff at Bowling Green invited her to a party celebrating the retirement of several teachers, including Best, her former kindergarten teacher. At the party, news of Todd's appointment to succeed Best spread. She said partygoers shed tears of joy. "They all made a big deal of it," Todd said.
"I cried, too, when I heard the news," said Dr. Maday Leon, lead instructor for the SFSC BSEE program. "Hearing the story of a teacher who made an impression on a young student then passing on the keys to the classroom to her years later is what education is all about."
Todd showers praise on the BSEE program at SFSC, singling out the instructors. "They were great mentors," she said. "They were friends when you needed them to be friends, and they were professors when you needed help mastering the coursework."
"One of our professors, Ellen Thornton, was going to retire, and we begged her to stay on until we graduated," Todd said. "She put off her retirement to see us through to the end of the program before moving to the Florida Keys, and that says a lot about SFSC's faculty."
Todd made the President's List each of the five semesters she took BSEE classes, while maintaining a 4.0 grade point average.
Earlier this summer, Todd was in her new classroom putting up Dr. Seuss-themed placards when her former kindergarten teacher, Best, stopped in for a peak at her progress and offered some advice.
"Count your children on the first day," she said with a chuckle. "Also, make sure you know how each one of them gets home—those are the biggies in kindergarten," said Best, whose retirement comes after 32 years of teaching.
Todd harbors no illusions that the start of her career in public education will come without any hitches. "Some folks say to focus on money or bring up the negative side to a teaching career," Todd noted. "But I think teaching is a wonderful choice."
"It's about the outcome not the income," Todd said. "A teacher puts in so much work, and it's really rewarding to see how you can shape a student's life."
"My teachers have made a tremendous impact on my life, and now I want to do the same for others," she said.
Follow this link to learn more about the BSEE program: SFSC BSEE.
AVON PARK, Fla. – July 27, 2016 – South Florida State College now boasts having the only nationally accredited bachelor's degree nursing program in its service district of DeSoto, Hardee, and Highlands counties.
On July 25, SFSC received word that its Bachelor of Science Degree in Nursing (BSN) program earned initial accreditation from the Accreditation Commission for Education in Nursing (ACEN).
News of the accreditation came to Dr. Michele Heston, director of Nursing Education, in a call from ACEN chief executive officer Marsal P. Stoll, congratulating SFSC on its achievement.
"The entire nursing department faculty and staff are extremely grateful for the collaborative work of the college and the region's health care community," Dr. Heston said.
SFSC launched its BSN program in 2014 in response to a call by the nursing profession for colleges to graduate more baccalaureate-level nurses. The health care system has increasingly demanded nurses with higher educational achievement.
SFSC graduated its first class of BSN students in May. The inaugural class comprised 27 registered nurses who had already earned an associate degree in nursing. They completed a program of study designed to permit them to continue working while studying.
"To achieve accreditation from nationally recognized standard-setting bodies has been the goal of SFSC health science programs," said Rebecca Sroda, dean of Health Sciences. "This achievement nearly rounds out the accreditation of SFSC's several health sciences programs."
ACEN is one of only two accrediting bodies in the country that are recognized by the U.S. Department of Education. The other is the Commission on Collegiate Nursing Education.
A site evaluation team of peer experts from ACEN visited the SFSC Highlands Campus in January to review the BSN program. The visit came after an intense period of self-preparation by SFSC's Nursing Education faculty that began in 2013.
To attain accreditation, nursing programs must demonstrate that they meet ACEN's exacting standards of quality, a process that includes years of preparation and concludes with an on-site review.
"Many employers will only hire graduates of accredited schools," Dr. Heston said. "For example the U.S. military, the entire Veterans Administration system, and many major academic medical centers will not consider nurses for employment unless they graduated from an accredited college."
Dr Heston noted the majority of the May graduates plan to continue on to earn advanced degrees. Graduating from an accredited program is a requirement for applying to most graduate programs in Florida and beyond, she added.
"All SFSC BSN students who graduated during our candidacy period are considered to be covered under the accreditation," Dr. Heston said. "That will come as good news to the nurses who graduated in our inaugural class in May."
In a nod to the quality of SFSC's BSN program, the site visitors observed in their final report "a remarkable amount of enthusiasm, collaboration, cooperation, and shared vision" among SFSC's trustees, college leadership, nursing faculty, and alumni with the diverse community of health care providers.
Dr. Heston noted that while site teams strive to ensure a measure of detached analysis in their reports, this team singled out SFSC for its innovative approach to shaping its BSN program to meet not only the needs of its nurse students but the needs of the residents they serve, with the college's particular emphasis on caring for the region's outsize population of older residents.
ACEN accreditation also opens up avenues for SFSC to apply for grants that might be used to fund resources, such as equipment for teaching labs. "When applying for a grant, most funders want to know if your nursing program is nationally accredited," Dr. Heston said. "If not, they may not be considered for the grant."
SFSC started a traditional Associate Degree in Nursing (ADN) program leading to licensure as a registered nurse (RN) in 1993. SFSC has had long-standing occupational certificate practical nursing program that students can complete in one year. SFSC also offers one-year transition licensed practical nurse to registered nurse program.
In addition to its nursing programs, SFSC offers health science programs of study in dental hygiene, dental assisting, radiography, paramedic, and emergency medical technician. Short-term programs offered through the Division of Health Sciences are Home Health Aide and Phlebotomy.
Dr. Heston noted SFSC is still accepting applications for the fall academic term that begins on Aug. 23. BSN classes will meet only on Tuesdays, with the balance of the coursework completed online.
Applicants must have an associate degree in nursing or its equivalent with a 2.0 grade point average from an institution that is regionally and nationally accredited, hold a current unencumbered Florida RN license, and maintain current certification in Basic Life Support or higher.
For more information about these programs, call the SFSC Advising and Counseling Center at 863-784-7131 or visit the Academics page: www.southflorida.edu.
AVON PARK, Fla. – July 25, 2016 – On July 21, South Florida State College's honored five radiography program graduates in a traditional pinning ceremony on the college's Highlands Campus in Avon Park.
Those honored were: Glenda Hernandez, Beverly Slaughter, Kiara Morales, Angela Salinas, and Heidi South.
The graduates had completed SFSC's Associate in Science (AS) degree in Radiography and will soon sit for their national board examinations, aiming to start their careers later this summer. Radiologic technologists work in hospitals and clinics performing diagnostic imaging examinations, such as x rays.
The guest speaker, Benjamin Carter, director Outreach and Academic Support at SFSC, offered words of advice to the graduates as they prepared to launch their careers.
Citing the words of Marie Curie, the French-Polish scientist awarded several Nobel Prizes for her ground-breaking work, Carter urged the graduates to strive always to reach the top of their careers.
"Don't let obstacles stop you from achieving your goals," Carter told the graduates, noting that Curie—credited with coining the word "radioactivity"— had overcome many hurdles in her life to reach the pinnacle of her profession.
"Always have an appetite for learning and make a point of continuously inspiring others," Carter said.
Heidi South, the graduating class president, took to the lectern to thank families and friends in attendance for their support, encouragement, and love that saw her and her classmates through the two-year program.
"One of the most important things we learned was the value of compassion, South said. "As radiologic technologists, we often meet people when they are at their worst. They're in pain and suffering, and that's when we need to show not just empathy but compassion."
Junior Gray, director of the radiography program, presented an award to Glenda Hernandez for academic excellence. South received an award for clinical excellence.
Upon completing SFSC's two-year AS Radiography program, graduates can work as certified radiologic technologists by passing the American Registry of Radiologic Technologists national examination.
SFSC's Radiography program is accredited by the Joint Review Committee on Education in Radiologic Technology.
For information, contact Gray at 784-7347 or grayj@southflorida.edu.
AVON PARK, Fla. – July 21, 2016 – South Florida State College graduated its first class of elementary school teachers in May. After two years of seeing 12 students through teacher preparation courses, internships, and examinations, the college said nearly all have found employment in area school districts.
But SFSC's efforts put only a dent in the long-running problem of recruiting teachers for the state's schools.
According to the latest report from the Florida Department of Education, the state faces a critical shortage of teachers in science, mathematics, English, reading, and English for speakers of other languages (ESOL).
What makes the teacher shortage even more daunting for school administrators is that too few minorities choose to enter the profession.
As SFSC prepares to enroll a new class of students in its Bachelor of Science in Elementary Education (BSEE) program that starts in August, it aims to increase enrollment of minority students.
SFSC expanded outreach to minority candidates this spring and summer under the leadership of Dr. Maday Leon, the BSEE program's lead instructor.
Now SFSC wants prospective students to know that financial incentives exist for choosing education as a profession. The Florida Fund for Minority Teachers offers a $4,000 scholarship to minority students who enter a teacher preparation course at participating Florida colleges, including SFSC.
Candidates for the fund's Minority Teacher Education Scholarship must be U.S. citizens, admitted to a teacher preparation program, and have completed at least 60 credit hours. The scholarship is available to students who are African-American, Hispanic, Asian, Pacific Islander, or Native American.
Scholarship applications for the spring academic term of 2017—the next available opportunity—open on Sept 15. A screening committee at each participating college selects students for the scholarship.
Students receive the scholarship during their junior and senior years. The $4,000 is enough to cover tuition for each year of study.
The shortage of minority teachers comes at a time of growing enrollment of African-Americans, Hispanics, and other minorities in the state's schools.
In the three counties that comprise SFSC's service district—DeSoto, Hardee, and Highlands—more than half the students are classified as minority.
Many Florida school districts have struggled to recruit teachers that reflect the composition of their classrooms. Figures from the state department of education show that approximately 14 percent of the elementary school teachers in DeSoto, Hardee, and Highlands are classified as minority.
The Florida Legislature set up the Florida Fund for Minority Teachers scholarship in 1996 to assist the state's colleges in attracting more minorities to classroom teaching. The program is administered by a board of directors appointed by the governor.
Graduates of SFSC BSEE program earn endorsements in reading and English for Speakers of other Languages (ESOL), both of which are of interest to school principals aiming to hire highly qualified teachers.
To learn more about admission to this fall's BSEE degree program or the scholarship, contact Dr. Leon at 863-784-7154 or leonm@southflorida.edu.
AVON PARK, Fla. – July 21, 2016 – Through an expanding array of online courses, South Florida State College is turning the computer into the classroom and making it possible for students to complete the first two years of college at their own pace and on their own terms.
In fact, SFSC students can earn an Associate in Arts (AA) degree entirely by taking online courses. It's a way of expanding educational opportunities to people who need the convenience of making their college studies revolve around their work and family lives.
Online courses also appeal to students who have been away from the classroom and want to determine whether they are ready to commit to continuing their education.
 "SFSC's online courses are ideal for students juggling the demands of family life, busy work schedules, and other circumstances which may not allow them to attend college in the traditional setting," said Dr. Sidney Valentine, vice president for Academic Affairs and Student Services.
Students who enroll in SFSC's online courses use the same textbooks, receive the same educational content, and interact via email with SFSC instructors who teach campus courses. Online classes start and end on the same dates as SFSC's regular fall, spring, and summer terms, and the tuition for online and regular classes is the same. Most importantly, students receive the same college credit that counts toward the completion of a degree or occupational certificate.
SFSC also offers online courses geared toward students studying for entry into an occupation. A few of those courses are Introduction to Criminal Justice for law enforcement and Introduction to Teaching Profession for prospective teachers.
Select online courses are also available to students who have been accepted into SFSC's Bachelor of Applied Science degree in Supervision and Management (BAS-SM) and Bachelor of Science degree in Nursing (BSN) programs.
The complete list of online courses can be found at www.southflorida.edu under "Class Schedules."
Prospective students can get one-stop assistance by dropping by SFSC College Assistance Express Days, between 8 a.m. and 6 p.m., Monday, July 25, Wednesday, Aug. 3, and Tuesday, Aug. 9. Anyone can stop by the Building B Welcome Center on the Highlands Campus and get help filling out their college application and completing the Free Application for Federal Student Aid (FAFSA) in time to start fall classes. For more information about College Assistance Express Days, call Summer Miller, recruiter, at 784-7447 or email her at summer.miller@southflorida.edu. The list of documentation students need to bring with them can be found at www.southflorida.edu/collegedays.
Advisors are also available to assist students at all SFSC locations during their regular hours.
AVON PARK, Fla. – July 20, 2016 – South Florida State College graduated 10 emergency medical technicians during an evening ceremony on July 14 in the SFSC Public Safety Auditorium, Highlands Campus, in Avon Park.
Earning their EMT certificates after 16 weeks of training were: Coleton M. Choate Maria Dolores Albarran, Nathan Heaton, Beth Anne Fletcher, Joshua Caleb Mink, Vivia Dianne Nott, Michael G. Isom, Amanda Gayle Tyson, Trenton C. Carlisle, and Stephen Cody Wilson. [Pictured from left to right.] (more…)
AVON PARK, Fla.  – July 19, 2016 – With the adult coloring craze in full swing, the South Florida State College Library joins the celebration of National Coloring Book Day with a color-in featuring a day-long coloring party, free coloring pages, and a drawing to win one of several coloring-themed prize packs.
The SFSC Library Color-In will be held Tuesday, Aug. 2, at the South Florida State College Library, second floor of Building Y, Highlands Campus, in Avon Park. Take Entrance 3 or 4 from West College Drive. Participants are welcome to drop by the library between 7:30 a.m. and 5 p.m.
While the library has offered coloring opportunities for both the community and college students during final examination weeks to help students de-stress, this will be the first event dedicated to coloring.
"I'm excited about this event," said Claire A. Miller, SFSC librarian. "The combination of coloring and libraries is a natural one. Coloring is a way to relax, focus your attention, and be creative–all activities that libraries love to encourage."
Miller has designed a custom coloring page promoting the Aug. 2 celebration that can be downloaded from the SFSC Library Facebook Page (https://www.facebook.com/SFSCLibrary/), or picked up at the library circulation desk.
For more information, contact Miller at 863-784-7305 or at millerc@southflorida.edu.
AVON PARK, Fla. – July 18, 2016 – South Florida State College invites prospective students and parents to drop by its Highlands Campus in Avon Park to get individualized assistance in applying for admission or financial aid.
SFSC's recruiter and staff will be available on Monday, July 25, Wednesday, Aug. 3, and Tuesday, Aug. 9, to help new students complete their admission application. Participants are welcome to drop in anytime between 8 a.m. and 6 p.m.
New or current students seeking financial aid for the fall academic term are invited to drop by on any of the three days to get help completing their Free Application for Federal Student Aid (FAFSA).
Dubbed College Assistance Express Days, SFSC set aside the three days to make it easier for students to get admitted and apply for financial aid.
"New and current students, and their parents, are welcome to visit with us for help in applying for both admission and financial aid," said Summer Miller, SFSC's recruiter. "We can offer them personalized assistance–no appointment is needed."
Applicants and students will find Miller and SFSC staff waiting to help them in the lobby of Building B on SFSC's Highlands Campus, 600 W. College Dr., Avon Park.
Most applicants will seek to claim Florida residency for in-state tuition. Miller recommends they check the SFSC website to ensure they bring the right documentation with them. They can visit www.southflorida.edu and enter "Florida residency" in the search box. Miller noted that applicants can apply for admission with or without documentation.
SFSC's College Assistance Express Days also aims to help applicants and students get their financial aid applications started. On any of the three days, new students who have been admitted, or returning students, can get one-on-one help.
Miller recommends visiting the SFSC website to find the documentation requirements for financial aid. Look for the frequently asked questions Web page, or "FAQs" on the financial aid section of SFSC's website.
In addition to its two-year associate degree, SFSC offers three bachelor's degree programs: elementary education, nursing, and business with a concentration in supervision and management. Students who earn an associate degree at SFSC are guaranteed admission to one of Florida's 12 state universities or one of the college's own bachelor's degree programs.
Residents who haven't earned a high school degree can learn about SFSC's adult education program leading to a high school equivalency diploma.
For more information about the College Assistance Express Days, contact Miller at summer.miller@southflorida.edu or 863-784-7447.
AVON PARK, Fla. – July 13, 2016 – Megan Paquette Stepe just moved to Highlands County from Orlando. Stepe said she enjoys views not found in Orlando: cows in their fields and the opens spaces free of development.
Stepe also enjoys the Museum of Florida Art and Culture (MOFAC) on the Highlands Campus of South Florida State College. Her pleasure comes not only from its collection of Florida art and artifacts, but from her role as the museum's new curator.
SFSC tapped Stepe as MOFAC's curator last month, taking over the position held for 11 years by Mollie Doctrow, who retired at the end of June.
"I think what makes MOFAC special is its varied collection," Stepe said, as she walked through the gallery during the quiet of the summer as she prepares for the first exhibition in the fall.
"From paintings to sculptures to archeological artifacts, MOFAC covers the broad canvas of Florida art and history," Stepe said. "That's the chief reason I was drawn here; that's why I chose to apply for the job."
Stepe comes to SFSC MOFAC after six years serving as the curator of the Fine Arts Gallery at Seminole State College in Sanford, a 30-minute drive north of Orlando.
"MOFAC holds a more expansive collection and has larger galleries than I am accustomed to at Seminole State," Stepe said, as she surveyed the viewing space. "Previously, I worked with a collection with fewer than 150 works in a gallery with far less space."
But Stepe comes to MOFAC with a background as varied as its collection. The Mt. Clemens, Mich., native recounted that she moved to Florida after earning her associate degree at Macomb Community College outside of Detroit.
"I know it sounds cheesy, but I wanted to be near the ocean," Stepe said. She enrolled at the University of Central Florida, where she studied art and anthropology.
"My parents fostered a creative environment at home, so I suppose that explains my love for art," she said. "But I also kept taped to my desk a photo of an ancient man who had been discovered frozen in ice, so I suppose that explains the anthropology."
After earning her master's degree in art history and critique at Florida State University, Stepe returned to Orlando, taking up several posts with arts organizations and displaying her own work before joining Seminole State College.
"I work in several media," Stepe explained. "I do pottery, I paint and draw, and I like to sew, too—I sew aprons."
Stepe explained she hunts for vintage fabrics, some of which she hand dyes, and stitches them together to create aprons with several layers. "I want to bring back the art of wearing aprons," Stepe declared.
One of her tasks this summer is coming up to speed on the art scene in Highlands, Hardee, and DeSoto counties. Later this month, she will host a luncheon with MOFAC's advisory committee and friends of the museum.
Stepe also is giving thought to MOFAC's first exhibition, which opens on Oct. 5. The show, "Florida Waterworks: Friends, Teachers, Students," will feature the work of artists who have had a relationship with MOFAC, as exhibitors, teachers, or SFSC art education alumni.
How does Stepe approach laying out an exhibition's pieces? "The works themselves speak. They speak to me," Stepe explained "They'll talk, telling me who wants to be near each other and who plays well together."
But there's still the minutiae and nuances of learning the workings of a new setting. "I shadowed Mollie for a week taking note after note," Stepe said. "Here are eight pages of single-spaced notes I typed after my week with Mollie, and I used narrow margins."
Stepe and MOFAC are one half of SFSC's cultural programming. MOFAC's galleries are part of the Wildstein Center for the Performing Arts, the main venue for the college's live performances, on the Highlands Campus in Avon Park.
"We're all excited Megan chose SFSC and MOFAC as the place to start the next chapter in her career," said Cindy Garren, SFSC's director of Cultural Programs. "Megan exudes an enthusiasm that is sure to catch on with MOFAC's many friends, visitors, and our students.  With her creativity and artistic flair, she's going to energize the museum, the students, and the art program."
In addition to her role as MOFSC's curator, Stepe will teach art appreciation to SFSC students during the fall academic term. "I also taught art at Seminole State," she said. "My goal in the classroom is to get students comfortable with visiting a museum, appreciating the art, and getting them to a level of comfort where they know their opinion of art is just as valued as an experienced art lover."
When Stepe is not on campus this summer prepping for the fall, she'll be house hunting. Her husband of seven years, Kyle, will join her, along with two cats and a dog. All three are still in Orlando.
Returning to her office just off the gallery floor, Stepe stopped to take in the moment.
"It's a beautiful museum," Stepe said, looking about. "The collection is thoughtfully placed. It's placed so that it lends to a greater understanding of not only Florida art and history but its people too."