Florida Hospital Heartland Medical Center generously donated $75,000 to SFSC to fund additional nursing faculty and expand the program to meet a critical need for nurses in the region.
With the demand for nurses expected to rise by 20 percent over the next 10 years, those who obtain nursing degrees from SFSC have a 100 percent job placement rate. Many students obtain jobs before graduation day.
"We are extremely proud of the quality education delivered by our nursing faculty," said Dr. Thomas C. Leitzel, president of SFSC. "The partnership that SFSC enjoys with Florida Hospital Heartland Medical Center is outstanding for students and the community. The first-class clinical experience provided by Florida Hospital prepares our students with the practical education to complement the theoretical immersion they receive in their college courses."
"For many decades, SFSC and Florida Hospital have worked in tandem to improve the health and wellness of the Heartland community. SFSC's nursing curriculum provides highly-knowledgeable nurses to care for our ever growing and aging population with compassion and kindness. Our partnership leads to improved patient safety and higher-quality care which helps sustain and build our community. It also helps Florida Hospital to extend the healing ministry of Christ," said Randy Surber, chief executive officer and president of Florida Hospital Heartland.
SFSC's associate degree program in nursing was ranked as tied for first among 1,247 programs in the nation by the National Council of State Boards of Nursing, an independent, non-profit organization that is composed of boards of nursing who assure that safe and competent care is provided by licensed nurses. For 2017, SFSC had a 100 percent passing rate for the National Council Licensure Examination (NCLEX) for July through September, which directly influenced this ranking. The perfect score was significantly higher than the national average of 84.24 percent during this time period. The college also received the ranking of tied for first in its service area and among similar programs nationwide. The NCLEX exam determines whether or not students are prepared for licensure in nursing.
"It is an honor to support SFSC with this donation. We have been repeatedly inspired by the outstanding nursing programs overseen and led by Dr. Heston and the partnership between the College and Florida Hospital Heartland Medical Center," said Cathy Jaco, chief nursing officer and vice president of Patient Care Services for Florida Hospital Heartland.
"The demand for nurses is extremely high in our service district and to support this demand, Florida Hospital has generously provided funding," said Dr. Michele Heston, dean of health sciences at SFSC. "With the hospital's support, we can expand the capacity of our nursing programs at SFSC and create a mutually beneficial academic-practice partnership where we maximize our resources, maintain cost-effective education and health care, and develop a clear career pathway for our graduates."
SFSC currently offers an online Bachelor of Science in Nursing (BSN), an Associate of Science in Nursing to become a Registered Nurse (RN), an Associate of Science in Nursing to transition from Licensed Practical Nurse (LPN) to RN, and an occupational certificate in practical nursing.
For more information about SFSC's nursing program, contact Sara McGann, health services specialist at SFSC, at 863-784-7027 or sara.mcgann@southflorida.edu.  
South Florida State College (SFSC) acknowledged 28 graduates of its practical nursing program at a pinning ceremony on Thursday, July 26, in the Alan Jay Wildstein Center for the Performing Arts in Avon Park.
Pinning ceremonies recognize nursing graduates for their accomplishments, emphasize their responsibilities as health care providers, and officially welcome them into the nursing profession. Having earned their occupational certificates in practical nursing, the graduates are now eligible to take the National Council for Licensure Exam for Registered Nurses (NCLEX-PN) and apply for practical nursing licenses from the Florida Board of Nursing.
The 2018 practical graduates are Ahlam Alqabsi, Reham Alqabsi, Irma Alvarado, Selena Badillo, Neysa Carlini-Smith, Kelley Creighton, Ebony Davis, Stephanie DeAnda, Erica DeLoera, Maria Diego Macedo, Savanah Ewing, Jennifer Fannin, Sonya Fowler, Jessica Garza, Maribel Garza, Jessica Godinez, Bonnie Kelecseny, Erica Molina, Christina Moye, Crystal Oliveros, Jessica Price, Jessica Roarx, Berenice Roblero, Angelica Salgado, Raney Sebring, Ingri Suarez, Monike Thomas, and Dalal "Dee" Zaban.
On behalf of the college, Dr. Michaela Tomova, dean of arts and sciences, congratulated the graduates. "We are thankful for your accomplishments. We know as you embark on your professional journey, you will take part of the South Florida State College spirit with you in your heart, and you'll always remember the support, the knowledge, and the love you have gained in our institution. I know you will impart that faith, love and support to people you are destined to meet in your professional career. Thank you for being our pride and joy."
Nursing instructor and keynote speaker Candra Polk encouraged the graduates to follow the example of actor Will Smith by creating an annual personal mission statement defining how they will improve the lives of others by continually striving to improve themselves.
"No matter who you are or what you do each day, it is so important to stay driven, to continually elevate your mind, to elevate your spirit, and to care for your bodies so that you will be able to love and care for as many people as effectively as possible with this mystery of life we've been given."
Class president Dalal "Dee" Zaban thanked the extensive village of family, friends, teachers, and others who supported the nursing students while they pursued their education, and she reminded her classmates that it is now their duty to serve a village of patients and their families. She shared her own personal philosophy that defines her approach to nursing: "If I cannot do great things, I will do great things in a small way."
"It is not the measure of how we will change lives, but in the great way we will do it: through human touch, attention, giving a bath, refreshing bed linens, distracting a crying toddler while getting vaccinated, holding a patient's hand when they are scared or confused, or being there for the families of the patients in our care," Zaban said.
Graduates received their pins from a person of their choice, such as family members and friends. The ceremony concluded with the new nurses lighting candles to symbolize the impact they will make on the world and then reciting the Nightingale Pledge of nursing ethics, named after Florence Nightingale, the founder of modern nursing.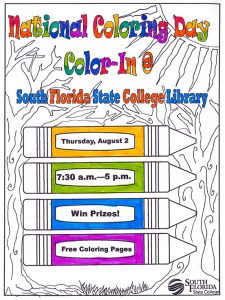 For the second year in a row, the SFSC Library will join the celebration of National Coloring Book Day with a color-in, featuring a day-long coloring party, free coloring pages, and a drawing to win one of several coloring-themed prize packs.
While the library offers coloring pages and supplies to students and community members throughout the year, the 2018 celebration focuses on both the creative and social aspects of coloring.
"Every year, we have families, individuals, and coloring groups sharing time and creativity in our space," said Claire A. Miller, SFSC librarian. "The encouragement, creativity, and fun are my favorite part of the event." In fact, Miller has designed a custom coloring page promoting the Aug. 2 celebration. The coloring page can be downloaded from the SFSC Library Facebook page, @SFSCLibrary, or HERE.
The Color-In will take place on Thursday, Aug. 2, 7:30 a.m. – 5 p.m., at the SFSC Library, which is located on the second floor of Building Y on the Highlands Campus in Avon Park.
For more information about the National Coloring Book Day Color-In, contact Miller at 863-784-7305 or at millerc@southflorida.edu.
A $40,000 grant from the Community Foundation of Sarasota County has been awarded to the SFSC Foundation, Inc. to benefit part-time students who are attending SFSC in summer and fall 2018.
The grant comes from the Edward K. Roberts Community College Fund, which was established by Roberts as a legacy to support Florida's community colleges and other charitable organizations. Managed by the Community Foundation of Sarasota County, the fund continues Roberts' vision of making higher education a priority, particularly for those motivated to seek a better life for themselves.
SFSC's grant funds are designated to provide assistance to students who are attending college part-time and may not qualify for other forms of financial aid. The grant covers tuition, housing, books, child care, automobile repairs, and needs that would otherwise prevent students from attending college. Recipients are identified by SFSC's Office of Financial Aid.
"Because of grants from organizations such as the Community Foundation of Sarasota County, the SFSC Foundation can make funds available to SFSC's students," said Jamie Bateman, SFSC executive director of institutional advancement. "The funds from this grant allow our students to concentrate on their studies and prepare for personally and financially rewarding careers."
For more information about the grant, contact the SFSC Office of Financial Aid at 863-784-7134 or -7254. For information about the Community Foundation of Sarasota County, visit cfsarasota.org.
AVON PARK, Fla. – July 24, 2018 – On Thursday, July 19, South Florida State College (SFSC) honored 11 of its graduates in a traditional pinning ceremony on the College's Highlands Campus in Avon Park. The graduates have earned their Associate in Science (A.S.) degrees in radiography.
The graduates honored were Alicia Black, Cynthia Granados, Melissa Hernandez, Nicole Iosue, Heather Johnson, Rosela LaPointe, Raquel "Rocki" Martinez, Jacob "Jake" Mayer, Araceli Navarro, Marina Torres, and Edna Viljean.
The guest speaker, Sabrina Keckler, supervisor of the Imaging Department at Florida Hospital Heartland Division, offered words of advice to the graduates as they prepared to launch their careers.
Alicia Black, class president, thanked the families and friends in attendance for their support, encouragement, and love that saw her and her classmates through the two-year program.
Junior Gray, director of the radiology program, reminded the graduates to, "Keep demonstrating compassion and professionalism to gain respect from your patients, superiors and colleagues."
Upon completing SFSC's two-year A.S. degree in radiography, graduates can work as certified radiologic technologists by passing the American Registry of Radiologic Technologists (ARRT) national examination. Radiologic technologists work in hospitals and clinics performing diagnostic imaging examinations, such as X-rays.
For information about SFSC's Radiography program, contact Gray at 784-7347 or grayj@southflorida.edu or visit SFSC Radiography.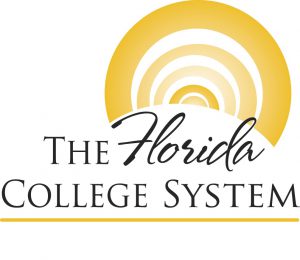 AVON PARK, Fla. – July 18, 2018 – For the second year in a row, South Florida State College (SFSC) earned gold status for 2018-19 from the Florida College System (FCS). Of the 28 FCS institutions, SFSC was among only five to earn gold.
"It is thrilling to learn that SFSC received this prestigious recognition for two consecutive years," said Dr. Thomas C. Leitzel, president of SFSC. "This year's score is near perfect. The rating puts SFSC among a group of elite Florida colleges and affirms the commitment to excellence in student services combined with quality learning initiatives led by committed members of the faculty."
The FCS uses a Performance Funding Model to issue points to each of the 28 institutions. Using a 40-point scale, the model includes four measures that are worth 10 points each: Retention Rates; Completion Rates; Job Placement/Continuing Education Rates; and Entry-Level Wages. The institutions are then placed in categories based on their point totals: gold, silver, or bronze. This year, there were five gold, 18 silver, and five bronze colleges. The points are distributed based on Improvement and Excellence, with comparisons between last year's and this year's data. SFSC scored 39.64 out of 40 possible points.
"At SFSC, we are honored to be a gold status college once again," said Tami Cullens, chair of the board of trustees for SFSC. "This speaks well of our commitment to serve the students in our district and the dedication of our administration, faculty, and staff in making a difference in the lives of all who attend this great institution. SFSC is a family of outstanding individuals whose focus is taking students to the next level while improving their lives. Our board is honored to work with everyone at SFSC; a grand congratulations to all."
For 2018-19, the Florida legislature and governor allocated $60 million of general revenue to performance funding. The gold category colleges will receive both their proportional share of the State's funding and a point-proportional share of the funds that would have been available to the colleges that scored 29.01 points and below placing them in the bronze category.
"I am very proud of the entire SFSC family, especially our faculty and staff who have worked hard for this honor and our students whose efforts were integral to our success," said Tim Backer, immediate past chair of the board of trustees for SFSC. "We continually improve and this achievement is evidence that we are performing at an optimal level. The board has always appreciated the employees' dedication to excellence."
For more information about SFSC, call 863-453-6661 or visit southflorida.edu.
AVON PARK, Fla. – July 17, 2018 – SFSC honored nine graduates of its Dental Assisting program in a pinning ceremony in the SFSC University Center Auditorium on Thursday, July 12. Receiving their pins were Petra Calderon, Soraya Castillo Diela Darceus, Lissette Hernandez, Shalonda Jordan, Jennifer Lopez, Lisset Paulino, Naseana Sullivan, and Taylor Tompkins. 
To open the ceremony, Dr. Deborah Milliken, chair of SFSC's Dental Education program, recited the short poem, "We Made It," by Ron Atchison. The poem was written on the first day of the new millennium. Dr. Milliken went on to congratulate the dental assisting graduates on behalf of herself and the faculty. 
Keynote speaker was Dr. Stefani Allison, a dentist whose general practice is based in Winter Haven and provides clinical experience for SFSC dental assisting students. Dr. Allison spoke with graduates on the importance of their role as an assistant within a dental practice. She urged the graduates to find a workplace that treats them with the respect they deserve and bolsters them in their lifelong learning.  
Upon completing the Dental Assisting program, graduates can work as Certified Dental Assistants by passing the Dental Assisting National Board examination and qualifying for the Expanded Functions Dental Assisting Certification as well as Orthodontic Assistant Certification. All nine dental assisting graduates have received Florida Orthodontic Certification. 
SFSC also offers a two-year Associate in Science degree program in dental hygiene. Upon completing this program, graduates become dental hygienists by passing the National Dental Hygiene Board Examination and the Florida State Clinical Licensure Examination. 
For more information on the dental programs at SFSC, call 863-453-6661 or visit Dental Education.
AVON PARK, Fla. – July 16, 2018 – "You can never go home again" is a phrase coined by author Thomas Wolfe. Often, the place someone has lived remains but the people and the reality of what it was like disappear over time.
Father and son, Kerry and Kyle Thompson, both South Florida State College (SFSC) alumni, have never lost that sense of home when they speak of Lake Placid or Highlands County and find it a source of great strength.
Kerry is the vice president and office manager of Heartland National Bank's Lake Placid Office. He received his Associate in Arts degree in business administration in 1977 from SFSC, then known as South Florida Community College, and went on to earn his Bachelor of Arts degree from Liberty University in Lynchburg, Va.
Kyle graduated from SFSC in 2011 with his Associate in Arts degree in business administration and earned his bachelor's degree in food and resource economics from the University of Florida in 2013. He earned his Juris Doctor (J.D.) and a Master of Laws in Taxation (LL.M.) from the University of Alabama School of Law in 2016. He practices law with Rider & Thompson, P.A., in Lake Placid.
Kerry grew up in Miami. "Miami was a really nice place to live in the late 1950s. We didn't lock our doors or our cars," he said. "But my dad was a police officer and could see the landscape changing."
He was introduced to Highlands County early in life when his family camped at Fisheating Creek in Palmdale and shopped for supplies in Lake Placid. Eventually, the family, discovered that they had a distant relative who owned property in Venus. "He was getting older and wanted to sell some property, so we bought some land and ended up building a house," Kerry said. "Then, my mom, my brother, and I moved to Lake Placid in 1973 when I was a junior in high school. My dad continued to work as a police officer in Miami and would commute back and forth on the weekends until he retired from the police force."
Kerry graduated from Lake Placid High School in 1975. Although he didn't plan to attend college, he went to Edison Community College in Fort Myers on the promise of a golf scholarship, but the scholarship didn't materialize. He attended the college for two semesters and played on the golf team, but had to work, go to class, and practice golf. Disheartened, he returned to Highlands County and enrolled at SFSC.
While attending college, he worked at Sun 'n Lake Golf Course in Sebring, getting up at 4 a.m. to mow the greens. He'd then shower and change, head to class at SFSC, then return to the golf course to work until late in the afternoon.
Kerry's career in banking started in 1978 through an acquaintance, Don Dyer, who had designed and built the golf course at Sun 'n Lake in Sebring. Kerry worked for Dyer at the Sun 'n Lake Golf Course in Lake Placid while he was attending Lake Placid High School and then Sun 'n Lake Golf Course in Sebring after it was opened for business. "Don later went into banking at First Bank in Lake Placid," Kerry said. Kerry's mother ran into Dyer at the bank one day. Dyer told her about an opening at the bank and suggested Kerry come talk to him.
Kerry was hired to work in the bank's loan department. Later, he trained to run the newly opened trust department. He was sent to the University of Florida for a couple of summers and to the Florida Trust School in Gainesville. He worked in trust departments for the next 25 to 30 years, successfully riding the increasing wave of bank mergers and consolidations.
In 1999, after several bank mergers, Kerry was working at Bank of America in Sebring as the senior trust officer. He was told that they planned to close the bank's trust department in Sebring and was asked to transfer to their trust department in Vero Beach, Fla., but he chose to remain in Highlands County and was hired by SunTrust Bank as the vice president and manager of the Trust and Investments Services Group Office in Sebring. In 2005, SunTrust closed it trust department in Sebring and asked Kerry to move to Lakeland. In late 2005, he was offered a position with Heartland National Bank where he now works.
"I chose not to transfer to Vero Beach or Lakeland because Kyle and his siblings were then of high school age, and I thought a move would cause a disruption in their lives," he said. "Lake Placid was, and is today, a great place to raise a family. The community was such that we were well connected with our local church and the kids were involved in the youth program. My wife Lori and I taught a youth age Sunday school class. So, there was no second thought about moving to Vero Beach or Lakeland."
"At the time, I was uncertain why I was experiencing so many changes and challenges in my career," Kerry said. "As I look back on those changes, I can more clearly see the Lord's hand in each and every event. Although, I must admit, at the time it wasn't always easy to see that God had a plan. But I was reminded by scripture that I just needed to be obedient to Him."
At Rider & Thompson, Kyle practices general civil law. "The areas of real estate, estate planning, and probate are really the foundation of our practice," he said.
Kyle works alongside long-time attorney Mike Rider. "My dad and Mr. Mike were friends before I was even born," he said. "So, that's where the relationship started. Mr. Mike and my dad both played golf and I would join them even as a young boy."
Kyle chose to attend SFSC right out of high school rather than go directly to a university. "It's a smart financial decision for kids to stay here," he said. "Having a dad in banking, the fiscal responsibility was instilled in us, but it wasn't something our parents pushed on us."
Kyle was awarded Top Ten and Bright Futures scholarships for college. "One of the big draws to SFSC was the cost of college," he said. "I worked while I was in school, so I was saving money. I mowed yards in Sebring with my brother-in-law who has a lawn company."
"A lot of kids, when they're in high school, can't wait to get out of Highlands County," he said. "I never had the desire to leave Lake Placid as soon as I could. I didn't have that need or that desire to leave. Certainly the community and the closeness of my family was a big part of it."
While attending SFSC, Kyle developed an interest in attending law school, so he went to Rider to ask him about the practice of law and what it entailed. During the summer between his junior and senior year at the University of Florida, he interned in Rider's law office. After his first year in law school, he held internships during the summer and during winter breaks. "I came back to the law firm as much as I could," Kyle said. "I jumped at the opportunity."
Kyle's background in agriculture and his bachelor's degree in food and resource economics has served him well in his law practice. "Obviously, growing up in a rural community, with family property, I fell in love with agriculture and really enjoyed that," he said. "I could see myself doing something in agriculture. When I was going to major in it, I had the idea that I might want to go to law school. So for me, it was good either way because I'd either have a career in agriculture in Central Florida, or if I went to law school, I would return to Central Florida knowing that a lot of my clients would be in agriculture."
In fact, Kyle has been able to make use of his knowledge of agriculture in his law practice. "We represent different businesses, many of those are in the agricultural industry—citrus, cattle, etc."
Kyle has found that being part of a close-knit community further assists his practice and credits two people in his life for helping him. "The business of law is all relationship-based," Kyle said. "Anyone in the community can tell you that my dad and Mr. Mike have a strong work ethic and are honest. Just being in the community isn't enough. I've had success because of the character of the two people I'm associated with. I played golf through high school and had the benefit of playing golf with my dad. He introduced me to a lot of people through golf and I've built relationships with them over time. It's a benefit for people to know who you are. Most people wouldn't know who a 25-year-old attorney is, but thankfully, I've had the opportunity to sit in front of many people in the community at this table."
Kyle sees the community as a source of strength. "It's not always easy in business to be honest and have integrity," he said. "All of that is rooted in your faith and what a small community instills in you. The more time you spend here, it grows on you and you become that wholesome, small town-type of person," he said. "The more you are in this community, the more you become like this community. I think those are good values to extend to people."
AVON PARK, Fla. – July 12, 2018 – In an effort to link the tri-county region with the successful programs and services that South Florida State College (SFSC) offers, it announced its newest advertising campaign, Get Connected.
Get Connected is an approachable, attainable advertising and marketing campaign that aspires to connect individuals to the skills, services, or network they need to move ahead. The experienced faculty and staff will continue to focus on the academic opportunities that the College provides, both globally and on a one-on-one basis. This campaign is SFSC's answer to the question, "How can SFSC help me?"
The College wanted to develop a campaign that ties future students, current students, alumni, donors, companies, and the community to the many offerings at SFSC.
"At South Florida State College, we want people to know that we provide quality and affordable learning solutions," said Melissa Kuehnle, director of institutional communications at SFSC. "There are many advantages to getting connected to the College as a student, a company partner, a community advocate, a supportive donor, or even as a professional who just needs to brush up on a certain skill. Our hope is to set our neighbors on a path to success utilizing the variety of programs, courses, and services we offer. This campaign is also a nod to the many digital communities that our friends belong to and we hope to expand that network by advancing the professional connections that our students, staff, faculty, and alumni make. We want everyone to "Get Connected" to SFSC, and a better life as a result."
For more information about SFSC, call 863-453-6661.
AVON PARK, Fla. – July 10, 2018 – Dr. Sidney Valentine, vice president for academic and student services at South Florida State College (SFSC) welcomes Dr. Michaela Tomova as the new dean of arts and sciences. She joined the SFSC family on Monday, July 2, filling the interim position held by Lynn MacNeill who retired in June after 46 years with the College.
"We look forward to working with Dr. Tomova as she joins the team at SFSC," Dr. Valentine said. "She brings an array of experience from Miami-Dade College as well as international positions which she's held. Dr. Tomova will be a great asset to SFSC's Division of Arts and Sciences as she continues to advance and move it forward."
Dr. Tomova earned her doctoral degree in higher education leadership from the University of Miami. Her research focused on the community college and the impact of faculty on student learning and success. Dr. Tomova earned a master's degree in English language and literature from the University of Sofia in Bulgaria.
Over the past 15 years, she held progressively complex roles while at Miami-Dade College (MDC). Most recently, she was chairperson of the English and Communications Department at Miami-Dade's North Campus. Previously, she was interim director with the Office of Academic Programs; chairperson of English, Communications, Arts & Philosophy; and director of the academic support center. She was first hired at MDC as grant director of a U.S. Department of Education Fund for the Improvement of Postsecondary Education (FIPSE) eWriting project.
Before coming to the United States, Dr. Tomova was a tenured senior lecturer in English at the University of Architecture and Civil Engineering in Sofia and also worked on curriculum alignment in English language teaching within the European Union higher education system.
"I am thrilled to join a remarkable team of faculty and staff at SFSC and to embrace both the challenges and the opportunities of this leadership role," Dr. Tomova said. "Our institution has established a reputation of excellence in service and impact on community growth through quality educational opportunities for all. But SFSC has much more to offer! The College employees have opened not only the doors to a diverse student population, but also their loving hearts and creative minds to innovations in teaching and learning, to responsive program growth, and mostly to improved learning experiences of students set on their pathway to degree attainment and professional fulfillment in a changing global society."
"I am inspired and committed to the values and mission of SFSC," she said. "I hope to serve students, faculty, and the community well and to grow the division of arts and sciences through our mutual efforts in becoming a globally aware academic destination driving regional transformation through innovative collaboration—as powerfully stated in the college vision."

Dr. Tomova is married to Enrique, an interior designer. They have two daughters who live and work in Miami. Lina is a yoga instructor and Lidia is a journalist.