AVON PARK, Fla. – April 30, 2019 – South Florida State College (SFSC) graduated 12 students from its Firefighter Minimum Standards program during the Monday, April 29 ceremony at the Highlands Campus in Avon Park.  
Receiving their certificates were James Bialkoski, Jennifer Bodden-Evans, Adele Cassista, Abigail Castillo, Timothy Christensen, Erving Cruz, Christopher Dunfield, Deanna Ferris, Steven Lawless, Gary McDaniel, Justin Newman, and Alexis Taylor-Randall. 
Five students were recognized for special achievement. They were Bialkoski for Leadership, Newman for Most Heart, Cassista for Most Prepared, Dunfield for Humility, and Bodden-Evans for Class Comedian.  
In his address to the graduates, Paul Shannon, fire science coordinator and a member of the Polk County Fire Rescue, said, "If you get that call and you get that structure fire, it's the 30 minutes or hour of the hardest work that you'll ever have to perform in your entire life. And it can happen back to back. Not only is this the most physically taxing job in the world, but it's also the anxiety and the stress that's associated with it. Now, you have other people's lives in your hands.  
Shannon went on to praise the graduates. "This is a challenging profession, and we hold our students to a standard that enables us to get the cream of the crop people who are ready, willing, and able to do this job. And that's what you see in front of you. These were hard working, dedicated students who took time from their families to be able to do this job and do it well." 
The Firefighter Minimum Standards occupational certificate program is for applicants who want to pursue a career in fire service but have limited fire training and experience. A cohort of cadets enroll in the Firefighter I course, often with the expectation of continuing through to Firefighter II training. Minimum Standards training is required for volunteer firefighters. Firefighter II training is required for those who wish to be employed as professional firefighters in Florida. 
For more information about the SFSC Fire Science Program, contact the SFSC Advising and Counseling Center at 863-784-7131 or visit southflorida.edu.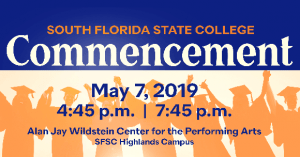 AVON PARK, Fla. – April 29, 2019 – SFSC celebrates spring Commencement with two ceremonies on Tuesday, May 7. The first ceremony is at 4:45 p.m. and the second is at 7:45 p.m.; both in the Alan Jay Wildstein Center for the Performing Arts, Highlands Campus, Avon Park.
The 4:45 p.m. ceremony features students who are earning their Bachelor of Applied Science in Supervision and Management (BAS-SM), Bachelor of Science in Nursing (BSN), Associate in Science (AS), Advanced Technical Diploma, Career Technical Certificate, College Credit Certificate, Occupational Credit Certificate, and State of Florida High School Diploma. Mishel Mandujano Manriquez, who earns her Bachelor of Science in Elementary Education (BSEE), will be the student commencement speaker at this ceremony.
The 7:45 p.m. ceremony showcases students who are earning their Bachelor of Science in Elementary Education (BSEE) and Associate in Arts (AA). The student commencement speaker will be Jocquas Walker, who earns his AA.
Approximately 500 students will have met the SFSC requirements by spring Commencement. Of these, 21 will receive their BAS-SM, 14 receive their BSN, 12 receive their BSEE, 198 receive their AA, 73 receive their AS, 28 receive their State of Florida High School diplomas, and 138 receive occupational certificates, college-credit certificates, or advanced technical diplomas. Students participating in the commencement ceremonies will total 366.
Receptions will be held in the Catherine P. Cornelius Student Services and Classroom Complex (Building B) immediately following each of the commencement ceremonies.
Mace bearer and chief marshal for this year's ceremony is Michelle Macbeth, and marshals are Elizabeth Andrews, Davida Austin, Brian Bohlman, Kathleen Cappo, Natalie Etienne, Junior Gray, Courtney Green, Robert Hampton, Richard Hitt, Dr. Theresa James, Cindy Kinser, Dr. Maday Leon, Evelyn Marley, Claire Miller, Tasha Morales, Asena Mott, Richardo Pantoja, Colleen Rafatti, Tina Stetson, and Kendra Wellnitz.
The Commencement rehearsal takes place Tuesday, May 7, at 10 a.m., in the Alan Jay Wildstein Center for the Performing Arts, SFSC Highlands Campus.
Each year, one student is presented with the Joseph E. Johnston/Bette L. McDearman award for outstanding participation and service to student-related activities at SFSC. This year's recipient is Emma Rustenberghe, a student athlete, leader and person of integrity.
In his presentation at the April SFSC District Board of Trustees meeting, Dr. Timothy Wise, dean of student services, said, "She has been a leader since the day she first set foot on campus. She excelled in volleyball as well as in the classroom." In fact, Rustenberghe was elected president of the Student Government Association (SGA) in her freshman year at SFSC.
"Her interactions with her peers and with College staff are exemplary," Dr. Wise said. "She always takes the time to listen to all and help everyone she can. She is selfless in giving compliments and encouragement to those who could use it."
Rustenberghe graduates from SFSC in May, earning her Associate in Arts degree.
The Joseph E. Johnston/Bette L. McDearman award was established in 1987 by the SGA to recognize its support for student activities at SFSC. Students, faculty and staff at SFSC submit nominations for this award to the dean of student services.
AVON PARK, Fla. – April 24, 2019 – From the time she was in high school, Mishel Mandujano Manriquez knew that she wanted to become a teacher. On Tuesday, May 7, at 4:45 p.m., Mandujano will be on her way to fulfilling that dream when she receives her Bachelor of Science in Elementary Education (BSEE). She will tell her inspiring personal story when she approaches the podium as student speaker that same evening during South Florida State College's (SFSC) spring Commencement ceremony. This will be Mandujano's second degree from SFSC—in May 2017, she earned her Associate in Arts degree.
During the year between high school and when Mandujano entered SFSC as a student, she volunteered as a teaching assistant at elementary schools in DeSoto County. While working with a kindergarten class, she decided that kindergarten was the grade she wanted to focus on.
"The kids were so loving," Mandujano said. "I woke up each morning wanting to see them and be with them. Kindergarten students are kind, innocent, genuine, eager to learn, and caring. When you start teaching children at a younger age, your impact on them is greater because they're still developing their personalities and their values."
True to her own inclinations, Mandujano looked into SFSC's Bachelor in Science in Elementary Education (BSEE) program while working on her Associate in Arts degree. "When I found out about the BSEE program, I thought, 'That's perfect for me.' It was close to home, affordable, and the exact program that I wanted."
Mandujano spoke with BSEE program lead instructor, Dr. Maday Leon, to learn more about it. "I found out about the pre-requisites, and Dr. Leon told me that I would first need to take the General Knowledge Test (GKT). I studied for it and passed it."
But Mandujano's foundations for her desire to teach were built on life experience. "My father, Erubio Mandujano, who was living and working in Texas, had been diagnosed with cancer. When he was getting treatment, my mother came to Texas from Apaseo el Alto, Mexico to care for him. The doctors said he was in the last stages of the disease, so my mother and my father's family, who were already living in Texas, requested that my brother and I come to the United States to see him. After some months in the country, my brother and I had to be enrolled in school."
Mandujano explained that the transition to the United States and school were difficult and that everything was challenging. "I didn't know that side of my father's family," she said. "We lived with them and had to get to know them."
For Mandujano, the experience of moving from a small city in Mexico to Dallas was culture shock. "Just to see the people—the way they dressed and looked—everything was impressive. I had never seen an American before. It was all new. And not knowing the language is difficult when you have so much to say. It was frustrating."
But Mandujano learned English quickly. "In Texas, they had English classes in high school for new immigrants," she said. "They had three levels, and you moved to the next level according to how proficient you became. I had reading and writing classes to learn English, as well as science and geometry classes taught in English, and a Spanish class." At home, she practiced her English with her cousins and listened to music in English and watched movies with subtitles in English.
Mandujano laughed and said, "I wasn't allowed to participate much in the Spanish class because I knew the language and grammar so well." She, eventually, was given full credit for Spanish in high school and wasn't required to take another foreign language.
After her father passed away, Mandujano's mother wanted to be closer to her own family who were living in Florida. So Mandujano, her mother and brother moved to DeSoto County in 2012. Mandujano graduated from DeSoto Senior High School and, eventually, went on to graduate from SFSC and enter the BSEE program.
"In the BSEE program, we've gotten a great deal of support from our professors," Mandujano said. "They care about your academics and personal concerns. They're inspiring, too. They're doing what they love, and it motivates you as a student."
Mandujano said that she went through BSEE as part of a small cohort which enabled the students to build strong and lasting relationships with each other. The students all participate in internships within the school system, giving them an opportunity to assess whether or not teaching is a personal calling. "We also focused on English for Speakers of Other Languages (ESOL), which I identify with. It's about making people from other cultures feel included and embraced, and part of the community. It was, particularly, heartwarming to me."
Mandujano believes that teaching is an important career choice to make. "Students spend most days with teachers, so the teacher can be a source of inspiration and can shape a student's life. If we teach students to love to learn, respect others, and follow their dreams, they'll do it. We can empower them starting at a young age."
Even before finishing her bachelor's degree, Mandujano has been offered positions with two of the local schools in which she served her teaching internships. However, she's considering if she should follow her dream to teach English abroad. "I like learning about other cultures," she said. "English programs are taught all over the world, and it would fulfill my passion for teaching and traveling. I overcame the barrier and fear of coming to a new place to live, so now I have the confidence and desire to see the world."
Whatever choice Mandujano makes, she will bring her own life experience to the task. "My personal experience has made me aware of the struggles that some students may face at home," she said. "If a student is not willing to do the school work, something may be going on at home that we don't know about. As teachers, we need to be a support system for the students. I had people who served as a support system for me, so I want to help others. Some people feel stuck in their situation and feel there's no way out. I was there, so I understand. When kids know someone is there on their side, they are better able to succeed."
AVON PARK, Fla. – April 23, 2019 – South Florida State College (SFSC) will host Leadercast, the world's largest one-day leadership conference, broadcast live from Duluth, Ga. and simulcast to hundreds of locations around the world on Friday, May 10, 2019, 8 a.m. – 3:30 p.m. This is the second year that SFSC will host the event at its Highlands, Hardee and DeSoto campuses.
Leadercast was founded in 2001 with the mission to fill the world with leaders worth following by providing events and resources for individual teams, organizations, and corporations across all industries. Through its events, blog, podcast, webinars, digital badging, and Leadercast NOW video library, Leadercast outfits leaders to be their best each day of the year.
Each year, Leadercast Live dives into leadership issues relevant to today's leaders to provide solutions and inspiration to help attendees around the globe be better leaders. This year's theme, Leading Healthy Teams, builds on the overall mission of the event: to fill the world with leaders worth following. Healthy teams yield fulfilled employees, effective collaboration, high organizational engagement, and greater long-term success.
Leadercast Live 2019 will bring nine organizational health experts to one stage to teach attendees the art and science of successful team building.
The leadership experts speaking this year are:
Juliet Funt, CEO of WhiteSpace at Work
Ginger Hardage, founder of Unstoppable Cultures
Carla Harris, vice chairman and managing director at Morgan Stanley
Gayle King, co-host of CBS This Morning and editor-at-large at O, the Oprah Magazine
Dr. Caroline Leaf, communication pathologist and cognitive neuroscientist
Patrick Lencioni, best-selling author and founder of The Table Group
 Marcus Samuelsson, award-winning chef, restauranteur, author, and TV personality
Craig Springer, executive director of Alpha USA
Andy Stanley, leadership communicator, author, and pastor
The pre-show will begin at 8:30 a.m. and the first speaker will take the stage at 9 a.m. The show will run until about 3:30 p.m.
This year's title sponsor is MidFlorida Credit Union and gold sponsor is the Mosaic Company. A variety of sponsorships are still available and include tickets to the event.
The cost to attend is $50 which includes breakfast and lunch. Continuing Education Credits are offered for attending. To purchase your ticket for the 2019 Leadercast South Florida State College event, call 863-784-7405. For more information, visit southflorida.edu/leadercast.
AVON PARK, Fla. – April 19, 2019 – South Florida State College's (SFSC) Museum of Florida Art and Culture (MOFAC) honored the winners of its annual juried Student Art Show during a reception and ceremony on Thursday, April 18 in the MOFAC gallery on the SFSC Highlands Campus in Avon Park.
The awards ceremony recognized drawings, paintings, photography, and a range of other artwork students created during their studies in SFSC's Art Department. The students' art is on display in the gallery through May 8.
"The artwork displayed in this exhibition represents the students' openness to taking on new concepts and techniques under the direction of their art professor, Karla Respress, and honing their craft with focus and determination," said Megan Stepe, MOFAC curator.
Ricardo Mendiola walked away with the Max Gooding Best in Show Purchase Award for his large, gold leaf and acrylic painting titled "Paquette." He received $400 in prize money. Max Gooding, an alumnus of SFSC's Art Department, sponsors this top prize. Gooding, who went on to earn a degree in landscape architecture at the University of Florida, owns a landscape architecture consultancy, the Max Gooding Company, in Naples, Fla.
This year, two students, Kylie A. Daum and William J. Hernandez, won the Cathy Futral Award of Excellence for their artwork. Daum won for her clay sculpture titled "Gentle Ganoderma," and Hernandez won for his acrylic painting titled "Wine & Dine." The honor comes with a $100 check for each student. Futral was a beloved SFSC art professor who retired from the College two years ago.
The winner of the People's Choice Award is chosen by a vote of the students' colleagues and receives $50 in prize money. This year's winner was Jaimaris Mendez for her charcoal series titled "Release," "Opposition," and "Surrender."
Dr. Thomas C. Leitzel, SFSC president, selected one piece that garnered the President's Award and $100 in prize money: Kelli Sullivan's photograph titled "Serenity."
The MOFAC docents created an award for student artwork. The Docents' Choice Awards were bestowed upon Amber Fillie for her collage titled "Color Movement 2," and on Sydney Rigdon for her digital photograph titled "Colorful Cacti."
Members of the Tanglewood Art League were on hand to present their eighth annual scholarship award. This year, the league honored two students with the award. Jaimaris Mendez and Ricardo Mendiola took home $300 each for their submissions.
Six students received the Best of Media Award, with each awardee receiving $75. The winners were Syniah Edwards, two-dimensional, mixed media; Jaimaris Mendez for dry-media drawing, charcoal; Casey Phillips, wet-media drawing, mixed media; Miquel Perkins, pottery; Ricardo mendiola, acrylic painting; and Erica D. Alonso, photography.
Awards of Merit were presented to Destinee Ellis, William J. Hernandez, Jamee Keller, Maxee Khang, Love Lopez, Jaimaris Mendez, Ricardo Mendiola, Elrad Nevers, Emma Rustenberghe, Sierra Coward, Corinne Moore, River Ray, and Aaron Timpe.
The 2019 Student Art Show sponsors were the SFSC Alumni Association, Cathy Futral and Max Gooding.
MOFAC is open to the public Wednesday, Thursday, and Friday, 12:30 – 4:30 p.m. For more information about the museum and its exhibitions, visit mofac.org or contact Stepe at stepem@southflorida.edu.
AVON PARK, Fla. – April 16, 2019 – Three South Florida State College (SFSC) students traveled to Orlando to compete at the 2019 Phi Beta Lambda (PBL) State Leadership Conference on March 28-31.
During those three days, SFSC's Madison Hargrove, Joseph Mangrum, and Autumn Masey joined over 300 college and university students from across Florida vying to place in business studies-related competitions.
Of the three SFSC students who attended the conference, Autumn Massey placed fifth in the state in the categories of Marketing Concepts and Entrepreneurship. She is eligible to represent Florida at the PBL National Leadership Conference in San Antonio, Texas, in June.
Hargrove, Mangrum, and Masey are members of the College's chapter of PBL, a national organization of the Future Business Leaders of America that is dedicated to helping college students improve their leadership skills and achieve their career goals. PBL is the largest career student business organization in the world with over 230,000 members. It was founded at the University of Tampa in 1948. Membership in SFSC's PBL chapter is open to students in its Bachelor of Applied Science in Supervision and Management (BAS-SM) program.
SFSC's BAS-SM program is available to students who have successfully completed an associate degree. It includes upper-level course work in applied management practices, leadership development, finance, and basic human relations practice. Upon completion, students are prepared for supervisory and management roles and positions in a variety of industries. For further information about the BAS-SM program, contact Cynthia Kinser, chair of the business and computer technologies department, at 863-784-7325 or kinserc@southflorida.edu.
For more information about SFSC's PBL chapter, contact Adam Martin, business professor, at 863-784-7188 or martina@southflorida.edu.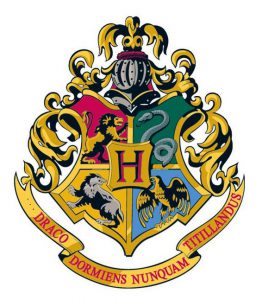 AVON PARK, Fla. – April 16, 2019 – In celebration of the 20th anniversary of the Battle of Hogwarts, the South Florida State College (SFSC) Library and the SFSC Honors Program will present a celebration and colloquium of this immersive and ever-popular fictional world on Friday, May 3 from 9 a.m. – 4 p.m., in Building Y on the Highlands Campus in Avon Park.
The celebration and colloquium include a mix of fun and scholarly activities—from games, crafts, costume contest, and butter beer sampling to presentations of creative and scholarly works—inspired by the Harry Potter books. They will include a performance showcase, poster sessions, and panel presentations.
The Hogwarts Colloquium will highlight the intellectual, creative, and artistic inspiration of J.K. Rowling's seminal Harry Potter series through scholarship, creative work, and academic discussion. Proposals are sought from high school and college students and community members for the performance showcase, poster sessions, and panel presentations.
For the performance showcase, short performances of creative works should be inspired by or based on the Harry Potter series. Performances should be less than 6 minutes in length, but could include poetry, fiction, song, dance, theatrical acts, or other performance-based presentations.
For the poster sessions, works of scholarship, engineering, interpretation, or art inspired by or based on the Harry Potter series will be presented in a static format. Posters or art should be no more than 75 by 45 inches in size. Each artist or scholar will be on hand for a set period of time to discuss, explain, or share at the event.
The panel presentations should be longer form presentations of 15-20 minutes focused on scholarship related to the Harry Potter universe or series in some way. Presentations should include a PowerPoint or similar visual accompanying presentation.
The performance, poster, and panel presentation submission form can be found at libguides.southflorida.edu/resources/events by clicking the "Call for Proposals" tab at the top the page. The deadline for submissions is Friday, April 26 at 5 p.m. Submissions should be emailed to Claire A. Miller, SFSC librarian, at Claire.Miller@southflorida.edu with the subject line: SUBMISSION Hogwarts Colloquium.
For further information about the celebration or submissions for the colloquium, contact Miller by email at Claire.Miller@southflorida.edu or by phone at 863-784-7305.

AVON PARK, Fla. – April 12, 2019 – The South Florida State College (SFSC) Museum of Florida Art and Culture (MOFAC) is offering "Art for Kids," free art workshops for children ages 6-12. The workshops will be held every Saturday for eight weeks, April 20 through June 8, 11 a.m. – noon, in Building A, Room 15 on the SFSC Highlands Campus in Avon Park. 
Each week will be devoted to one particular art technique, and art teachers and working artists will provide instruction. The instructors will be Jacqueline Andrews, Max Gooding, Jim Leary, Ricardo Mejia, Claire Miller, and Karla Respress. 
"This is a great opportunity for students to either learn new art techniques or strengthen their existing skills by engaging in unique art projects created by artists who are dedicated to their craft and passionate about passing on their knowledge in a fun and enjoyable way," said Megan Stepe, MOFAC curator. "Join us for artful Saturdays!" 
The weekly schedule of instructors and their workshops are:
Week 1 – Ricardo Mejia, gesture drawing (figures in poses and action) and drawing to music
Week 2 – Ricardo Mejia, stencil painting
Week 3 – Karla Respress, Suminagashi prints
Week 4 – Jacqueline Andrews, ornamental gourd decorating
Week 5 – Karla Respress, imaginative printmaking
Week 6 – Jim Leary, collage-making
Week 7 – Max Gooding, drawing
Week 8 – Claire Miller, bead embroidery 
For more information on the "Art for Kids" workshops and to register, call Stepe at 863-784-7240.
AVON PARK, Fla. – April 11, 2019 – South Florida State College (SFSC) inducted 26 students into its Tau Epsilon chapter of the Phi Theta Kappa honor society on Friday, March 29, at the SFSC University Center Auditorium on the Highlands Campus.
The PTK inductees were: Alejandra Alejo, Tina Barkley, Yanette Burmudez, Savanah Connolly, Erika Cruz, Gabriel Dezzeo, Robin Dodd, Julia Espinoza, Nicholas Fisher, Margarita Flores, Gabriela Garcia, Malak Haifa, Debbie Lambert, Marie Maclean, Natalie Manjarres, Carly Mofield, Enrique Moreno, Nancy Morissey, Saray Perez, Brenda Rosas, Olivia Smith, Alyssa Strength, Adriana Somma, Hayley Thompson, Jocquas Walker, and Angel Vigil.
With families, fellow students, and college administrators looking on, the students recited an oath of membership, joining the honor society that recognizes distinguished academic achievement by students in two-year academic programs.
Dr. Sidney Valentine, SFSC vice president of academic affairs and student services, served as the guest speaker. He opened by praising the students for making the decision to succeed. "Here you are, arguably the best students at SFSC academically, and if you think about how you got here, you…prioritized your goals and dove into the details, one thing at a time for however long it was going to take. By being inducted into PTK this evening, and placing that on your resume, a hiring manager is going to see that and immediately think, 'This shows me that this individual has the drive and intellectual ability to succeed."
Dr. Valentine went on to discuss the challenges of being a leader. "As you grow as future leaders, creating positive change will not be an easy undertaking," he said. "You will recognize needed changes and improvements, and if you are not willing to live by the status quo of 'It's always been done that way,' you will most likely take people that are living with the status quo way outside of their comfort zone. When you can do that, you can change the world. Never settle just because it seems like the mountain is too high or the current is too rough."
As the ceremony drew to a close, each inductee stepped forward to sign the honor society's membership book and record their status as a scholar of distinction at SFSC. As the auditorium lights dimmed, the scholars each lit a candle to signify their fellowship in the society.
PTK is an honor society that recognizes the academic achievements of community and state college students and helps them to grow as scholars and leaders. The society is made up of over 3.5 million members and nearly 1,300 chapters in nine nations. In 2018, PTK celebrated its 100th anniversary. For more on PTK, visit ptk.org.
For more information about SFSC's PTK chapter or Honors Program, contact Dr. Charlotte Pressler at 863-784-7247.