AVON PARK, Fla. – Oct. 31, 2019 – If you love music, dance, and theater performances, please consider joining the volunteer guild at the 1,460-seat Alan Jay Wildstein Center for the Performing Arts and the 250-seat South Florida State College (SFSC) University Center on the Highlands Campus. 
"Volunteering is fun and you get to see what happens behind the scenes," said Cindy Garren, director of cultural programs at SFSC.
Volunteer positions include ticket takers, greeters, ushers, concession attendants, hospitality assistants and show runners. Show runners are responsible for running errands for the visiting production company.  "A show runner might be asked to take the company manager to a bank or take a performer to buy a pair of shoes," Garren said. "Once the show runner was asked to buy underwear for one of the performers."
In addition to the mainstage performances, volunteers also assist at rental events such as dance recitals, commencement ceremonies, community meetings, and performances by groups such as the Highlands County Concert Band and the Highlands County Community Chorus. Volunteers must be willing to help for a variety of events from November to June and must have email.
Volunteers are required to submit an application, and all volunteers must participate in training. "Customer service and assisting our patrons in a friendly and professional manner is important," Garren said.
Interested individuals can apply online at sfscarts.org/support-us/volunteer or email culturalperformances@southflorida.edu. For more information, contact Lorrie Smith at 864-784-7201.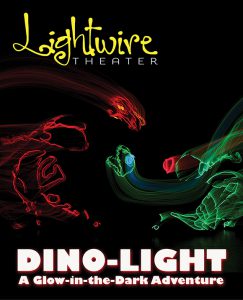 AVON PARK, Fla. – Oct. 25, 2019 – Lightwire Theater, a semi-finalist during season 7 of NBC's America's Got Talent and the 2014 winner of truTV's Fake Off, is coming to the Alan Jay Wildstein Center for the Performing Arts on the Highlands Campus of South Florida State College (SFSC) on Sunday, Nov. 10 at 3 p.m. for one performance of DINO-LIGHT.
"This 60-minute performance is perfect for young people," said Cindy Garren, director of cultural programs at SFSC.
Jarrett Family Foundation is sponsoring the performance which will raise funds for several local nonprofit organizations. "Guided by the institutional values of South Florida State College, this is a special community event to raise funds for the Avon Park Parent Teacher Organization, Big Brothers Big Sisters, Celebrate Birthdays, Mason G. Smoak Foundation, Take Stock in Children and more," added Dr. Thomas Leitzel, president of SFSC.
DINO-LIGHT tells the story of a famous scientist with magic powers who brings a friendly dinosaur to life. When the curious dinosaur wanders away from home, he discovers a world full of creatures that light up the darkness and help him find the true meaning of live.
Based in New Orleans, Lightwire Theatre is internationally recognized for their signature brand of glow-in-the-dark artistry, poignant storytelling, and evocative musical scores that create a unique audiovisual experience. DINO-LIGHT is a recipient of the prestigious Jim Henson Foundation Grant for its cutting-edge blend of puppetry, technology and dance. The performance has toured around the world and the performance at SFSC is its first visit to Central Florida.
"A variety of pre-show activities are planned in the lobby for young people," added Garren.   Music, games, and a free gift for the first 250 kids will be offered to add to the excitement of the performance.
Young people are encouraged to make a dinosaur mask and bring it to the performance to receive a raffle ticket. The raffle winner will receive a dinosaur-themed gift basket which includes free admission to Dinosaur World in Plant City.
Tickets are $10 and available online at sfscARTS.org, by phone at 863-784-7178, or by visiting the Alan Jay Wildstein Center for the Performing Arts box office at 600 West College Drive in Avon Park.
AVON PARK, Fla. – Oct. 25, 2019 – The Florida College System Activities Association/National Junior College Athletic Association (FCSAA/NJCAA) Division II Gulf District Volleyball Championship will be held on Saturday, Nov. 2 and Sunday, Nov. 3 at SFSC in the Panther Gym on the Highlands Campus. Match times on Saturday will be 11:30 a.m., 2 p.m., 4 p.m., and 7 p.m. The Sunday championship match begins at 1 p.m. All matches will be live-streamed by the FCSAA at team1sports.com/fcsaa/. The winner of this single elimination tournament will earn a spot in the NJCAA Division II National Championship Tournament.
The college volleyball teams participating in the tournament will be from: Florida Gateway College, Gulf Coast State College, Lake Sumter State College, SFSC, St. John's River State College, and Pasco-Hernando State College. Each of these teams is a member of the Sun-Lakes Conference of the FCSAA.
"We are excited to be hosting the tournament," said Kim Crawford, SFSC volleyball coach. "The team is working hard and is very focused on the opportunity we have to advance to the next level."
The tournament is free to all SFSC employees and students with IDs as well as students from the participating teams. For the public, single admission either day is $8, the four-match day pass is $20, and the five-match Day 2 pass is $25.
"This should be a great tournament, as much of the regular season has been very competitive," said Rick Hitt, SFSC athletic director and tournament director. "Those who are fans of volleyball can catch some excellent collegiate volleyball on these days, and we would love to fill the gym with Panther fans each time our ladies take the court."
AVON PARK, Fla. — Oct. 21, 2019 — Jacob O'Neill, a senior attending Sebring High School, was surprised in his classroom when teachers, family, friends, and his Take Stock in Children mentor broke the news that he had been named a finalist for the Take Stock in Children Leaders for Life fellowship. He is one of 14 finalists vying for six Leaders for Life fellowships.
The fellowship, which recognizes student leaders, comes with a $40,000 scholarship that covers non-tuition expenses such as housing, books, and transportation. As a Leaders for Life finalist, O'Neill received a MacBook Pro laptop computer and has been asked to submit a video essay to be considered for the Leaders for Life Fellowship.
The Leaders for Life Scholarship is an initiative of the Asofsky Family Foundation, which supports programs aimed at helping the state's youth. The Foundation awards the scholarship in partnership with Take Stock in Children. The South Florida State College (SFSC) Foundation is the lead agency for Take Stock within the College's service district of DeSoto, Hardee, and Highlands counties.
"I cannot think of a student more deserving of this opportunity," said Danielle Ochoa, the local Take Stock in Children student services coordinator. "Jacob is humble and an extremely hard worker. He is a natural leader, who is always respectful and makes all those around him feel at ease. We at Take Stock are so proud and excited to have Jacob representing us in the community and at this stage in the Leaders for Life process."
O'Neill is eligible for the Leaders for Life Fellowship because of his participation in Take Stock in Children. Take Stock in Children is a statewide program that provides at-risk children with a mentor and a college scholarship. In return, Take Stock scholars sign contracts in which they promise to remain drug-free, to avoid behavior that would get them into trouble with law enforcement, to attend school regularly, and to earn satisfactory grades. The students' parents also sign the contracts and agree to provide home environments conducive to education. The local Take Stock program was established in 1996 and has awarded college scholarships to more than 491 local students.
O'Neill graduates from Sebring High School in May 2020 and plans to earn a bachelor's degree through the University of South Florida's (USF) MUMA College of Business. His ultimate goal is to join the U.S. Marines as an officer and become a member of the Marine Recon unit. Because USF offers an ROTC program for each of the armed services, O'Neill would like to enter its Marine ROTC program to prepare him for life in the military.
While in high school, O'Neill has participated as co-captain on the Peer Leadership Team which helps other students prepare for college by assisting them with college applications, financial aid, and college and career readiness. He has also held part-time jobs and challenged himself academically with dual enrollment, International Baccalaureate (IB), and advanced placement classes.
Thomas Nunnalee, who is a retired attorney, has served as O'Neill's Take Stock mentor since he entered eighth grade. "He was a very mature, highly motivated eighth grader and he's very impressive now," Nunnalee said. "He's been a supreme achiever from the very beginning. His grades are top notch all the way—he's conscientious in his studies. He also works part-time and is currently working at Sebring Diner. He's got a lot of irons in the fire."
Since the inception of the Leaders for Life program, the local Take Stock program has had 13 finalists and, of those, seven have gone on to become winners of the $40,000 non-tuition scholarship.

AVON PARK, Fla. — Oct. 17, 2019 — A $10,000 grant from Dollar General Literacy Foundation has been awarded to South Florida State College's (SFSC) Adult Education Department to enhance instruction for students and support professional development for instructors.
The grant comes from the Dollar General Literacy Foundation which funds awards to organizations that provide direct services to adults in need of literacy assistance in Adult Basic Education, GED or high school equivalency preparation, or English language acquisition.
The Dollar General Literacy grant will enable the SFSC Adult Education Department to purchase new curriculum that corresponds to the version of the Tests of Adult Basic Education (TABE) that was released in fall 2019. TABE tests are used to assess the skills and knowledge of adult learners and cover three core subject areas: reading, mathematics, and language. By offering curriculum relevant to student learning needs, students will be able to move closer to or obtain high school equivalency.
The grant will also support training for adjunct instructors by offering more opportunities to learn best educational practices and strategies that engage adult learners.
"I am thrilled when teachers return from a conference with new ideas and strategies to enhance student learning," said Courtney Green, director of Adult Education and Technical Dual Enrollment at SFSC. "In addition, teachers are able to view the new curriculum at the conferences and can recommend what will work best with our student population. I am thankful for the Dollar General grant. It will enhance the SFSC Adult Education Department so we can provide quality educational services to individuals in our community."  
SFSC's Adult Education programs provide students with a range of services to improve basic reading, math, and writing skills; complete a high school diploma; or improve English language communication. For more information, contact the SFSC Adult Education Department at 863-784-7441 or visit southflorida.edu.
AVON PARK, Fla. – Oct. 17, 2019 – James Rogers Jr., an alumnus of South Florida State College's (SFSC) Associate Degree in Nursing (ADN) program, became area executive director at Cornerstone Hospice in Lake and Sumter counties in April 2019. Previously, he was the director of admission for the seven-county Central Florida region that Cornerstone serves. He spoke about his desire to begin a career in nursing and the importance of care in a hospice setting.
SFSC: Where are you from? 
JR: I was born in Clarion, Penn. Our family moved to Sebring in 1981 and then relocated to Polk County in 2002.
SFSC: Why did you go into nursing?
JR: I worked with my dad as a mechanic while growing up and through high school. He always encouraged me to choose a field where the work was not as hard on my body as auto mechanics. I enjoyed being around people and helping them in any way I could. 
SFSC: Did someone in particular inspire you to go into nursing? 
JR: My wife's stepmother, Joanne Foote, planted the seed in 1998 that I should explore nursing. She was a nurse as well, and I took her advice.
SFSC: Foote was a professor in SFSC's Nursing Education Department for nearly 13 years and retired from the College in January 2018.
SFSC: How did you begin your nursing career?
JR: In 1998, I took a Certified Nursing Assistant (CNA) class at Lake Placid Health and Rehabilitation Center in Lake Placid, Fla. I started out working as a CNA in a long-term care facility. Once I completed my Practical Nursing (PN) certificate to become a licensed practical nurse (LPN), I worked in a hospital setting, doctor's office, home health agency, home respiratory, and then landed in hospice.
SFSC: What nursing degrees have you attained?
JR: I earned my PN certificate from SFSC in 2001 and my ADN from SFSC in 2011. In the future, I plan to complete a Bachelor of Science in Nursing (BSN) through SFSC.
SFSC: What is hospice and why is it important? 
JR: Hospice is a special kind of holistic care that focuses on the quality of life for the patient and family that are facing a life-limiting disease. Hospice care does not focus on treating the disease but rather focuses on treating the person and the symptoms of the disease. It's meeting the patient where they are and supporting them on their journey.
SFSC: How and why did you get into hospice care? 
JR: I wanted to get back to the original reason nursing won me over and to feel like I was making more of an impact on the patients and families that I cared for. As I was nearing the end of nursing school, I considered changing to a different area. I had worked in hospice for five years prior to getting my ADN. While I was doing my practicum on the ambulatory surgical floor, I quickly fell in love with the high-paced flow of the unit. However, that plan changed when my dad became ill, was admitted to hospice care, and passed away. It was that moment that re-motivated me to stay in hospice and challenge myself to make a difference in my community.
SFSC: Was it difficult transitioning from nursing into administration? 
JR: Transitioning into leadership was one of the most difficult transitions for me. Having a strong group of mentors who were willing to support me made the transition smoother. I am a "fixer" and had to learn to empower my team, rather than enabling them. In my current role, I can do that.
In my current position, I am responsible for the day-to-day operations of the region. Those responsibilities include, but are not limited to, maintaining positive patient satisfaction scores, growth of the regional census, the satisfaction of my internal clients (employees), and the financial performance of my teams. We are firm believers that if our staff and patients are happy, that word of mouth will spread, ultimately increasing our census and allowing our financials to fall in line.
SFSC: What nursing professors at SFSC inspired you and why?
JR: Dr. Maryann Fritz, retired director of nursing at SFSC: In 1999, when I was considering the nursing program at SFSC, I spoke to her multiple times and she was always encouraging. I had her for my Nutrition class and then as a professor in the program. She ran a strict program and, to this day, I live by many of the values she instilled in me. Being honest, on time (early), and if corrective action was needed, once it was completed there was no further discussion about it. 
Helen Shoemaker, professor of nursing at SFSC: Mrs. Shoemaker took on a "mother-like" role in my life.  Not only did she want me to succeed as a nurse, but she also cared in a way that only a parent could.  She went above and beyond to help me personally with the struggles that came my way while in the program and even after. 
Dr. Michelle Heston, dean of health sciences at SFSC: She was one of my professors during the PN program. She always demanded the best from us and had high standards that we had to live up to. Many of those still hold true for me to this day. She was always available to assist with any college-related or personal hurdles we were facing. 
SFSC: What advice would you give to someone who's considering nursing in a hospice setting?
JR: I participated in the mock nursing interviews and always recommend working a minimum of one year in Med-Surg (Medical-Surgical) to build that strong foundation of working as a nurse. Following that year, I recommend shadowing a hospice nurse to really understand what that job encompasses. Hospice nursing is hard, but also the most rewarding area of nursing, in my opinion.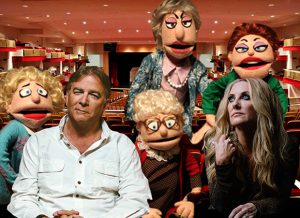 AVON PARK, Fla. – Oct. 11, 2019 – South Florida State College (SFSC) announces its 36th season of performances including national Broadway tours, family entertainment, dance, country, pop and classical music, and comedy.
"Patrons tell us that they love the variety of the performances, reasonably priced tickets, free parking, and beautiful theater," said Cindy Garren, director of cultural programs at SFSC.
Subscription packages for the Artist, Matinee, Trending Now, and Jazz series offer the best prices. "Our subscribers tell us their reasons to purchase the package and they include the convenience, price, and getting seats before the general public," added Garren. Subscriptions are available online or by phone at the SFSC Box Office now. Single tickets go on sale Monday, Oct. 14.
The season opens on Sunday, Nov. 10 with the family friendly performance of Lightwire Theater's Dino Light at 3 p.m. As featured on "America's Got Talent," the production has toured throughout the world and received excellent reviews on the use of technology, dance, and imagination.  All seats are $10 and pre-show activities will be offered for young people, including gifts for the first 250 children. Seating for Dino Light is general admission. "We're encouraging children to make a dinosaur mask at home and bring it to the show to receive a raffle ticket. The raffle winner gets a fun dinosaur themed gift basket," explained Garren.
Blue collar comedian Bill Engvall is a Grammy-nominated, multiplatinum recording artist and one of the top comedians in the country. Tickets are $75-$125 for the Feb. 21 performance at 8 p.m.
Six-time Country Music Association award recipient and Grammy Award winner Lee Ann Womack will deliver a breathtaking hybrid performance of country, soul, gospel, and blues on April 4. Tickets are $35-$65 and a special VIP Meet and Greet is an additional $50.
The Artist Series launches on Dec. 5 at 7 p.m. with the holiday themed, Merry Country Christmas direct from Nashville. The Series also includes How Great Thou Art, an Elvis-inspired gospel concert on Jan. 7 featuring Mike Albert and the Big "E" Band. Pianist Jim Brickman celebrates his 25th anniversary on Jan. 18. The Greatest Love of All, featuring Australian performer Belinda Davids, is scheduled for Jan. 25. It has wowed audiences across the UK, Europe, North America, South Africa, Asia, UAE, Australia, and New Zealand and continues to gather glowing reviews worldwide. The national Broadway tours of Bandstand: The Musical on Feb. 6 and An American in Paris on March 12 are highlights of the season. Neil Berg's 50 Years of Rock & Roll, on Feb. 20, takes audiences on a tour of the beginning of rock & roll from the early 1900s to the glory years of the 50s, 60s, and 70s, featuring the music of Chuck Berry, Buddy Holly, Little Richard, Ray Charles, The Beatles, Beach Boys, Led Zeppelin, Stevie Wonder, Aerosmith, Eagles and more. Motown with a Twist features dance celebrities from "Dancing with the Stars" and "So You Think You Can Dance," and American Idol vocalists in an electrifying night of Motor City's most famous hit songs paired with fabulous dance choreography on March 25.
The family friendly AdventHealth Trending Now Series includes fun, contemporary, nationally touring productions. Celebrate the New Year with The Hit Men on Jan. 4 with the musicians and singers who toured and recorded with some of the biggest names in the music business, like Jim Croce, Elton John, Paul McCartney, Frankie Vallie, Carly Simon, Blood Sweat & Tears, and Cheap Trick. This is not a tribute act and the show has been selling out throughout the country! Recycled Percussion, a smash hit on America's Got Talent and six-time winner of the National Act of the Year Award, performs on Jan. 31. Back by popular demand on Feb. 9 in an all-new show is Artrageous II. As seen on the Lifetime TV show "Pitch Slapped," Blue Jupiter, cutting edge a cappella recording artists, will deliver an energetic pop and Broadway performance on Feb. 29. The sumptuous, full-length ballet Cinderella, produced and performed by South Carolina Ballet, will delight young and old on March 7.
The popular Matinee Series, scheduled for Tuesdays at 1:30 p.m., includes: Jim Witter's Piano Men; Golden Girls: A Puppet Parody; Fabulous Equinox Orchestra; Broadway Tonite!; Splish Splash: A Bobby Darin Tribute; Florida Orchestra; James Taylor: Central Park Revisited; Tamburitzans; Changes in Latitude, a Jimmy Buffet tribute; and Phil Dirt and the Dozers.
Jazz fans love the traditional Jazz Series in the intimate 250-seat SFSC University Center where audiences are up close to the music. The Eddie Metz Trio with Nikki Parrot and Rossano Sportiello will deliver a fun performance on Jan. 15. Michigan jazz artists, Terry Lower and Edye Evans Hyde, make a return engagement due to audience demand on Jan. 12. Celebrate the music of Louis Armstrong and Ella Fitzgerald on Feb. 22 with Lisa Kelly and J.B. Scott Sextet. The New Victrola Dixieland Band, featuring Mark and Kathy Zauss, brings together terrific vocals with dynamite trumpet solos and toe-tapping style on March 4. Any student with a valid student ID receives a free ticket to any jazz performance. Free student tickets are available the night of show at the box office.
Show information, videos, and ticketing are available online at sfscARTS.org. Online sales for single tickets begin Monday, Oct. 14 at 9 a.m. The box office opens on Monday, Oct. 20 at 11:30 a.m. and is located at the Alan Jay Wildstein Center for the Performing Arts on the Highlands Campus of South Florida State College at 600 West College Drive in Avon Park. Phone orders are available at 863-784-7178 for an $8 fee.
AVON PARK, Fla. — Sept. 27, 2019 — Americans, typically, celebrate Labor Day weekend by holding backyard barbecues, heading to the beach, participating in parades, and attending music festivals. But this year's celebration took Florida by storm, quite literally. And while Hurricane Dorian continually swirled over the Bahamas, weather watchers seemed unsure about its impact on Florida.
In spite of the uncertainty, Kelsey Herring, a South Florida State College (SFSC) student-athlete, was called to duty on Friday, Aug. 30 with her unit of the National Guard to prepare for the impending hurricane. Her unit, the 856 Quartermaster, is based in Arcadia.
Herring has managed to balance college, work, and military service. She plays defensive specialist with SFSC's Lady Panthers volleyball team; is working toward her Bachelor of Applied Science in Supervision and Management with an emphasis in accounting; works part time for Lisa Sherman, CPA, in Lake Placid; and serves in the National Guard.
Herring was at volleyball practice when she received the text to report to her National Guard unit. That day, her unit reported to Orlando where cases of water and meals ready to eat (MREs) were loaded onto trucks, just in case Floridians found themselves without supplies following Hurricane Dorian. Herring's initial mission was to go to Groveland in Lake County and set up a safe place, much like a warehouse, from which to send trucks with food and water to other parts of Florida.
Because the hurricane movement was so uncertain, Herring then was given a similar mission in Hernando County to provide another warehouse of food and water on Florida's west coast to be ready in case the hurricane moved toward Central Florida.
The National Guard has been a part of Herring's life since she joined in 2014 while in high school. The Kingsville, Mo. native graduated in May 2015 and left Missouri for basic training in June.
Although Herring's older sister joined the U.S. Air Force and her grandfather was a Marine, Herring said that she doesn't really come from a military family. "A lot of people ask me why I joined the National Guard," Herring said. "It just felt like something I wanted and needed to do, so I joined."
After attending basic training in North Carolina, Herring was sent to her Advanced Individual Training (AIT) in Virginia. "AIT is where you learn your skill," she said. "My technical military occupational specialty (MOS) was 92 Alpha, which is an automated logistical specialist, but I've never actually done that job." An automated logistical specialist is responsible for supervising and performing management or warehouse functions to maintain equipment record and parts.
Rather, Herring became a gunner. "The entire time I was in North Carolina, I was in gunnery. So, pretty much of what I do is shoot M240s, M249s, and .50 caliber machine guns."
"Since I moved to Florida, I started to learn a little more of my actual military occupational specialty," she said. "During the hurricane, I was the non-commissioned officer (NCO) in charge. Not only in charge of the site and getting it set up but also in charge of the troops there. Sometimes, part of the job is to make sure there are lodging and contractors to provide meals for the troops."
Unlike other people who were battening down for the hurricane, Herring spent her time making sure that Floridians would be safe and cared for if the hurricane came their way.
"Some people may say, 'Wow, what a waste of time and money,' but it wasn't," Herring said. "That kind of real training is the best thing you can hope for. We got real life training of what it would be like during a hurricane but without any of the devastation. We were looking out for everyone and everyone was so grateful for us to be there. Even passing us on the road, they felt safer. It's peace of mind."
Herring is enthusiastic about the National Guard and recommends that young people look into it. "I would recommend it, especially for people who are younger and don't know exactly what they want to do with their lives," she said. "They may want to go to school and don't have the finances to go to school. That's why the Guard is so good—you have the opportunity to go to college. You have state funding and you have federal tuition funding. You also learn discipline which helps with college."
However, Herring doesn't think the National Guard is for everyone. "Being in the military takes a certain mentality," she said. "You can't just say 'I don't want to go.' You don't get to call in sick. There are times that you have to set personal things aside. You have to look at the bigger picture and some people just have a hard time looking past that. Or they don't realize what they signed up for. It's not a normal job where you can quit and you're out of the contract. Six years is six years—that's the time you signed up for and you have to understand that. If you feel like it's not for you, then in six years, you can take that time and move past it."
"The opportunities that the Guard has to offer can really benefit people," she said. "People know the Army, Navy, and other branches of the military but don't often think about the National Guard. If you don't want to go full time, there are the National Guard and the Reserves."
One of the benefits Herring discovered while at basic training in North Carolina was meeting her fiancé, Jacob, who was stationed at Seymour Johnson Air Force Base. Together, they moved to Jacob's hometown of Lake Placid, Fla. in August 2018.
Herring has her future planned—she'd like to complete her bachelor's degree in May 2021 and, eventually, become a partner in the offices of Lisa Sherman, CPA. As for the National Guard, her six years are up in November 2020. "I would definitely like the chance to stay in," she said. "But I am a full-time student and I work. So, I have a lot more to think about than me. But I would definitely like to be able to continue with the Guard."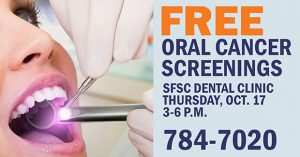 AVON PARK, Fla. – Oct. 1, 2019 – South Florida State College's (SFSC) Dental Education program will hold oral cancer screenings on Thursday, Oct. 17, 3 – 6 p.m., in the Dental Clinic, Building T-1, SFSC Highlands Campus, in Avon Park. The screening is by appointment only, open to the public, and free.
The screening is a simple process that only takes about 15 minutes. After a brief medical history, patients will undergo a head and neck evaluation. When needed, the visual exam is followed by an examination in which a florescent light is shown into the mouth and helps to detect abnormal cells that are not visible to the naked eye.
"Even people who wear dentures should have an oral cancer screening every year," said Dr. Deborah Milliken, department chair of Dental Education at SFSC. "Dental hygienists and dental assistants tend to be community-minded individuals, and oral cancer screening is only one of the many ways they serve in their communities."
According to the Oral Cancer Foundation and Oral Cancer Consortium, oral cancer is more deadly than Hodgkin's lymphoma, cervical, thyroid, and skin cancers, and kills one person every hour of the day. But when found early, oral cancer patients have a 90% survival rate.
Oral cancer risk factors include alcohol and tobacco use, advancing age, sun exposure, a diet low in fruits and vegetables, and the human papilloma virus (HPV), which presents a five-times increase in occurrence in people under the age of 40.
To make an appointment, call SFSC Dental Education at 863-784-7020.