AVON PARK, Fla. – July 29, 2020 – John Byrd, on behalf of The Optimist Club of Sebring, presents Dr. Thomas C. Leitzel, SFSC president, and Jamie Bateman, executive director of Institutional Advancement who oversees the South Florida State College (SFSC) Foundation, with a check in the amount of $26,960.90 for the Foundation's General Scholarship Fund. Through the SFSC Foundation, the General Scholarship Fund provides SFSC students with financial support to access an affordable, quality education, training, and experience. The Optimist Club of Sebring was established in 1995 and has donated funds to the SFSC Foundation which have been awarded to Sebring, Avon Park, and Lake Placid high school students. The Optimist Club of Sebring puts forth an effort to bring out the best in the youth of the community by providing hope and a positive vision. 
AVON PARK, Fla. – July 28, 2020 – South Florida State College (SFSC) and Warner University signed an articulation agreement to guarantee the seamless transfer of SFSC students who obtain an Associate in Science in Landscape and Horticulture Technology to Warner University to continue their education and pursue a Bachelor of Arts in Agricultural Studies.
"We are excited to open doors for our students to continue their education at a local institution with state-of-the-art, quality instruction that prepares them for work in an integral sector for our region," said Dr. Sid Valentine, vice president for academic affairs and student services at South Florida State College. 
The student must earn a 2.5 GPA at SFSC and complete 18 general education credits, 20 elective credits, and 14 credits toward the agriculture major requirements to be accepted to Warner. With a bachelor's degree in Agricultural Studies, graduates work in the field as agricultural consultants, agricultural operations managers, and precision agriculture technologists.
"SFSC does a tremendous job of preparing students for applied fields, so we know we will receive quality students into our Agricultural Studies program," says Dr. Gentry Sutton, vice president of academic affairs at Warner University. "This agreement stands to serve not only our institutions and our students but also the state of Florida, as agriculture is so vital to the state's economic prosperity. We are confident that the students who benefit from this agreement will make a positive difference in the industry."
This new academic partnership joins the other articulation agreements that SFSC has with the University of South Florida (USF) through the Fuse program; Florida Polytechnic University in electrical engineering; and Florida Agricultural and Mechanical University (FAMU) in business, education, psychology, and social work through its Ignite program.
For more information about the variety of programs at SFSC, call 863-453-6661 or email recruiter@southflorida.edu.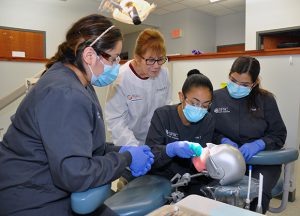 AVON PARK, Fla. – July 28, 2020 – South Florida State College (SFSC) honored 10 graduates of its Dental Hygiene program and 12 graduates of its Dental Assisting program in a pinning ceremony in the Alan J. Wildstein Center for the Performing Arts at SFSC on Thursday, July 16. Dental Hygiene graduates receiving their pins were: Kimberly Albritton, Sarah Brock, Cristin Carlisle, Taylor Connell, Carly Earls, Kenyon Liles, Kolby Lipe, Patricia Pacheo-Trahan, Francesca Pemble, and Jacqueline Perez. Dental Assisting graduates receiving their pins were: Aliyah Blas, Annetude Delhomme, Julia Figueroa, Oliva Frazier, Veronica Molina, Sofia Monroy, Maria Perez, Sierra Rodriquez, Tatiana Sanchez, Bertha Sosa, Ana Toledo, and Jennifer Vargas.
To open the ceremony, Dr. Deborah Milliken, chair of SFSC's Dental Education program, congratulated the graduates on behalf of herself and the faculty.
The keynote speaker for the pinning ceremony was Norine Dowd, a retired dental hygienist and current adjunct instructor at SFSC. She served as president of the Florida Dental Hygiene Association and was a member of the American Dental Hygiene Association Board of Trustees.
Dowd spoke with the graduates on the changes in infection control from when she started out in a dental practice. "I started my dental career in 1979. We did not use any personal protective equipment (PPE). Yes, you heard me correctly—no masks, no gloves, no eye protection, and no scrubs. We had a box in the storage room labeled 'HEP-B.' It contained PPE and sterile instruments to be used if a patient was a known hepatitis carrier."
Dowd explained that things changed in the late 1980s when a young college student in Florida became the first person to be infected with HIV AIDS through blood exposure in a dental office. In response, the Centers for Disease Control and Prevention (CDC) developed universal precautions and, in 1993, standard precautions.
"Now we have a new epidemic and we are learning that even more personal protection is needed," Dowd said. "And more needs to be done to protect the patients and staff from aerosols. In 32 years, when you are standing here giving the keynote speech, what will you remember of your first job during the COVID-19 pandemic?"
"I am immensely proud of the dental hygienist and dental assistants in the community," she said. "They have stepped up and worked with the dentists and office staff to implement the new guidelines and are safely serving patients in the community again. Now you will join them. Please stay safe. Keep informed and vigilant, and always advocate for the safety of all in your practice."
Upon completing the two-year Associate in Science Dental Hygiene program, graduates become dental hygienists by passing the National Board Dental Hygiene Examination (NBDHE) and the Florida State Clinical Licensure Examination. They can, then, work alongside a dentist as a member of a dental health care team.
After completing the 11-month Career Certificate program in Dental Assisting, graduates can work as certified dental assistants by passing the Dental Assisting National Board Examination (DANB) and qualifying for the Expanded Functions Dental Assisting Certification as well as Orthodontic Assistant Certification.
For more information on SFSC's Dental Education programs, call 863-784-7027 or email healthsciences@southflorida.edu.
AVON PARK, Fla. – July 23, 2020 – Jenny Grenke, a South Florida State College (SFSC) alumna, knew from an early age that she wanted to be a professional makeup artist. With determination and lessons in self-confidence, she found her way and achieved her goal.
Grenke was born and raised in Frostproof, Fla. When she was a young girl, she would intensely watch the work of master stylist Jose' Eber, who appeared on television shows doing makeovers for celebrities and everyday people. "The changes that he would make fascinated me and sparked my interest in becoming a makeup artist," Grenke said. "I wanted to do makeup and my grandmother wanted me to become a hairdresser."
Although Grenke loved her art classes at Frostproof Middle-Senior High School, she became disenchanted with school in general. "I quit high school because I wanted to," she said. "I guess it was just being rebellious or something. I thought I was an adult and just didn't have to do it anymore if I didn't want to." So at age 16, she left high school behind. But soon realized, it wasn't the right choice.
Shortly after leaving high school, Grenke was married and, in time, a daughter came along. "It didn't take me long to figure out that we had to pay our own bills," she said. "My husband and I were picking fruit to make ends meet during the week. I decided that I, eventually, wanted to get into the Cosmetology program at SFSC, so I knew that I needed to earn a high school diploma first."
Grenke enrolled in night school at Frostproof Middle-Senior High School and took a job as an administrative assistant to the adult education director. Her marriage had ended, but she soon earned her high school diploma.
Eventually, she remarried and had another child. This time around, Grenke's husband encouraged her to fulfill her dream of becoming a makeup artist. When their son was in first grade, her husband said, "OK, this is your time. You need to go for it."
With diploma in hand and a loving, supportive husband by her side, Grenke was accepted into SFSC's Cosmetology program. There she found a mentor in Cosmetology professor Mary Starling.
"It was Mrs. Starling who pushed us and encouraged us to go after what we wanted and be the best we could possibly be," Grenke said. "I wasn't self-confident at that time. If she had not been that force telling us we could do it, I wouldn't have become a makeup artist."
Starling assisted Grenke in getting experience doing makeup. While in the Cosmetology program, Starling obtained a job for Grenke at a Highlands County department store makeup counter selling Clinique beauty products. Grenke also took a part-time job selling Merle Norman cosmetics.
Although hair design was the focus in SFSC's Cosmetology program, Grenke was building the basis for her career in makeup. "I worked as a hair stylist because it offers steady employment, and you can make money right away," she said. "But I was interested in what was going on in California—makeup for the film industry." Because makeup wasn't emphasized in the Cosmetology program, Grenke was motivated to seek out more intensive training while taking classes at SFSC.
Ve Neill was a specialty makeup artist working on the feature film, "Edward Scissorhands," which was on location at a Lakeland, Fla. Publix supermarket. During her career, Neill has won Academy Awards for her work on "Beetlejuice," "Mrs. Doubtfire," and "Ed Wood." After filming on "Edward Scissorhands" wrapped, Neill set up a makeup studio in Orlando. Although Grenke doesn't recall how she found out about Neill, she began to take classes in makeup for the film industry at Neill's studio.
But Neill was only one of many professional makeup artists who Grenke sought out. She trained with a union film makeup artist in Cocoa Beach, Fla. and a Miami-based film makeup artist who taught workshops in Orlando.
Then, Grenke heard about Mike Davies, who taught special effects makeup at Valencia College in Orlando. "Two nights a week for six weeks, I drove to Orlando after I got off work to take special effects makeup classes," she said. "It was the type you would do for 'Mrs. Doubtfire'—much of it using prosthetics." Because of Davies and her strong desire to work on makeup for the film industry, Grenke got a special effects makeup job working on Halloween Horror Nights at Universal Studios in Orlando along with Davies. For the production, she was tasked with creating characters whose faces had been clawed and torn by rats.
"After I got my training in makeup design, I was like, 'What do I do now?'" Grenke said. After graduating from SFSC's Cosmetology program in 1990, Starling had Grenke come back to the College to train the students in makeup design for a couple of classes during a semester. But Grenke wanted more.
"So I did some research and found that Polk County had a film commission in Bartow," Grenke said. "They had meetings once a month for anyone in the industry. At one meeting, a woman named Caron Pappas was speaking on behalf of Patterson Studios in Winter Haven. I had no clue that there was a film studio there."
Grenke attended that meeting with the intention of getting to know someone who might need her professional makeup know-how. But after the meeting ended, Grenke was so nervous she walked out the door. Her lack of self-confidence had returned.  But she stopped and reassessed. "I said to myself, 'If you don't say something, nobody else will. This will be it.'" Grenke went back into the meeting room, handed Pappas her business card, and said, "I'm a professional makeup artist. Here's my card. If you ever need me …" Pappas said, "I've got a project coming up. If you wouldn't mind doing the makeup for me for free, I'll give you some work."
"I had this nice $300 makeup case that was good enough for a professional to carry to a film set," Grenke said. "It was full of makeup from California, and I was ready to roll."
Pappas was going to dress up as the television character, Elvira, Mistress of the Dark, and pose in a photoshoot for the Lakeland Ledger. "I found the eyelashes and the makeup for the shoot," Grenke said. "A friend from my Cosmetology program at SFSC, Susan Chapman, and I did the job together. It was our very first professional photoshoot."
A month after the photoshoot, Pappas called Grenke to do the makeup for four Orlando Magic basketball players who were doing a safety commercial. "They were so tall compared to me that they had to sit on a lower bench while I stood up and did their makeup," Grenke said. "Basically, what you want to do for this kind of shoot is keep skin tones even. Any blemish will be 10 times more distracting. I would lightly put on the makeup and keep their faces dry. If someone is sweaty, it reflects on the film. I made my first $100 for two hours of work." Shortly after, Grenke was asked to work on a commercial in Winter Haven with the Florida Citrus Growers Association.
A woman who worked at Patterson Studios was married to Jimmy Rogers, star of a local television show, "Jimmy Rogers Fishing Show." Grenke had taken her grandmother to Nashville for its annual Fan Fair, a country music festival of concert performances and country music artist meet-and-greets. While there, she remembered that Jimmy Rogers' wife loved the singer Randy Travis. So, she went out of her way to get a personally autographed photograph of Travis to take back to Florida.
Jimmy Rogers happened to rent out office space at Patterson Studios and did production work. He was helping to promote an up-and-coming country music singer and needed someone to do their makeup. Rogers remembered Grenke's kindness to his wife and that she was a professional makeup artist, so he asked her to work on the promotional shoot in Nashville.
Nashville seemed to be calling Grenke. "I did another shoot in Nashville—for Sherry White from Wauchula who was working on a video and trying to become a country music writer," Grenke said. "She was a friend of Susan Chapman. So Sherry asked Susan and me to come to Nashville to do her hair and makeup for a video called "Big Betty."
And one thing led to another. White knew people associated with the Christian Country Music Awards, and they were planning an awards show to take place at Trinity Broadcasting Network (TBN) in Hendersonville, Tenn. "I ended up doing the hair and makeup all by myself," Grenke said. "I, probably, did hair and makeup for 30 people, and you had to keep them touched up between appearances. It was television. I was working all day without eating and just nonstop doing makeup and hair."
The next year, Grenke did hair and makeup for the Christian Country Music Awards at the Grand Ole Opry in Nashville. "This time, I worked with singer and songwriter, Paul Overstreet, who hosted the awards show. I also worked with Margo Smith, Marty Raybon and Reba McEntire's sister, Susie McEntire-Eaton, and several other country music artists. That was amazing." 
"For me, most of the excitement came from getting to know the country singers I worked with," Grenke said. "I had time to hold a conversation with them. And they're just real people like us."
Closer to home, Grenke worked with country music artist Tracy Byrd. "He was famous for the 'Watermelon Crawl' song. I got the job because I had worked through the Polk County Film Commission. He was doing promotional spots in Lakeland because he was singing at a festival in the area. He was super nice. He was a singer who was up there on the charts. He could have been arrogant, but he wasn't."
In time, Grenke's children were getting older and she was traveling a lot. "I decided that it was time to settle down, so I opened a hair salon in Frostproof and did makeup for everyday people," she said. "I worked as a stylist, judged a beauty contest in Wauchula, sold makeup, did makeup for weddings, and taught people how to do their own makeup. Basically, I just wanted to be with my kids more. They were in elementary school and middle school."
Because business wasn't as profitable in a small town as elsewhere, Grenke took a part-time office job at a church. "I got a lot of training in office work so I would have other potential skills to fall back on." Soon, the Grenkes put the hair salon in their home and they did well financially. However, in time, the chemicals Grenke needed to use in the salon affected her lungs. "It was as if I'd become allergic to the chemicals," she said. "My doctor told me that I needed to quit."
Grenke fell back on her office skills and took a job with the Frostproof Care Center, where she was a community liaison, doing marketing and public speaking. Eventually, she took a job with SFSC in the Panther Youth Partners program and, later, the Farmworker Career Development program. Today, she is an administrative assistant in SFSC's Adult Education Department.
"I'm back in college, too," Grenke said. "I'm a few credits away from getting my Associate in Science degree in Computer Programming and Analysis. I decided on that degree because I love graphic design and I wanted to learn how to use the Adobe programs. I love to create art. I'm about to finish two classes this semester and I only have three more to go. I hope to have my degree by May 2021. Right now, I'm taking a Humanities course. I love it and can't get enough of it."
Grenke has taken art classes at SFSC with professors Cathy Futral and Karla Respress. "I love art," she said. "That's my main focus. I always wanted a job involving art. That's what makes me smile."
Grenke credits Starling with instilling her with self-confidence and pays tribute to her more recent professors. "SFSC opened up more possibilities for me than I originally thought it would," Grenke said. "I would say that the majority of the instructors I've had at the College are super about letting you know what options are available with the degree you're pursuing and that you're not limited."
Early in life, Grenke lacked confidence, but eventually found that she could rely on herself to achieve her dreams. Her advice for young people who are wrestling with future plans is: "You need to be prepared. Nothing's going to come easily. Set your mind on a goal—think about the things you enjoy doing most and take the necessary steps to reach your goal. You have to take action. Nobody will do it for you."
AVON PARK, Fla. – July 1, 2020 – A $40,000 grant from the Community Foundation of Sarasota County has been awarded to the South Florida State College (SFSC) Foundation, Inc. to benefit part-time students who are attending SFSC in summer 2020, fall term 2020, and spring term 2021.
The grant comes from the Edward K. Roberts Community College Fund, which was established by Roberts as a legacy to support Florida's community colleges and other charitable organizations. Managed by the Community Foundation of Sarasota County, the fund continues Roberts' vision of making higher education a priority, particularly for those motivated to seek a better life for themselves.
SFSC's grant funds are designated to provide assistance to students who are attending college part time and may not qualify for other forms of financial aid. Individual students may receive up to a maximum scholarship of $1,500 during the grant period of June 2020 to March 2021. The grant covers tuition, housing, books, child care, automobile repairs, and needs that would otherwise prevent students from attending college. Recipients are identified by SFSC's Office of Financial Aid.
"Because of grants from organizations such as the Community Foundation of Sarasota County, the SFSC Foundation can support the educational goals of SFSC's students," said Jamie Bateman, SFSC executive director of institutional advancement. "The funds from this grant allow our students to concentrate on their studies and prepare for personally and financially rewarding careers."
To apply for the scholarship, contact the SFSC Office of Financial Aid at 863-784-7134, email finaid@southflorida.edu, or visit http://www.southflorida.edu/support-sfsc/foundation-scholarships. For more information regarding the grant funding from the Community Foundation of Sarasota County, contact Bateman at 863-453-3133. For information about the Community Foundation of Sarasota County, visit cfsarasota.org.