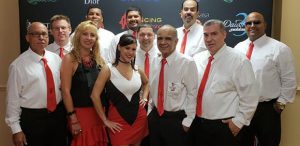 AVON PARK, Fla. – Oct. 26, 2021 – Grab your grandma, the kids, and your best dance partner for a high-energy, free concert with La Orquesta Caribeño Tropicale on Saturday, Nov. 6 at 7 p.m., at the Alan Jay Wildstein Center for the Performing Arts at South Florida State College in Avon Park. Caribeño Tropicale performs the rich heritage sounds of the Caribbean and Latin America. Expect to hear and dance to favorites likes "Trucutu," "Aquanile," "El Ritmo de la Noche," and "Fiesta I Fiesta."
"This is a lively show that will keep you moving all night," said Cindy Garren, director of Cultural Programs at SFSC. "Families will enjoy salsa, mambo, and cumbia music played with today's modern sound. It will definitely be an exuberant show!"
Salsa music borrows much from the Cuban music genre of son. Through the musicians' use of percussion instruments such as the clave, maracas, conga, bongo, and cowbell—the instruments and the singers often mimic the call-and-response patterns of traditional African songs and then break into the chorus. Other salsa instruments include the vibraphone, marimba, bass, guitar, violin, piano, accordion, and flute, and a brass section of trombone, trumpet, and saxophone. Today's modern sound includes electronics.
Salsa spices up music and dancing, but there is much debate about where salsa originated. One school of thought claims that salsa is a newer version of traditional Afro-Cuban forms and rhythms, so the birthplace must be Cuba. The other school of thought about the genre's history says that if salsa had a passport, the date of birth would be the 1960s and its birthplace would be New York, N.Y. where it developed from Cuban and Puerto Rican musicians.
This performance is funded in part by the National Endowment for the Arts. Seating is general admission and tickets will be available at the door. To get tickets in advance, visit sfscarts.org/show/orquesto-caribeno-tropicale. For a complete list of upcoming performances, to view videos, and for more information, visit sfscARTS.org or call 863-784-7178.
The Alan Jay Wildstein Center for the Performing Arts is located on the campus of SFSC at 600 West College Drive in Avon Park. The 1,460-seat venue features a Meyer sound system, an IMAG screens for onstage close-ups, and ADA seating. Face masks are encouraged, but not required.  The venue is disinfected and sanitized prior to every performance. Seating is not socially distanced at this time.
AVON PARK, Fla. – Oct. 20, 2021 – Of the 22 students who recently graduated from South Florida State College's (SFSC) Practical Nursing (PN) program, 100% passed the required national licensure examination – the National Council Licensure Examination (NCLEX-PN).
"To practice nursing within the United States (and in many other countries), one has to secure a nursing license," said Mary von Merveldt, director of nursing education at SFSC. "In Florida, this requires graduation from an approved program, passing background screenings, and successful completion of the national licensure exam. Practical nursing licenses are issued by a graduate's state of residence and are valid for practice within this state. However, Florida is part of the National Licensure Compact (NLC), so graduates meeting the requirements for multistate license can practice in many states with the Florida multistate license. Currently, 38 states participate."
The NCLEX-PN measures knowledge and expertise of the essential skills required to safely enter the field of practical nursing. It is a five-hour exam that consists of between 85 and 205 questions and covers five categories: a safe and effective care environment; safety and infection control; knowledge of expected stages of growth and development and prevention and/or early detection of health problems; care in promoting and supporting emotional, mental, and social well-being of clients; and comfort to clients and assistance in the performance of activities of daily living. The National Council of State Boards of Nursing (NCSBN) develops and administers the NCLEX.
"High NCLEX-PN pass rates speak to the quality and high standards of SFSC's practical nursing program," von Merveldt said. "Exceptional, caring instructors and dedicated students make a commitment to excellence in nursing education and practice. Graduates improve their career outlook and better the future health of our community through their actions."
According to von Merveldt, "Historically, employment of all SFSC nursing graduates has consistently neared 100%. From speaking with our students, we know that most are readily offered employment. Some have even secured employment prior to graduation, pending practical nursing licensure."
SFSC's Practical Nursing Career Certificate is an 11-month, full-time day program. Other Nursing programs offered through SFSC are: the two-year, full-time day Generic Nursing (RN) Associate in Science (A.S.); the two-year evening and weekend Generic Nursing (RN) Associate in Science (A.S.); the 13-month, full-time, day Transition Nursing (LPN to RN) Associate in Science (A.S.); and the online Bachelor of Science in Nursing (RN to BSN). For more information about any of SFSC's Nursing programs, visit southflorida.edu or email healthsciences@southflorida.edu.
Dr. Joseph Anthony ("Tony") Mancini, an alumnus of South Florida State College (previously South Florida Community College), practices gynecology at Gessler Clinic in Winter Haven. He spoke about his family and his career in medicine.
Where are you originally from?
I was born and raised in Wauchula.
A news clip on the wall in your examining room is about someone in your family who owned a business in New Britain, Conn. Why do you have the news clip on the wall?
My grandfather started a food processing business in Connecticut. They moved the operation to Zolfo Springs in the 1940s. Mancini Foods makes canned and jarred roasted peppers and is still in business to this day. The news clip in the office writes about the business, my grandfather being an Italian immigrant, and the value of hard work to be successful. I keep that article up as inspiration.
How/why did your family come to Hardee County?
My grandfather, my father, and uncle came to Hardee County to start and run the business. My dad met my mom here and they had a family — me and my two brothers. I went to public school here and am a proud graduate of Hardee Senior High School, Class of 1971.
You were in a band once upon a time. Tell us about that. Are you still active as a musician?
I was in a rock band in high school called "Copperfield." And we were quite popular! I was the guitarist. We played high school dances and other venues. I don't play now, other than for my own enjoyment. I own several guitars in my collection.
Why did you decide to attend SFCC?
I attended SFCC because of convenience and to get my Associate in Arts (A.A.) before transferring to a four-year school. I got a great education and was able to work and save money. I graduated from SFCC in 1973 after completing some of the pre-med requisites. I went on to major in Biology at Florida Southern College in Lakeland and graduated in 1975.
 Why did you choose to go to medical school at St. George's University School of Medicine in Grenada?
I went to Grenada School of Medicine because it was difficult to get into med school in the United States and, rather than wait listing, I could start there immediately.
Why did you choose to go into medicine? Did anyone or an incident inspire you?
I was inspired to go into medicine, mainly, because we had a great group of doctors at Palmetto Medical Clinic in Wauchula – Drs. Palmer, Sayre, and Carmichael. I knew I wanted to be like them.
Why did you choose to go into obstetrics/gynecology?
I went into obstetrics/gynecology because it is mostly a happy specialty — delivering babies. I retired from obstetrics five years ago, now focusing on gynecology. I've delivered the children of many of my current patients. I have also practiced long enough to have patients whom I actually delivered!
How long have you had your practice at Gessler Clinic in Winter Haven? What aspects of your career have brought you the most pride or joy?
I have been in practice since 1986 – four years in Lake Wales and going on 30 years at Gessler Clinic. I take pride in caring for my patients. I loved delivering babies. I'm thankful I'm able to continue practicing gynecology.
You have a brother who is also a physician.
My brother is an internist in Winter Park, Fla. He is three years younger than I.
 Do you have any children who have followed in your footsteps and gone into medicine?
I have three children and two grandsons. My daughter, Katie, who lives just outside Rochester, N.Y., is married and has two sons ages 5 and 8. Meredith lives in Chicago and is a recruiter for Robert Half, a staffing firm. My son, Trey, is a Major League Baseball player, who is the first baseman for the Baltimore Orioles. None of them are in medicine, but that's fine as long as they are happy!
In what ways did SFCC assist you in preparing you for your career? What advice would you give to young people (or people interested in changing careers) about going into medicine? About getting an education?
SFCC was a great place to begin my education. It had small classes, and it was easy to gain access to your instructors. Of course, I went there in the early days of the College and I can only imagine how great a place it is to attend now!
Medicine as a whole is a very rewarding career no matter what specialty you choose, and SFSC is a great place to get the foundation you need!
AVON PARK, Fla. – Oct. 11 – The 2021-2022 performing arts season at the 1,460-seat Alan Jay Wildstein Center for the Performing Arts at South Florida State College (SFSC) kicks off Saturday, Nov. 6 with a free concert by La Orquesta Caribeño Tropicale at 7 p.m. Funded in part by a grant from the National Endowment for the Arts, the concert will feature the heritage rich sounds of the Caribbean and Latin America.
"This is a high energy show for the entire family," said Cindy Garren, director of cultural programs at SFSC. "Seating is general admission and free tickets are available online or at the door." 
Mark Nizer: 4D takes the stage on Sunday, Nov. 14 at 3 p.m. All tickets are $10. Nizer combines world-class juggling, music, technology and comedy in a show that Performance Magazine has called "nothing less than brilliant."
Since winning the International Juggling Championships, Nizer has taken his one man show to a variety of venues around the world, including The Improv, The Comedy Store, Walt Disney World, college campuses, and all major cruise lines. He has also performed at corporate events, civic centers, festivals, and performing arts centers including the Kennedy Center and Lincoln Center for the Performing Arts (four times). Entertainment Magazine states, "Without a doubt, the hottest juggler on the entertainment market, Mark Nizer is simply incredible." 
Sponsored by Bill and Lisa Jarrett, the Mark Nizer show is a fundraiser for local nonprofits including the Children's Museum of Highlands County, Hardee County Players, AdventHealth Sebring Foundation, Heartland Cultural Alliance, Lake Placid Historical Society, Mason Smoak Foundation, Parkview Prep Academy, Ridge Area ARC, Sebring Band Boosters, Sebring Historical Society, Walker Memorial Academy, and the United Way of Central Florida.
Subscriptions are available for the Lampe & Kiefer Hearing Aid Center Matinee Series, Artist, Jazz, and the AdventHealth Trending Now Series. Save up to $88 with an Artist Series package to all nine performances including: Carousel in Concert starring Ciarán Sheehan (Broadway's phantom); Country Christmas with The Gatlin Brothers; Elvis Birthday Bash; World of Musicals; Lee Ann Womack; Tango Fire; The Simon & Garfunkel Story; Rhythm of the Dance; and Neil Berg's 50 Years of Rock & Roll.
"One of the best deals with the subscription package is saving 15% on our special events, Michael W. Smith Christmas and ABBA MANIA," said Garren.
Three-time Grammy Award winner, Michael W Smith, performs a holiday concert on Monday, Dec. 13 at 7 p.m. Tickets start at $44.
The international hit, ABBA MANIA, is scheduled for Friday, Feb. 18 at 7 p.m. Tickets start at $32.
Group sales are available for most performances. A group of 12 gets a free ticket plus a generous discount. "A group can be a girls' night out, a family celebration, an office party, or a social club outing," explained Garren. "We will announce your group from the stage and recognize your special occasion." For group information, go to sfscARTS.org/group.
Due to the surge in COVID-19 cases as a result of the Delta variant, all people attending the Alan Jay Wildstein Center for the Performing Arts are encouraged, but not required to wear masks. This decision is in light of new guidance from the Centers for Disease Control and Prevention (CDC). All areas of the venue will be sanitized and disinfected prior to each performance. Reduced seating capacity will not be implemented in the Alan Jay Wildstein Center for the Performing Arts. There are socially distanced seating areas in the venue.
The Alan Jay Wildstein Center for the Performing Arts is located on the Highlands Campus of South Florida State College at 600 West College Drive in Avon Park. Tickets, videos, and performance information can be found online at sfscARTS.org. The SFSC Box Office phone number is 863-784-7178.
The SFSC Box Office opens for in-person sales on Monday, Oct. 25 at 11:30 a.m. Single ticket online sales begin Monday, Oct. 18.
About South Florida State College Performing Arts
South Florida State College (SFSC) presents over 35 nationally and internationally touring artists at the 1,460-seat Alan Jay Wildstein Center for the Performing Arts located on the Highlands Campus at 600 West College Drive in Avon Park. SFSC offers a Matinee Series for adults at leisure, Young People's Theater Series for school performances, Jazz Series, Trending Now Series of contemporary, family shows, and the popular Artist Series. The performances are underwritten in part by funding from the Florida Department of State, Division of Cultural Affairs, the National Endowment for the Arts, and South Arts. Upcoming performances include: Carousel in Concert on Nov. 20; Country Christmas with the Gatlin Brothers on Dec. 2; a free performance of Holidays Traditions Around the World on Dec. 12; Michael W. Smith Christmas concert on Dec. 13; Phil Dirt and The Dozers on Jan. 11; The Four Freshmen on Jan. 25, and New Shanghai Circus on Feb. 4.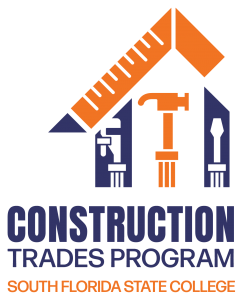 AVON PARK, Fla. – Oct. 6, 2021 – South Florida State College (SFSC) is pleased to announce its association with National Center for Construction Education and Research (NCCER). NCCER is a not-for-profit education foundation that is supported through the participation of partnering trade associations; construction and maintenance firms; contractors; business owners; schools; and third-party providers. NCCER curriculum meets the Department of Labor Office of Apprenticeship requirements for apprenticeship programs throughout the United States.
"The NCCER curricula affords our students tremendous opportunities and pathways to grow their knowledge and skills in the construction trades," said Fred Hayes, coordinator of the Construction Trades program at SFSC. "Our instructors, all of whom have over 35 years of experience in their trade each, have gone through the required NCCER instructor training in order to provide the best possible learning experience for our students." 
SFSFC students receive training equips them to be productive team members of a construction crew, whether it be in electrical, carpentry, plumbing, or masonry. Upon successful completion of the selected program, students receive NCCER certification in Basic Core Construction Skills, Level 1 (of four potential levels) of their selected trade, OSHA 10 Basic Construction Safety Certification, and the basic hand tools they have trained with.
Another tremendous benefit is that students are afforded tuition assistance provided by CareerSource Heartland. When approved, students may receive up to total tuition coverage by CareerSource.
For more information about the Construction Trades program at SFSC, call Hayes at 863-201-7195 or email fred.hayes@southflorida.edu.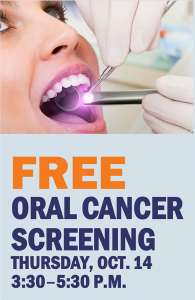 AVON PARK, Fla. – Oct. 1, 2021 – South Florida State College's (SFSC) Dental Education program will hold oral cancer screenings on Thursday, Oct. 14, 3:30 – 5:30 p.m., in the Dental Clinic, Building T-1, SFSC Highlands Campus, Avon Park. The screening is by appointment only, open to the public, and free.
The screening is a simple process that only takes about 10 minutes. After a brief medical history, patients will undergo a head and neck evaluation. When needed, the visual exam is followed by an examination in which a florescent light is shown into the mouth and helps to detect abnormal cells that are not visible to the naked eye.
"Even people who wear dentures should have an oral cancer screening every year," said Dr. Deborah Milliken, department chair of Dental Education at SFSC. "Dental hygienists and dental assistants tend to be community-minded individuals, and oral cancer screening is only one of the many ways they serve in their communities."
According to the Oral Cancer Foundation and Oral Cancer Consortium, oral cancer is more deadly than Hodgkin's lymphoma, cervical, thyroid, and skin cancers, and kills one person every hour of the day. But when found early, oral cancer patients have a 90% survival rate.
Oral cancer risk factors include alcohol and tobacco use, advancing age, sun exposure, a diet low in fruits and vegetables, and the human papilloma virus (HPV), which presents a five-times increase in occurrence in people under the age of 40.
To make an appointment, call SFSC Dental Education at 863-784-7020. Patients are asked to wear a face mask and maintain social distancing when visiting the Dental Education Clinic. Upon arrival, patients will have their temperatures taken and will be asked to complete a questionnaire to screen for COVID-19 symptoms and exposure.