May 19, 2022 – South Florida State College (SFSC) graduated a class of 11 firefighters and 11 paramedics during an evening ceremony at the SFSC University Center Auditorium at the Highlands Campus on Wednesday, May 18.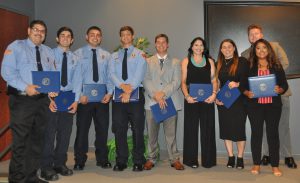 Receiving their certification from the Firefighter Minimum Standards program were Nathan Ahrens, Michael Bacevic, Zachary Boyette, Kyle Cooper, Clayton Johnson, Jenna Levine, Rebecca Oser, Rafael Ramos, Ana Saldana, Jorge Santiago, and Chelsea Whitmire.
The Firefighter Minimum Standards career certificate prepares graduates for a career in fire service. A cohort of cadets enroll in the Firefighter I course with the expectation of continuing through to Firefighter II training. Firefighter I training is required for volunteer firefighters. Firefighter II training is required for those who wish to be employed as professional firefighters in Florida.
Receiving their paramedic certificates were Carl Abelard, Alana Akouka, Terry Armstrong, Joshua Arturi, Chastity Bonney, Desmond Coleman, Lecil Deatherage, Jacob Keener, Roberto Morales Jr., Carlos Rivera Jr., and James Simpson.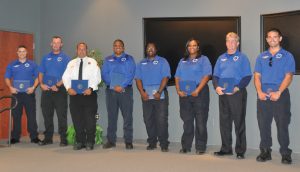 The graduates had just completed an 11-month college credit certificate course offered through SFSC's Emergency Medical Services (EMS) program. Paramedics work as part of an emergency response team called out to traffic accidents, fires, and other life-threatening situations, providing advanced life support care in a pre-hospital setting.
Darius Livingston '07, captain of Polk County Fire Rescue, served as the ceremony's guest speaker. He reminded graduates of important aspects of the role they are about to embrace. "Never forget where you came from," he began. "You are your own brand, so don't lose yourself as you meet others."
He also spoke about the training that each of the graduates received. "Offer the highest quality care to everyone. Don't allow anyone to lower your standards. Care for others as you would care for your own family." In conclusion, he left the graduates with, "And, don't spend up to 20-30 years of your life in this job to not leave a legacy. Make an impact."
Later in the evening, three students in each program were recognized for special achievement. For fire, Michael Bacevic was acknowledged for having the Highest GPA, and Rafael Ramos was recognized for the Leadership award. Ana Saldana was awarded with Most Heart, the student who showed the most determination and drive.
For paramedic, Jacob Keener received recognition for having the Highest GPA – Lecture, and James Simpson was recognized for having the Highest GPA – Lab. Chastity Bonney was awarded with Most Heart for her dedication and tenacity.
SFSC also offers a 16-week course leading to employment as an emergency medical technician (EMT). EMTs provide entry-level patient care as part of an emergency response team.
SFSC offers a two-year Associate in Science in Emergency Medical Services, which includes training in both EMT and paramedic programs. Upon completing this program, graduates will have the opportunity to work toward leadership positions in EMS.
For more information about SFSC's public safety programs, contact Chris Fowler at 863-784-7278 or chris.fowler@southflorida.edu.
AVON PARK, Fla. – May 13, 2022 – South Florida State College (SFSC) honored 39 Associate in Science in Nursing (ADN) students in a traditional pinning ceremony on Thursday, May 12 in the Alan J. Wildstein Center for the Performing Arts at SFSC on the Highlands Campus in Avon Park.
The graduates are Cassidy Beers, Kayla Bingham, Sarah Carlton, Crystal Carpenter, Loreal Chavez, Rebeca Cortez, Juanita Escamilla, Francesca Espiritu, Abigail Fraga, Nicole Ghent, Javier Gomez-Badillo, Maria Gonzalez, Erica Hagan, Keikee Kirlew, Rebecca Lieder, Leydi Lopez, Henry Lovett, Julia Mack, Kathy Marcial-Palacios, Jayla McCree, Marie McLean, Sheyla Medina, Zarlinn Medina, Ivone Nava, Marta Ortega, Anthony Pacheco-Moran, Mil Ryahsson Piocnacia, Reagan Pitrowski, Christen Pyles, Nicholas Ramnarain, Ana Rodriguez, Gonzalo Saldivar, Shelly Seeteram, Josie Spencer, Madison Thomas, Anahi Velasco, Brenna Wells, Zachary Wells, and Lyndsee Williams.
Guest speaker for the ceremony was Mary Ellen Powrie, SFSC Nursing instructor, who addressed the students and spoke about resilience and passion in their coming careers. "This is a resilient group who entered nursing school at a time of pandemic and at a time of great uncertainty in healthcare, in the world, and in everything. In 2020, these students seated before us came determined to give to others and to learn nursing. They have resilience. The definition of resilience is that you are able to recover from uncertainties and when a lot of obstacles are put in your path. However, we bend, but we don't break. As you go forward, you're going to be tested with that in nursing. You've heard me speak about passion. I hope that every single one of you never loses your passion. We can teach you knowledge, and experience will help you with skills, but you must have passion in your heart and soul to get up everyday and help the people who need you. Be a light for someone. I want you to keep learning, be enthusiastic, and let your light shine."
Each year, Nursing graduates award the Golden D.U.C.K. to someone who has served as a mentor to the students in the program. The D.U.C.K. acronym represents the foundational elements of the mentoring arrangement: Developing, Understanding, Compassion, and Knowledge. During the ceremony, graduate Reagan Pitrowski presented the 2022 Golden D.U.C.K. Award to Mary Ellen Powrie. "It takes a special person to become a nurse," Pitrowski said. "But it takes an even more special person to educate the next generation of nurses."
During the ceremony, the graduates' loved ones presented them with their individual nursing pins. The graduates, then, passed the flame of a lamp, one to another, before reciting the Nightingale Pledge.
Mary Von Merveldt, director of nursing education, explained the origins of the Nursing pinning and the importance of the lamp lighting ceremony to the graduates: "The pinning we know today originated in the 1850s at the Nightingale School of Nursing at St. Thomas Hospital in London. Having been awarded the Red Cross of St. George for her selfless service to the injured and dying during the Crimean War, Florence Nightingale chose to extend this offer to her most outstanding graduating nurses by presenting each of them with a medal of excellence. The presentation of the lamp is a symbol of the caring devotion nurses administer to the sick and injured in the practice of nursing. After nurses were pinned, Nightingale would light a lamp and pass the flame to each nurse as they recited the pledge. The passing of the flame represents a formal welcoming of new nurses to the profession."
Graduates of the ADN program become registered nurses by passing the National Council Licensure Examination for Registered Nurses (NCLEX-RN) exam. SFSC Nursing graduates are usually fully employed in nursing within a few months of graduation.
SFSC offers an online Bachelor of Science in Nursing (BSN), a two-year generic Associate in Science in Nursing, a 13-month transition licensed practical nurse to registered nurse Associate in Science in Nursing, and an 11-month Practical Nursing (PN) career certificate. For more information about SFSC's Nursing programs, contact Danielle Ochoa, Health Sciences advisor at 863-784-7027 or by email at healthsciences@southflorida.edu.
AVON PARK, Fla. – May 12, 2022 – South Florida State College's (SFSC) Bachelor of Science in Nursing (BSN) was recently granted continuing accreditation from the Accreditation Commission for Education in Nursing, Inc. (ACEN). Continuing ACEN accreditation has been granted through 2029. The BSN program was initially granted accreditation in 2016. SFSC offers the only nationally accredited nursing programs in its service district of Highlands, Hardee, and DeSoto counties.
"The Bachelor of Science in Nursing at SFSC is based on Dr. Joanne Duffy's Quality Caring Model," said Dr. Michele Heston, SFSC dean of health sciences. "The faculty and students in this program have displayed an extraordinary level of quality care during the extreme challenges they all faced in the past two years. They are all to be commended for responding to the 'Call to Care,' in such powerful ways."
In nursing education, ACEN is one of three accrediting bodies in the country that are recognized by the U.S. Department of Education. The others are the Commission on Collegiate Nursing Education (CCNE) and the Commission for Nursing Education Accreditation (CNEA).
ACEN accreditation is a mark of distinction, certifying that a nursing program adheres to the highest national standards of education. To become accredited, nursing programs must demonstrate that the program meets ACEN's exacting standards of quality through an extensive review. As a result, students who graduate from ACEN-accredited institutions are more readily accepted into other advanced degree nursing programs and have broader employment opportunities—nationally and internationally.
According to Dr. Heston, accreditation benefits SFSC and its students in a myriad of ways. It aids in student recruitment, provides students with useful information for career and education decision-making, and enables students' eligibility for funding support from federal and state agencies and foundations. ACEN accreditation is required by many nursing programs for admission to undergraduate and graduate programs, is required by some state regulatory agencies, and assists employers seeing graduates who are competent practitioners.
The accreditation and its peer-review process heighten faculty members' and administrators' awareness and responsiveness to areas of a program that need improvement, and it offers faculty members professional development and validation.
SFSC's licensed practical nursing to associate degree in nursing transition program was launched in 1984. In response to community need, the College established a traditional Associate in Science in Nursing (ADN) in 1993. The BSN was first offered at SFSC in fall 2014.
SFSC currently offers an online BSN, a two-year generic Associate in Science in Nursing, a one-year transition licensed practical nurse to registered nurse Associate in Science in Nursing, and an 11-month Practical Nursing (PN) occupational certificate. For more information about SFSC's Nursing programs, contact Danielle Ochoa, Health Sciences advisor at 863-784-7027 or by email at healthsciences@southflorida.edu.
These nursing programs are among several Health Sciences programs offered by SFSC and include dental hygiene, dental assisting, radiography, health services, phlebotomy, paramedic, and emergency medical technician.
ACEN is responsible for the specialized accreditation of nursing education programs, both postsecondary and higher degree, which offers a certificate, a diploma, or a recognized professional degree (clinical doctorate, master's/post-master's certificate, baccalaureate, associate, diploma, and practical). For more about ACEN, visit acenursing.org.
AVON PARK, Fla. – May 11, 2022 – South Florida State College (SFSC) marked the end of the 2021-22 academic year with its spring Commencement held in two ceremonies on Tuesday, May 10 in the SFSC Alan Jay Wildstein Center for the Performing Arts on the Highlands Campus in Avon Park.
During the 4:30 p.m. ceremony, SFSC honored the recipients of the Associate in Arts and State of Florida High School Diploma.
Honored during the 7:30 p.m. ceremony were students who earned their Bachelor of Applied Science in Supervision and Management (BAS-SM), Bachelor of Science in Elementary Education (BSEE), Bachelor of Science in Nursing (BSN), Associate in Science (AS), and Career and College Credit certificates.
Opening the ceremonies, Tami Cullens, chair of the SFSC District Board of Trustees told the graduates, "Class of 2022, tonight you will become part of the greater South Florida State College family, an affiliation we hope brings joy throughout your lives. Tomorrow, you are a brighter light to those around you, sharing your knowledge and making a difference in our world."
In his presentation to the graduates during the 4:30 p.m. ceremony, Trent Ferguson, who earned his Associate in Arts and holds a multitude of jobs in the radio industry, said, "I'm totally blind due to an eye condition called Optic Nerve Hypoplasia and attended the Florida School for the Deaf and the Blind in St. Augustine. Learning new information has so many benefits. Knowledge cannot be taken from you. Once it's in your brain, it's there to stay. You can use your knowledge to help others learn and grow. You become well-versed and more confident. Always be willing to step out of your comfort zone and make knowledge your superpower. I wish you a lifetime of happiness, good health, and success."
The 7:30 p.m. ceremony featured Shelby Spencer, who earned her Bachelor of Science in Elementary Education (BSEE) and anticipates becoming a kindergarten teacher. "I encourage you to always have a positive attitude no matter the situation," she said to the graduates. "Always look on the bright side and keep faith. Don't ever give up or have a negative outlook on your life. The path can get rocky, but I encourage you to be in constant prayer and always think positive. In preparation for becoming an elementary school teacher, I've been researching how I'd like to decorate my classroom. I found this quote about attitude: 'A great attitude becomes a great day, which becomes a great month, which becomes a great year, which becomes a great life!' Start your day with a positive attitude and your life will be richer for it."
Dr. Thomas C. Leitzel, SFSC president, acknowledged the upcoming retirement of Darlene Saccuzzo, professor of Dental Education, who was recognized for 15 years of excellence in scholarly contributions to students and the College.
Approximately 440 students met the SFSC requirements by spring 2022 Commencement. Of these, 21 received their BAS-SM, 10 received their BSN, 12 received their BSEE, 197 received their AA, 93 received their AS, 10 received their State of Florida High School Diploma, and 97 received the Career and College Credit certificates. Students participating in the Commencement ceremonies totaled 286.

Mace bearer and chief marshal for this year's ceremony was Tom Bush, and marshals were Michele Macbeth, Joan Briand, Jennifer Groves, Kathleen Cappo, Rob Hampton, Ricardo Pantoja, Dr. Maday Leon, Garrett Lee, Cindy Kinser, Tina Stetson, Kendra Wellnitz, Mlisa Manning, Andy Polk, Michael Pate, Richard Hitt, and Dr. Mintoo Patel.
AVON PARK, Fla. – May 10, 2022 – South Florida State College (SFSC) honored graduates of its Dental Hygiene program in a traditional pinning ceremony in the Alan Jay Wildstein Center for the Performing Arts on the Highlands Campus in Avon Park on Friday, May 6. The graduates had just completed their Associate in Science in Dental Hygiene.
Receiving their pins were Megan Anderson, Denise Garza, Jahirel M. Gomez, Jennifer Lopez, Vanessa Rodriquez, Deanna Sheikha, Keijhandra Singh-Truitt, and Jhoelle Tingle.
Jennifer Lopez, 2022 class president, addressed her fellow graduates: "This pinning shows that each one of us is capable of accomplishing our goals when we commit ourselves to them. Anything is possible when we put our minds to it. Dental Hygiene Class of 2022, we are champions, and in the words of Muhammad Ali, 'Champions aren't made in gyms. Champions are made from something they have deep inside them— a desire, a dream, a vision. They have to have the skill, and the will. But the will must be stronger than the skill.'"
Graduates were presented their dental hygiene pins by Dr. Deborah Milliken, chair of SFSC's Dental Education program.
During the ceremony, students and faculty paid homage to Darlene Saccuzzo, professor of Dental Education, in preparation for her retirement in June 2022. "When I think of Professor Saccuzzo, one word comes to mind — excellence," said Dr. Michele Heston, dean of health sciences. "For some, excellence represents the impossible dream. However, not so for her. She continually instilled in her students the desire to strive and do better, to become the very best version of themselves whether in the clinic or the classroom. She radiated caring, professionalism, and compassion."
Upon completing the Dental Hygiene program, graduates become dental hygienists by passing the National Dental Hygiene Board Examination and the Florida State Clinical Licensure Examination. They can, then, work alongside a dentist as a member of a dental health care team.
For more information about SFSC's Associate in Science in Dental Hygiene program, call Danielle Ochoa, Health Sciences advisor at 863-784-7027 or email healthsciences@southflorida.edu.
AVON PARK, Fla. – May 9, 2022 – During the South Florida State College (SFSC) Foundation Legacy Showcase and Fundraiser on Saturday, May 7, Ben Hill Griffin III was posthumously inducted into the 2022 Legacy Society for his service to the Foundation and to the College. Jamie Bateman, SFSC executive director of institutional advancement made the presentation.

"The Foundation Board chose to honor Ben Hill Griffin III, because he and his family have had a long history of support for SFSC," Bateman said. "Since the mid-1980s, what started with Mr. Griffin Jr., Ben Hill Griffin III continued the family's legacy of giving to colleges in support of higher education. Mr. Griffin believed in helping young people and knew the importance of having a college degree and how it could impact a young person's life for the better. Because of their history of support, the Foundation Board felt that this year's Legacy Award should go to someone who has made a difference in the lives of so many."

This is the fourth year that such an honor has taken place. Bill and Lisa Jarrett were inducted into The Legacy Society in 2021, Joan Hartt was inducted in 2020, and Joe Jr. and Gloria Davis were inducted in 2019.

"Congratulations to the Griffin family on Ben Hill Griffin III's induction into the SFSC Foundation's Legacy Society," said John Barben of Robert J. Barben, Inc. and Barben Fruit Company. "The Griffin family has a legacy of giving to postsecondary education in Florida. Ben Hill Griffin Jr. gave to the University of Florida, mainly through athletics. We all know that the stadium is named after him. Ben Hill Griffin III, as CEO of Alico, gave the land where Florida Gulf Coast University now sits.

"Right here, with South Florida State College, he has endowed over 30 scholarships in the last five years. Just recently, I was at a scholarship recognition reception where students talked about what those scholarships meant to them. Some of those students were first time, young college students. Others were returning parents who wanted to make a difference for their families."

Marlene Gonsales, who plans to graduate from the SFSC Bachelor of Applied Science in Supervision and Management (BAS-SM) in spring 2023, was awarded a $1,000 Ben Hill Griffin Jr. General Endowed Scholarship last fall through the SFSC Foundation. Gonsales earned her Associate in Arts from SFSC in May 2021. She is from Lake Placid and works part-time at Publix supermarket.

Upon earning her BAS, Gonsales would like to work at the Publix Corporate Office in Lakeland. "Receiving the Ben Hill Griffin Jr. Endowed Scholarship has definitely relieved the financial stress that comes with attending college," she said. "Before the scholarship, my main concern was having to hold off on getting my degree, but now I'm one step closer to achieving my goal of getting my bachelor's degree."

The Ben Hill Griffin Jr. General Endowed Scholarship gives preference to students who are enrolled full time in any of these bachelor's degree programs at SFSC: Bachelor of Applied Science in Supervision and Management, Bachelor of Science in Elementary Education, or Bachelor of Science in Nursing. It is awarded to students from Highlands, Hardee, or DeSoto Counties.

"Supporting higher education was important to my dad," said Hill Griffin, Ben Hill Griffin III's son. "He realized how fortunate that he was. He grew up in a family that could afford to go to college. It was rewarding for him to give back and support young people who were pursuing a career and a better life for themselves and their families.

"My Dad would say that a lot of people are deserving of this award. I don't think that it ever crossed his mind that he would receive an award for giving. It was something that he was taught and came natural to him. I know that he would appreciate it. It was a part of who he was."
AVON PARK, Fla. – May 6, 2022 – South Florida State College (SFSC) students were honored for academic excellence and community service during the College's Friday, May 6 Annual Student Awards Ceremony on the SFSC Highlands Campus in Avon Park. Each year, faculty honor students who exhibit talent and exemplary quality that go beyond academic standards.
SFSC student Trent Ferguson was honored with the 2021-22 Joseph E. Johnston/Bette L. McDearman Student Services Award for exhibiting great ethics and character, exceptional academic achievement, and for his contribution to the College and community. Ferguson graduates from SFSC on Tuesday, May 10 and will be student Commencement speaker. He plans to pursue a bachelor's degree in Mass Communications from the University of South Florida. He holds several jobs in radio and plays drums with a well-known Highlands County band. Blind since birth, he does not let his blindness stop him from accomplishing his goals.
Students who received awards and recognition for participation in the following academic programs are:
Healthcare Management – Taylor McIntyre
Dental Hygiene – Jahirel Gomez
RN to BSN – Jace Masong
Radiography – Rebecca Nadaskay
EMS/Paramedic – Kaley Piggott
Phlebotomy – Joselyn Ramos
Medical Assisting – Breanna Whitt
Mechatronics – Nicholas Blair
Office Education – Sandraeya Butler
Culinary Arts – Devin Giove
HVAC – Aiden Hagarty
Computer Programming – Nathaniel Lethbridge
Accounting – Erik Ontiveros
Education – Ericka Berthiaume
Economics – Alejandro Cruz-Balleza
Political Science – Janelle Hamilton
American History – Rosemarie Klein
Psychology – Brisa Luevano
Freshman English I – Jordan Vazquez
Theater Appreciation – Jordan Vazquez
Speech – Lisa Klein
Calculus I – Andrew Blackwelder Goitia
Calculus II – Noah Roth
Chemistry – Syed Qadri
General Biology – Mya St. Louis
For more information about South Florida State College and its programs, visit southflorida.edu.
AVON PARK, Fla. – May 5, 2022 – South Florida State College (SFSC) student, Maria Tirado, has been awarded a $1,000 scholarship from Heartland Dental.
Tirado is a first-year Dental Hygiene student, who plans to graduate from SFSC in May 2023. She lives in Cape Coral, Fla. and travels approximately two hours one way to attend classes at the College.

"This scholarship means a lot to me, because I really need the support," Tirado said. "The Dental Hygiene program is full-time, so it's difficult to work. It would even be difficult to have a job on the weekend, because of all the homework and projects you do for class. I use my Saturdays and Sundays for that. This scholarship will help me with my books, food, and gasoline."

Students who are awarded scholarships from Heartland Dental must be currently enrolled in an educational institution's Dental Hygiene program and seeking an associate degree in Dental Hygiene. The scholarship is to be used in the semester following the award. The student must have a cumulative GPA of 3.2 or higher and they must commit to completing an externship at a Heartland Dental support office during their winter or spring break from their program.

Tirado will be eligible to complete her externship with Heartland Dental during SFSC's winter break in December 2022, when she will be able to shadow their hygienists and team members.
SFSC offers a two-year Associate in Science in Dental Hygiene and an 11-month Dental Assistant Career Certificate. For more information about SFSC Dental Education programs, contact Danielle Ochoa, Health Sciences advisor, at 863-784-7027 or by email at healthsciences@southflorida.edu.
About Heartland Dental
Heartland Dental is the nation's largest dental support organization providing non-clinical, administrative support services. What started from the entrepreneurial spirit of Rick Workman, DMD, with his single dental practice, has evolved into affiliating with over 2,300 doctors in over 1,600 locations across 38 states. The company is majority owned by KKR, a leading global investment firm. For additional information, please visit heartland.com. Follow us on LinkedIn, Facebook, Twitter and Instagram.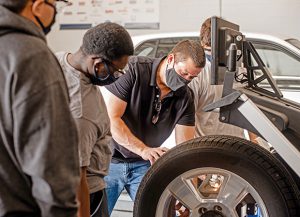 AVON PARK, Fla. – May 5, 2022 — South Florida State College's (SFSC) Automotive Service Technology program at its DeSoto Campus in Arcadia, Fla. recently received continued accreditation to 2027 through the ASE Education Foundation.
The ASE Education Foundation is a non-profit organization that evaluates and accredits entry-level automotive technology education programs against standards developed by the automotive service industry.
Accreditation through ASE Education Foundation signifies that a program meets the highest industry standards and speaks to the quality of the programs' faculty, curriculum, and overall operations. For local employers, it ensures a pool of highly trained entry-level technicians, whose education has been aligned with those industry standards. 
According to the ASE Education Foundation, accreditation is a five-step process in evaluating a college's automotive service program, its structure, processes, resources, materials, and mission.

"Reaccreditation with ASE Education Foundation takes place every five years," said Phil Rizzo, SFSC professor of Automotive Service Technology at the DeSoto Campus. "At SFSC, my program advisory committee and I do a self-review first. We, then, send it to ASE Education Foundation and they review it. They choose an evaluator to do a one-day, onsite evaluation along with two evaluators from our community. In this instance, they came from DeSoto Auto Mall in Arcadia and North Side Shell in Arcadia." 
"Shop and student safety are most important in the evaluation," Rizzo said. "They also look at curriculum and tasks. Ours are identical to the state framework. And they check to see that shop tools and equipment are current."
SFSC offers an 18-month Automotive Service Technology Career Certificate and a 12-month Automotive Collision Technology Technician Career Certificate. For information about these programs, visit the SFSC website at southflorida.edu or call the Advising and Counseling Office at 863-784-7131. For information about the Automotive Service Technology program at the SFSC DeSoto Campus, contact Phil Rizzo at 863-784-7048 or  phil.rizzo@southflorida.edu.
AVON PARK, Fla. – May 3, 2022 – South Florida State College's Athletics Department wrapped up its 2021-22 season on May 3 by honoring the student athletes who lent their talents to the Cross Country, Volleyball, Baseball, and Softball teams and by recognizing several outstanding fans.
SFSC President Dr. Thomas Leitzel opened the awards ceremony in the SFSC University Center by thanking the devoted fans, the coaching staff, and the student athletes.
"I just want to say thank you for everything you do," Dr. Leitzel told the Panther athletes. "It's very important for me to recognize that first you are students because you are student athletes. And it means a lot. The academic recognition that you bring to us is important. I look forward to all the returning students, and to the ones who graduate — we wish you well."
Coach Hitt attributed the success of SFSC's athletic teams to the tremendous amount of support they receive from College staff, their devoted fans, and the community.
"If you went up in a plane or helicopter, and you dropped this massive net over our community, you would encompass a great many things," Hitt said. "There are people in every group, every business, every office, and every facet of this College who do something to support our athletic program. It is unbelievable, and it starts at the top."
Freshmen and sophomore players from the College's four athletic teams received plaques for their participation in their sports. Coaches for the Cross Country and Baseball teams recognized several of their athletes for outstanding accomplishments during the season.
Cross Country Coach Christi Bobo presented the Most Resilient Runner award to Megan O'Sullivan and named Francesca Chillemi the team's Most Valuable Runner.
Coach Hitt gave the Baseball team's Great Catch Award to Deven Tedders. Pitching Leadership Awards were presented to Alex Burden, Blayne Huter, and Bryce Shaffer. Offensive Leadership Awards went to Pedro Moreno, Nico Saladino, and Brylan West. Hitt also announced that West, a freshman who played outfield and first base, will receive an athletic scholarship to SFSC when he returns for his sophomore year.
Brady Markham and Abigale Ayers were recognized as the Male and Female Scholastic Athletes of the Year. Markham, a sophomore from Okeechobee, was a right-handed pitcher and played infield for the Panther Baseball team. Ayers, a sophomore from New Port Richey, played infield for the Lady Panthers Softball team.
Dr. Deborah Fuschetti, SFSC's retired registrar, and Lena Phelps, chair of SFSC's Library Services, were recognized as SFSC Panther Athletic Super Fans. Phelps also received the Panther of the Year Award for 2021-22 for her outstanding contributions to Panther Athletics.
For more information about SFSC's athletic teams, visit southflorida.edu/community/athletics.