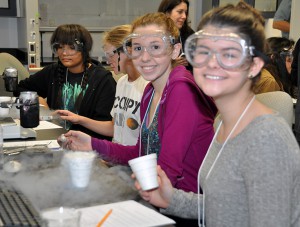 AVON PARK, Fla.–Feb. 17, 2016–Descending upon the South Florida State College (SFSC) Highlands Campus in Avon Park on Feb. 13 were 104 high school juniors and seniors from DeSoto, Hardee, Highlands, and Okeechobee counties who participated in the STEM Scholars program. This program is a science, technology, engineering, and mathematics (STEM) initiative sponsored by the Heartland Educational Consortium.
"Students from small and rural districts face unique challenges, among which is access to enrichment opportunities in STEM," said Lisa Shin of the Heartland Educational Consortium and coordinator of the STEM Scholars program.
"Exposing students to the STEM career fields and research provides an opportunity for academic growth and enrichment," said Dr. Kimberly Batty-Herbert, dean, SFSC Division of Arts and Sciences. "Engineering and other STEM-related fields are predicted to be future high demand jobs. Our intention is to connect these young scholars to career pathways that ensure a rewarding and secure profession in the 21st century workforce."
The students had a full schedule of activities from 9:30 a.m. through 3:30 p.m. Officers with the Highlands County Sheriff's Department presented sessions covering a day in the life of a CSI crime scene technician, through which students learned about fingerprinting, crime scene processing, collecting and casting shoe and tire impressions, and various equipment used in the lab and at the scene.
SFSC faculty led a series of explorations in science. Using a pecan half, a soda can, a twisted paper clip, matches, and lab equipment, students learned about calorimetry by calculating the number of calories in a pecan. By staining E. coli (found in the gut) and Staph aureus (commonly found on the skin), they were able to identify and view these two types of bacteria under a microscope. And in another session, students isolated DNA from their own cheek cells and watched them separate through the process of electrophoresis.
"Over the last five years, South Florida State College has supported our program by providing STEM forums like this one to our students, helping to make them aware of a wide variety of postsecondary and career options in high skill and high wage fields," Shin said.