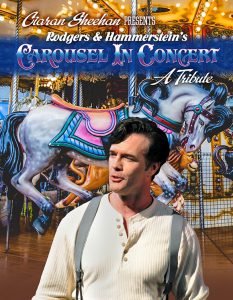 AVON PARK, Fla. – Nov. 15, 2021 – In 1999, Time magazine proclaimed Rodgers and Hammerstein's Carousel the best musical of the 20th century. South Florida State College (SFSC) presents Carousel in Concert on Saturday, Nov. 20 at 7 p.m. at the Alan Jay Wildstein Center for the Performing Arts on the Highlands Campus in Avon Park, Fla.
Carousel follows the tempestuous romance between the swaggering carousel barker, Billy Bigelow, and mill worker, Julie Jordan. This American classic features some of Rodgers and Hammerstein's most iconic pieces, including "If I Loved You," "Mister Snow," "June Is Bustin Out All Over," and the iconic "You'll Never Walk Alone."
"Carousel is a classic American musical," said Cindy Garren, director of cultural arts at SFSC. "Its powerful message about forgiveness and the gorgeous music is inspiring. This is a must-see for theater lovers."  
Carousel in Concert stars Broadway actor/singer/producer Ciarán Sheehan. Born in Dublin, Sheehan made his Broadway debut as Marius in Le Misérables and eventually as Raoul in The Phantom of the Opera. He then starred in the coveted role of the phantom for over 1,000 performances. Sheehan has starred in numerous productions with The Irish Repertory Company, sold-out four performances at Carnegie Hall in New York, and appeared on Law and Order, One Life to Live, Another World, Late Night with David Letterman, and on PBS nationally.
Critic Jeremy Gerard from Hollywood Variety wrote, "Sheehan has the kind of soaring stage voice from which indelible Broadway moments are made — the best yet."
Dawn Cantwell, who stars as Julie, originated the role of Young Meg in Sting's Broadway musical, The Last Ship. She costarred in Wicked as Nessarose and in numerous roles in national tours of Les Misérables, The Master Class, and Romeo and Juliet. She is currently a faculty member at the New York Conservatory for Dramatic Arts.
"This is a concert version of the play," Garren said. "The performers narrate the story.  There's no dancing or scenery because the focus is on the music with a cast of Broadway performers who are flying here from New York City to our stage."
Upcoming Artist Series performances include: The Gatlin Brothers Country & Christmas; Elvis Birthday Bash starring Mike Albert, Scot Bruce, and The Big E Band; The World of Musicals; Grammy award winner Lee Ann Womack; Argentina Tango Fire; The Simon & Garfunkel Story; National Dance Company of Ireland in Rhythm of the Dance; and Neil Berg's 50 Years of Rock & Roll – Part 2.
Tickets for Carousel in Concert start at $27 and are available online at sfscARTS.org or at the SFSC Box Office at 863-784-7178. The box office located at 600 West College Drive in Avon Park on the campus of South Florida State College. Subscriptions are available for the nine-show series. "The best deal is the silver subscription for $285," added Garren. "That's nine shows for the price of seven."