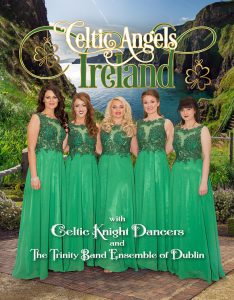 AVON PARK, Fla. – March 3, 2021 – Celtic Angels return to the Alan Jay Wildstein Center for the Performing Arts at South Florida State College (SFSC) on Thursday, March 4 for two performances at 3 p.m. and 7 p.m.
"They wowed our audience when they performed their Christmas show in 2018," said Cindy Garren, director of cultural programs at SFSC. "Their lyrical voices, the beautiful gowns, and the incredible performance by the all-male dance corps was truly a memorable concert." 
The Celtic Angels performance celebrates their heritage through Irish dance, music, and song, performing the selections "Danny Boy," "Ireland I'm Coming Home," and "Rocky Road to Dublin." The Trinity Band Ensemble of Dublin back up the songstresses on authentic traditional Irish instruments.
Some of the sweetest voices under heaven make up the Celtic Angels: Victoria Kenny, Emily Carroll, Tammy Browne, Amy Penston, and Ellie Mullane — Irish to the core and seasoned entertainers all. These ladies cut their teeth in such musicals as "West Side Story," "Grease," and in Jury's Irish Cabaret.
Patrick O'Mahoney of Riverdance leads the Celtic Knight Dancers, an athletic dance team that leaves audiences speechless with their rhythms and artistry. It's a genuine Irish production and suitable for family audiences.
The capacity in the 1,460-seat Alan Jay Wildstein Center for the Performing Arts has been reduced to 400 seats with social distancing. Face masks are required to enter the venue and during the performance. All performances are a minimum of 75 minutes without an intermission to reduce movement throughout the venue. Parking is free. Concessions are not available and patrons may bring a plastic bottle of water to the venue.
Tickets for Celtic Angels Ireland are $30, $35, and $40. Pairs of seats are available online at sfscarts.org. For groups of three, four, or more, call the SFSC Box Office at 863-784-7178. The Alan Jay Wildstein Center for the Performing Arts is located at 600 West College Drive on SFSC's Highlands Campus in Avon Park.
Upcoming performances include: Canadian Brass on March 11, Johnny Peers and Muttville Comics on March 7, Sail On – Beach Boys tribute on March 9, and the Chicago tribute band Chi-Town Transit on March 23.