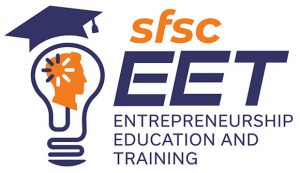 AVON PARK, Fla. – Jan. 22, 2021 – Many of today's employers report having difficulty finding suitable candidates for positions within their companies or organizations because prospective employees lack intra- and interpersonal skills. These needed soft skills include teamwork, communication, mental agility, flexibility, strong analytical and critical thinking, and innovation.
Through the Florida Department of Education, South Florida State College (SFSC) has been awarded a $47,000 grant to address these concerns. With these grant funds, an Entrepreneurship Education and Training (EET) program will be developed through a partnership between SFSC, the School Board of Highlands County (SBHC), CareerSource Heartland, Alpha Umi, Inc., and the Florida Small Business Development Center at the University of South Florida (USF).
The EET will take a three-pronged approach to offering pathways for high school and college students that develop entrepreneurship and small business leadership skills and provide tools needed to excel in the workplace.
In one part of the EET program, foundational entrepreneurial skills will be embedded directly into Career Technical Education (CTE) curriculum starting fall 2021 to assist high school students in developing labor market-relevant employability skills and inspire them to continue their training in postsecondary programs of study. Upon successful completion, high school students will be awarded the 5G™ Edge industry certification and a corresponding digital badge though Alpha Umi, Inc. If they subsequently enroll in a program at SFSC, these students may convert the certification, via experiential learning credit, to two college elective credits for completing the requirements of SFSC's course, Five Generations at Work (SLS 1351).
"The SBHC is excited to partner with SFSC throughout different CTE programs," said Rebekah Wills, career and technical education resource teacher, School Board of Highlands County.   "Through the Entrepreneurship Education and Training Grant, students will begin to receive the foundational soft skills development and will have the opportunity to earn a nationally recognized certification. The foundational entrepreneurial skills will be embedded throughout different CTE courses in all three of our district's high schools in the 2021-2022 school year. These skills will assist students in obtaining and keeping high-skill and high-wage jobs in our community."
"We are super excited about the opportunity to partner with the School Board of Highlands County to offer soft skills training and certification for high school CTE instructors who, in turn, will integrate this directly into their curriculum," said Erik Christensen, SFSC dean of applied science and technologies. "Employers consistently tell us that the number one issue they have in hiring new employees is a lack of soft skills. Our goal, after the grant ends, is to extend this initiative to the other school districts in our service district—DeSoto and Hardee counties."
A three-hour Soft Skills Essential Boot Camp will be developed for SFSC students from components of Alpha Umi's 5G™ Power Skills curriculum. CTE students will be required to complete this mini-course prior to interviewing for, or participating in, an internship or co-operative learning experience program with a local business or industry as part of their program study. The boot camp focuses on demonstrating knowledge and understanding of essential soft skills. Equipped with these skills, students will be ready for their initial job interview and their internship experience, with an eye toward landing a full-time job in their chosen career path. Implementation of the Soft Skills Essential Boot Camp will begin in summer or fall 2021.
"We are confident that the soft skills boot camp will help our students make a better first impression when participating in internships in our various CTE programs," Christensen said. "This is so important because many students end up working for the companies that they intern for while at the College."
Suitable for any CTE student and business or non-business major, SFSC will offer a new course at SFSC, Introduction to Entrepreneurship (GEB 2112), in the fall 2021 term to build upon a solid foundation of soft skills and equip students with a thorough understanding of the general theories, principles, concepts, and practices of entrepreneurship. The course will require no prerequisites and provide hands-on skills to assist students in succeeding as entrepreneurs and help prepare them to pass the Certiport Entrepreneurship and Small Business (ESB) Certification, an industry-recognized certification.
"We hope that the new course, Introduction to Entrepreneurship, will be useful for students and people in our community, not just business majors, who are interested in starting their own business and becoming an entrepreneur," Christensen said. 
"We are excited to be in this partnership and look forward to the positive outcomes it provides for our students," Wills said.
For more information about the EET program, contact Christensen at Erik.Christensen@southflorida.edu or call 863-784-7424.