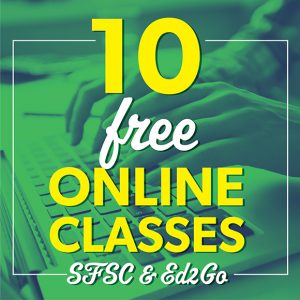 AVON PARK, Fla. – May 19, 2020 – South Florida State College (SFSC) is offering 10 free, non-credit online courses in partnership with ed2go, an educational company that offers online tutorial and instructor-led courses in a variety of disciplines. These free courses can aid individuals in achieving their personal and professional goals in job hunting, personal finance, communications, website development, management, and marketing.
The 10 courses are: "Twelve Steps to a Successful Job Search," "Individual Excellence," "Personal Finance," "Keys to Effective Communication," "Creating Web Pages," "Creating WordPress Websites," "Managing Customer Service," "Fundamentals of Supervision and Management," "Small Business Marketing on a Shoestring," and "Marketing Your Business on the Internet."
These self-paced, tutorial courses are available 24 hours a day, 7 days week. Students may begin a course anytime through Wednesday, July 1, 2020. However, once the student has enrolled in a course, it is available to the student for up to three months. To learn more about any of these free, online courses, visit ed2go.com/sfsc/ and in the Search box, type "Free." To enroll in a course, click the course and click "Add to Cart." For more information, contact the SFSC Corporate and Community Education Department at CommunityEducation@southflorida.edu or call 863-784-7388.