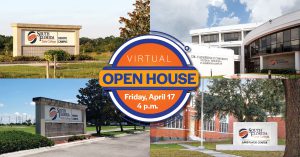 AVON PARK, Fla. – April 9, 2020 – Preparing to attend college can seem intimidating, but South Florida State College (SFSC) is making it easier for prospective students by offering a free Virtual Open House on Friday, April 17 at 4 p.m., on Zoom, a video conferencing program.
This 30-minute, interactive open house is for those who are interested in learning more about what is expected of students, classes the College offers, applying to the College, registering for classes, and applying for financial aid. Some of the questions that may be answered are: What if I don't know my college major? Can I complete my degree online? What is a hybrid course?
SFSC directors from the Highlands Campus, DeSoto Campus, Hardee Campus, and Lake Placid Center and a representative from the SFSC Financial Aid Office will be on hand to answer campus-specific questions.
To register for SFSC's upcoming Virtual Open House or for more information, email recruiter@southflorida.edu. Sign up for a free Zoom account at Zoom.us.