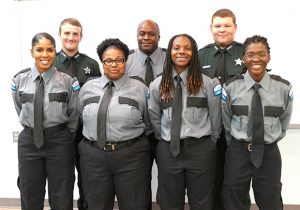 AVON PARK, Fla. – June 10, 2019 – South Florida State College (SFSC) graduated seven new correctional officers on Thursday, June 6, at the Highlands Campus in Avon Park.
Michael Austin, coordinator of SFSC's Criminal Justice Academy, called the seven cadets to the stage and handed each new officer a certificate. Those receiving a certificate were class leader Nekesha M. Dials, executive officer Mascola G. Miller, Mary McClee Banks, Amelia R. Hamilton, Mark Kodie Roberts, Austin Wade Waldron, and Kameria K. Wesley.
Some of the cadets were singled out for their achievements during the 11 weeks of instruction. Earning top honors for academic excellence was Nekesha Dials and for top firearms for his work on the shooting range was Mark Roberts. Dials was given special recognition as class leader as was Mascolo Miller as executive officer.
Guest speaker for the ceremony was LaKisha Collins, correctional probation senior officer with the Florida Department of Corrections and a member of the SFSC Criminal Justice Academy faculty since 2015.
Addressing the cadets, Collins said, "You made it to this day. Hold your heads up high and enjoy the milestones that you've fulfilled. Don't worry about doing great things; do little things with great love. And remember that someone else's success does not define your own. Rather than compete with others, share and support each other. A community is about building one another up and sharing the wealth. Your turn will come regardless of the wall you might bump up against. There will be moments in your life that will show you clarity. You're destined for greatness. Believe in yourselves as we all believe in you."
Upon successful completion of SFSC 420-contact-hour Basic Correctional Officer Program, students earn an Occupational Certificate and are eligible to take the state certification examination to become a certified officer. For more information about this program or any other programs offered through the SFSC Criminal Justice Academy, call Austin at 863-784-7282 or email Michael.Austin@southflorida.edu.