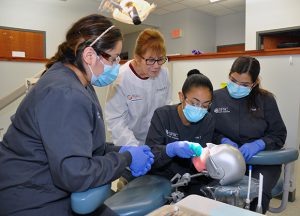 AVON PARK, Fla. – July 28, 2020 – South Florida State College (SFSC) honored 10 graduates of its Dental Hygiene program and 12 graduates of its Dental Assisting program in a pinning ceremony in the Alan J. Wildstein Center for the Performing Arts at SFSC on Thursday, July 16. Dental Hygiene graduates receiving their pins were: Kimberly Albritton, Sarah Brock, Cristin Carlisle, Taylor Connell, Carly Earls, Kenyon Liles, Kolby Lipe, Patricia Pacheo-Trahan, Francesca Pemble, and Jacqueline Perez. Dental Assisting graduates receiving their pins were: Aliyah Blas, Annetude Delhomme, Julia Figueroa, Oliva Frazier, Veronica Molina, Sofia Monroy, Maria Perez, Sierra Rodriquez, Tatiana Sanchez, Bertha Sosa, Ana Toledo, and Jennifer Vargas.
To open the ceremony, Dr. Deborah Milliken, chair of SFSC's Dental Education program, congratulated the graduates on behalf of herself and the faculty.
The keynote speaker for the pinning ceremony was Norine Dowd, a retired dental hygienist and current adjunct instructor at SFSC. She served as president of the Florida Dental Hygiene Association and was a member of the American Dental Hygiene Association Board of Trustees.
Dowd spoke with the graduates on the changes in infection control from when she started out in a dental practice. "I started my dental career in 1979. We did not use any personal protective equipment (PPE). Yes, you heard me correctly—no masks, no gloves, no eye protection, and no scrubs. We had a box in the storage room labeled 'HEP-B.' It contained PPE and sterile instruments to be used if a patient was a known hepatitis carrier."
Dowd explained that things changed in the late 1980s when a young college student in Florida became the first person to be infected with HIV AIDS through blood exposure in a dental office. In response, the Centers for Disease Control and Prevention (CDC) developed universal precautions and, in 1993, standard precautions.
"Now we have a new epidemic and we are learning that even more personal protection is needed," Dowd said. "And more needs to be done to protect the patients and staff from aerosols. In 32 years, when you are standing here giving the keynote speech, what will you remember of your first job during the COVID-19 pandemic?"
"I am immensely proud of the dental hygienist and dental assistants in the community," she said. "They have stepped up and worked with the dentists and office staff to implement the new guidelines and are safely serving patients in the community again. Now you will join them. Please stay safe. Keep informed and vigilant, and always advocate for the safety of all in your practice."
Upon completing the two-year Associate in Science Dental Hygiene program, graduates become dental hygienists by passing the National Board Dental Hygiene Examination (NBDHE) and the Florida State Clinical Licensure Examination. They can, then, work alongside a dentist as a member of a dental health care team.
After completing the 11-month Career Certificate program in Dental Assisting, graduates can work as certified dental assistants by passing the Dental Assisting National Board Examination (DANB) and qualifying for the Expanded Functions Dental Assisting Certification as well as Orthodontic Assistant Certification.
For more information on SFSC's Dental Education programs, call 863-784-7027 or email healthsciences@southflorida.edu.