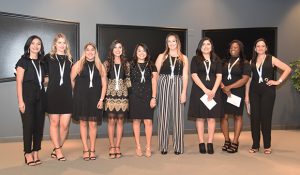 AVON PARK, Fla. – June 18, 2019 – Of the nine students who graduated from South Florida State College's (SFSC) Dental Hygiene Program in May 2019, 100% passed the required Patient Treatment Clinical Examination.
The Patient Treatment Clinical Examination was developed by the American Board of Dental Examiners (ADEX) and is administered by the Commission on Dental Competency Assessments (CDCA).
The SFSC dental hygiene graduates took the four-hour examination in early June. To pass the exam, they are required to perform a number of significant dental hygiene treatments on a patient. The patient treatment is then checked for completeness and accuracy by three independent examiners.
To become licensed to practice as a dental hygienist in Florida, students must pass four exams. The mandatory exams include the National Dental Hygiene Board Exam, the Patient Treatment Clinical Exam, the Computer Simulated Patient Treatment Exam, and Florida State Laws and Rules.
Once a student has passed the National Dental Hygiene Board Exam, the Patient Treatment Clinical Exam, and the Computer Simulated Patient Treatment Exam, they receive CDCA status. "This means that the student, if they choose, can practice their profession in any of the participating CDCA licensing jurisdictions," said Darlene Saccuzzo, SFSC Dental Education professor. "To date, 46 states and Jamaica are recognized as CDCA jurisdictions. This gives our students great opportunity to move from state to state to practice as dental hygienists, which is something that was not available years ago. The only requirement would be that the student or hygienist must pass the Laws and Rules exams in the state where they decide to practice."
"When we receive a 100% pass rate for our program, we feel we have prepared our students well," Saccuzzo said. "The exams are stressful, difficult, and demanding. And when prospective students are searching for the program that meets their needs, one thing they consider are the pass rates. If a student invests their time and finances in a course of study, they want to be sure they are receiving a solid educational foundation. This certainty would be a deciding factor for prospective students' investment in the future."
For more information about the dental programs at SFSC, call 863-453-6661, email healthsciences@southflorida.edu or visit southflorida.edu.