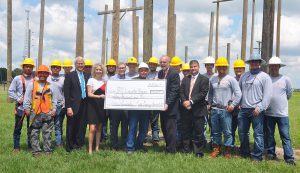 AVON PARK, Fla. — Sept. 6, 2019 — South Florida State College (SFSC) received a $15,000 grant from Duke Energy Foundation to create powerful communities in its service district of Hardee, DeSoto, and Highlands counties. The College is one of 18 organizations across Florida to receive grants supporting innovative workforce education and training programs through Duke Energy Foundation's Powerful Communities program.
This grant will infuse SFSC's Electrical Lineworker program with enhanced and updated equipment, increased training capabilities, enhanced readiness for job opportunities, and preparation for natural disasters, such as hurricanes. Equipment that will be purchased with the grant money are climbing kits that assist students in climbing utility poles; chromated copper arsenate-coated utility poles that students will use to practice rigging, setting, and climbing; aluminum conductor steel-reinforced wire to rig power transmission lines; and cross arms for the tops of power lines that students will use to become proficient in rigging and setting cross arms on power poles.
"The College is excited about its continuing partnership with Duke Energy and the opportunity to upgrade and improve the training capabilities of our Electrical Lineworker program through this grant," said Erik Christensen, SFSC dean of applied sciences and technologies. "The grant will allow us to enhance that program with updated training equipment and tools which will enable us to provide expanded training opportunities for our students. As a result, our graduates will be better trained and prepared to enter the workforce and the disaster recovery capabilities of our service district will strengthen."
SFSC's Electrical Lineworker program prepares students to work as electric line technicians in the construction, maintenance, and repair of electric utility overhaul and underground systems. Through 1,500 contact hours of training at the College's Hardee or DeSoto Campus, students gain an understanding of electrical systems, operations, and safety while mastering competencies in electrical distribution, basic electrical theory, and underground electrical construction operations. They learn how to maintain electric power systems and use electrical distribution equipment. The program provides practice in climbing, framing, building single and three-phase overhead lines, pole top and bucket rescue techniques, operating bucket trucks, and maintaining and repairing underground systems. Students who successfully complete the program earn a Career Certificate.
"We are proud to support South Florida State College's Electrical Lineworker Certificate program," said Catherine Stempien, Duke Energy Florida president. "The grant helps fund equipment that enables students to practice skills and gain real-world experience, directly aligning with industry changes and Duke Energy's smarter energy future and grid modernization initiatives. Our workforce development grants help build stronger communities across the state by empowering a well-prepared workforce to meet needs in high-demand fields."
"We value our partnership with Duke Energy and all that they continue to do in support of our college and this community," said Jamie Bateman, SFSC executive director of institutional advancement and the SFSC Foundation. "Duke Energy's team has gone the extra mile to work with our students and explain all of the requirements necessary for our students to get placed into a lineworker career. Our partnership goes beyond this grant as they work with our program directors in giving our students a competitive advantage when applying for positions after graduation. It's this type of partnership and this type of friendship that exemplifies the meaning of community. We are grateful for their dedication and partnership."
The Duke Energy Foundation's Powerful Communities program makes strategic investments to build powerful communities where our natural resources thrive, students can excel, and a talented workforce drives economic prosperity for all. Every year, the Foundation gives more than $30 million to communities throughout Duke Energy's seven-state service area.
For more information about SFSC's Electrical Lineworker program, contact Christopher Yeomans, electrical distribution professor, by emailing YeomansC@southflorida.edu or calling 863-784-7045.
DUKE ENERGY FOUNDATION
The Duke Energy Foundation provides philanthropic support to meet the needs of communities where Duke Energy's customers live and work. The Foundation contributes more than $30 million annual in charitable gifts and is funded by Duke Energy shareholder dollars. More information about the Foundation and its Powerful Communities program can be found at duke-energy.com/foundation.
Duke Energy (NYSE: DUK), a Fortune 125 company headquartered in Charlotte, N.C., is one of the largest energy holding companies in the United States. It employs 30,000 people and has an electric generating capacity of 51,000 megawatts through it regulated utilities and 3,000 megawatts through its nonregulated Duke Energy Renewables unit.