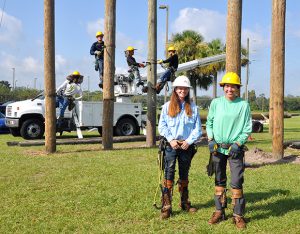 AVON PARK, Fla. – June 14, 2022 – South Florida State College (SFSC) is bringing the Electrical Lineworker Career Certificate program back to its DeSoto Campus in Arcadia in fall 2022. The program is currently offered at the SFSC Hardee Campus in Bowling Green.
"Locally providing skills needed for high-wage occupations is a big part of what our College is about," said Asena Mott, SFSC DeSoto Campus director. "Students can study for their future without the barriers of traveling. In some fields, online classes can work fine, but in the field of lineworker, so much hands-on learning is required that virtual learning is not feasible. Offering these classes for students locally brings the opportunity directly to the student."
The Electrical Lineworker program prepares students for careers in the power distribution industry. It provides practice in climbing, framing, building single and three-phase overhead lines, pole top and bucket rescue techniques, operating bucket trucks, and maintaining and repairing underground systems.
Graduates of the program earn a Career Certificate and a Class A Commercial Driver's License (CDL). Upon completion, 20 credits can be applied to the SFSC Associate in Applied Science in Industrial Management. Those credits are approximately 30% of that degree.
Classes will be held Monday through Friday, and students may attend full time or part time. Morning class times are 8 to 11:20 a.m.; afternoon classes are 12:15 to 3:35 p.m.
Mott indicated that graduates' job prospects are outstanding. "Jobs are available all over the region, state, and across the country," she said. "Graduates are prepared to enter the workforce with the knowledge needed for success at any of the local power companies or subcontractors."
"I'm really excited that we're bringing the Lineworker program back to DeSoto County," said Dr. Bobby Bennett, superintendent of the School District of DeSoto County. "It's been a fixture for our students for a number of years, and I'm so pleased that Dr. Thomas Leitzel, SFSC president, and Dr. Sidney Valentine, SFSC vice president for academic affairs and student services, have the vision to bring it back to DeSoto County. It's a good move for our students in terms of future employment opportunities and the training they'll get. We did not want our students to have to get on the road to Hardee County for this program. We want to build it right here in DeSoto County, so we're just as pleased as we can be. I have friends who I went to high school with who are lineworkers and they have done exceptionally well in that career. It's a great opportunity for our students to have."
For more information about the Electrical Lineworker Career Certificate program at the SFSC DeSoto Campus, contact Mott at 863-784-7041 or motta@southflorida.edu or Laura Wilder, student advisor, at 863-784-7052 or WilderL@southflorida.edu.