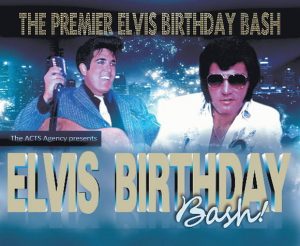 AVON PARK, Fla. – Dec. 16, 2021 – Mike Albert, who has been portraying Elvis onstage for 31 years, brings his Big E Band to the Alan Jay Wildstein Center for the Performing Arts at South Florida State College (SFSC) in Avon Park on Saturday, Jan. 8 at 7 p.m. Albert, who has won many "Elvis" contests, travels the country performing tribute concerts, often with the actual groups that backed Presley, including The Jordanaires and The Stamps.
Albert, who grew up in Canton and Carrollton, Ohio, is a full-time auctioneer who performs at major venues across the country about 60 times a year. His costumes, which cost between $2,800 and $6,500, are created by the gentleman who had patterns to Presley's costumes.  "Mine are exact reproductions," said Albert. "These are not sequins or paint. It's all rhinestones, studded, and embroidered, and it's heavy."           
Actor and musician Scot Bruce kicks off the Elvis Birthday Bash with his '50s era Elvis show. His uncanny resemblance to the young "King" has taken his live show across the U.S. and all over the world. Recently, he had the honor of performing with the legendary Jordanaires (Elvis' original backup singers) and appeared as "Elvis at 21" at the Smithsonian's prestigious Elvis exhibit in 2011. Bruce played Elvis on E! Entertainment Network's "True Hollywood Story: Elvis in Hollywood." He has appeared in music videos with Faith Hill and Sheryl Crow portraying a young Elvis, and he held recurring roles on the hit soap operas Days of Our Lives and The Bold and the Beautiful. Bruce also tours with the 'Legends of Rock & Roll – Buddy, Roy & Elvis.'
Mike Albert, "The World's Finest Elvis Impersonator," plays the second half of the evening. His sincere, respectful portrayal of "The King" has earned endorsements by Elvis Presley's own musicians and back-up singers. He regularly performs with The Jordanaires, and his style, charisma, and ability to get the audience involved in the show have proved to be quite the crowd pleaser. Albert makes it a point to keep The Elvis Birthday Bash fresh with an ever-changing song lineup. Special requests are often delivered to audiences who are "All Shook Up!"
Tickets are $40, $30, and $25, and groups of 12 and more save 50%. The performance is sponsored by Crews Companies. Tickets can be purchased online at sfscARTS.org, by phone at 863-784-7178, or in person at the SFSC Performing Arts Box Office on the campus of South Florida State College located at 600 West College Drive in Avon Park.