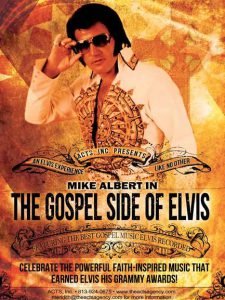 AVON PARK, Fla. – Dec. 12, 2019 – Mike Albert, who has been portraying Elvis Presley onstage for 29 years, brings his Big E Band and a gospel quartet to the Alan Jay Wildstein Center for the Performing Arts at South Florida State College (SFSC) on Tuesday, Jan. 7 at 7 p.m. Albert, who has won many Elvis contests, travels the country performing tribute concerts, often with the actual groups that backed Presley, The Jordanaires, and The Stamps. Tickets are $32, $36, $40, and $50; groups of 13 or more save 25%.
"Mike and his band were here a few years ago," said Cindy Garren, director of cultural programs at SFSC, "And the audience loved him. His performance is respectful; it's not kitschy. And, boy, Mike sure can sing." The performance is sponsored by Dr. Michael Kirsch and Sebring Pain Management, Dr. Witford, and Mrs. Inga Reid. 
Albert, who grew up in Canton and Carrollton, Ohio, is a full-time auctioneer who performs at major venues across the country about 60 times a year. His costumes, which cost between $2,800 and $6,500, are created by the gentleman who had patterns to Presley's costumes. "Mine are exact reproductions," said Albert. "These are not sequins or paint. It's all rhinestones, studded and embroidered, and it's heavy."
Although Presley was known as the "King of Rock & Roll," his three Grammy Awards were for his gospel music. After his death, the Gospel Music Association inducted Presley in its Hall of Fame. Three of his gospel albums: "His Hand in Mine," "How Great Thou Art," and "He Touched Me" would go on to reach platinum or multiplatinum status.
Presley won his first Grammy Award in 1967 for Best Sacred Performance for his version of "How Great Thou Art." In 1972, he won his second Grammy for Best Inspirational Performance and, in 1974, he won his third Grammy for a live performance of "How Great Thou Art."
Expect to hear gospel favorites like "You'll Never Walk Alone," "Peace in the Valley," "Take My Hand, Precious Lord," and "I Believe in the Man in the Sky." 
Tickets can be purchased online at sfscarts.org, by phone at 863-784-7178, or in person at the SFSC Performing Arts Box Office on the Highlands Campus of South Florida State College located at 600 West College Drive in Avon Park.