AVON PARK, Fla. – July 29, 2016 – South Florida State College's graduated a class of 15 paramedics during an evening ceremony at the SFSC University Center Auditorium on July 27.
Receiving their paramedic certificates were: Front row, from left: Mark Kinsey, Brian Johnson, Aaron Eures, Ryan Huber, Kevin Cornine, Rebecca Crews, Cody Harden, Carlos Navarrete, and Danny Bailey. Back row, from left: Jacoben Jimenez, Dean Hrobar, Lance Meachum, Jeff Fussell, and Jason Stroppel, and Kevin Shireman.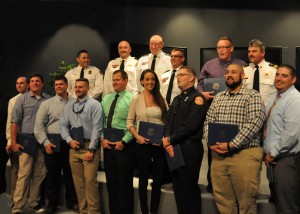 The graduates had just completed an 11-month college credit certificate course offered by SFSC's Emergency Medical Services (EMS) program. Paramedics work as part of an emergency response team called out to traffic accidents, fires, and other life-threatening situations.
Gary Hester, who is deputy manager of Polk County and oversees Polk's emergency management services, served as the ceremony's guest speaker. He praised the graduates for their willingness to serve their communities by choosing to become paramedics.
"There is no higher calling than serving your fellow humans when they are in need and danger," Hester said. "In my time managing emergency services, I've seen paramedics perform miracles in the most complex and daunting situations."
Hester noted he has observed paramedics intubate patients wedged between furniture and using flashlights gripped with their teeth for light. "Now contrast that with an intubation performed in an emergency room and you can see just how critical it is to have skilled, dedicated paramedics serving our communities," he said.
Several of the graduates received special awards. Dean Hrobar earned an award for the highest overall grade point average. The award for highest test scores for performance in the lab went to Danny Bailey.
Kevin Shireman received the "Most Heart" award for his dedication to completing the course and fostering an esprit de corps among the class.
The class president, Jeff Fussell, who serves as battalion commander with Polk County Fire Rescue, presented a plaque on behalf of his classmates to Steve Ashworth, chair of the SFSC EMS and Fire Science programs, for the dedication, devotion, and guidance he has shown by his leadership at the college.
SFSC offers a 300-hour course leading to employment as an emergency medical technician (EMT). EMTs provide entry-level patient care as part of an emergency response team.
SFSC also offers a two-year Associate in Science degree program in Emergency Medical Services, which includes training in both EMT and paramedic programs. Upon completing this program, graduates can work in a supervisory EMS capacity.
For more information, contact Steven Ashworth at 784-7272 or ashworths@southflorida.edu.