AVON PARK, Fla.–April 14, 2016–Four women and seven men, recently, made history at South Florida State College. They were members of the first class to graduate from SFSC's fire science program.
The graduates are now eligible to join the ranks of career firefighters serving in county and municipal fire departments, with one already putting in full-time shifts.
Family members of the graduates, SFSC officials, and fire officers from across the state watched the graduates mount the stage in the SFSC University Center Auditorium to collect their diplomas.
"We are so proud of what you have accomplished, and it's fitting to say 'congratulations' to you all," Kevin Brown, dean of applied sciences and technologies, told the graduates.
Brown, one of the college's administrators who led the drive to bring a firefighting training program to SFSC praised the work the instructors put into moving the inaugural class of recruits through the nine months of training.
"We are also proud to announce that as of today 90 percent of the class have passed their practical examination," Brown said.
The 11 recruits represent a range of backgrounds. Some are career paramedics looking to move into firefighting. One, only a few years out of high school, wants to fulfill his dream of fighting fires. Two recruits are married to each other.
One of the state's most experienced fire officers was on hand to address the graduates and share what he has learned in his 42 years as a paramedic, firefighter, department chief, and now state fire marshal.
"You can't just stop with having learned the basics of firefighting and life-saving skills," said Julius Halas, the director of the Division of State Fire Marshal. "You need to go on and get your associate degree in fire science, and then move on to higher degree levels to improve yourself."
Halas recounted how he started his firefighting career after passing the GED. He told the graduates he learned in the field that leadership required higher education. So, he said, he went back to college for his associate degree, following that up with bachelor's and master's degrees.
"You got to match your life skills with the knowledge you'll get in the classroom," Halas said.
One of those listening to Halas, Rachel Smit, started the program in August. She said she came to the attention of Sebring fire chief Brad Batz, one of the adjunct instructors who taught the recruits.
"Chief Batz saw me applying myself in training and he urged me to sign up with Sebring as an intern," Smit said. "Now I am on full-time and a member of the department."
Smit is the only female firefighter on duty and the third women to serve in Sebring's fire department.
Another graduate, Trenton Carlisle, interns with Sebring's department. He plans to move into a full-time position once he completes his emergency medical technician training at SFSC in July.
SFSC's fire science program was a project 10 years in the making. The program went from dream to reality after the Florida Legislature, at the urging of State Senator Denise Grimsley, appropriated $2.6 million in 2014 for the college to refit existing classroom space, build water and fire towers, and acquire the equipment to open the program on the college's Highlands Campus.
The state requires career firefighters to complete a two-part training program. The initial 206-hour phase, known as Firefighter I, gives recruits the credential needed to serve in a volunteer fire department.
A second 192-hour course, Firefighter II, teaches recruits the additional skills to work as a career firefighter in a county or city fire department.
SFSC joins 42 state-approved training centers across the state in offering the two-part course, including 15 of Florida's state colleges.
Entry into the SFSC fire science program requires candidates to have a high school diploma or its equivalent, undergo a background check, and pass a physical examination.
For Smit, the nine months of pulling heavy hoses, tearing through ceiling tiles, and extinguishing set fires, was worth the effort.
"I am so happy that I've already started my dream career and I am just graduating," Smit said. "It's wonderful— my fellow firefighters treat me as one the guys now."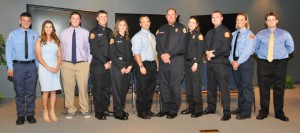 The graduates of SFSC's fire science program. From left, Trenton Carlisle, Brianna Blosser, Coleton Choate, George Bailey, Cheryl Bailey, Michael Darrow, Lawrence Dunn, Robin Gilileo, James Schaill, Rachel Smit, and Stephen Wilson.