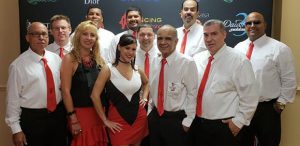 AVON PARK, Fla. – Oct. 26, 2021 – Grab your grandma, the kids, and your best dance partner for a high-energy, free concert with La Orquesta Caribeño Tropicale on Saturday, Nov. 6 at 7 p.m., at the Alan Jay Wildstein Center for the Performing Arts at South Florida State College in Avon Park. Caribeño Tropicale performs the rich heritage sounds of the Caribbean and Latin America. Expect to hear and dance to favorites likes "Trucutu," "Aquanile," "El Ritmo de la Noche," and "Fiesta I Fiesta."
"This is a lively show that will keep you moving all night," said Cindy Garren, director of Cultural Programs at SFSC. "Families will enjoy salsa, mambo, and cumbia music played with today's modern sound. It will definitely be an exuberant show!"
Salsa music borrows much from the Cuban music genre of son. Through the musicians' use of percussion instruments such as the clave, maracas, conga, bongo, and cowbell—the instruments and the singers often mimic the call-and-response patterns of traditional African songs and then break into the chorus. Other salsa instruments include the vibraphone, marimba, bass, guitar, violin, piano, accordion, and flute, and a brass section of trombone, trumpet, and saxophone. Today's modern sound includes electronics.
Salsa spices up music and dancing, but there is much debate about where salsa originated. One school of thought claims that salsa is a newer version of traditional Afro-Cuban forms and rhythms, so the birthplace must be Cuba. The other school of thought about the genre's history says that if salsa had a passport, the date of birth would be the 1960s and its birthplace would be New York, N.Y. where it developed from Cuban and Puerto Rican musicians.
This performance is funded in part by the National Endowment for the Arts. Seating is general admission and tickets will be available at the door. To get tickets in advance, visit sfscarts.org/show/orquesto-caribeno-tropicale. For a complete list of upcoming performances, to view videos, and for more information, visit sfscARTS.org or call 863-784-7178.
The Alan Jay Wildstein Center for the Performing Arts is located on the campus of SFSC at 600 West College Drive in Avon Park. The 1,460-seat venue features a Meyer sound system, an IMAG screens for onstage close-ups, and ADA seating. Face masks are encouraged, but not required.  The venue is disinfected and sanitized prior to every performance. Seating is not socially distanced at this time.