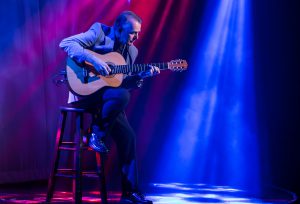 Dec. 18, 2020 – Since 1985, South Florida State College (SFSC) has presented the popular Goodtime Tuesdays Matinee Series which includes country and pop music, rock & roll tributes, and international recording artist, Bertie Higgins. Matinee performances begin Jan. 19 and run to March 23, every Tuesday.
With social distancing and reduced capacity of only 440 seats, two shows are available for most performances with 10 a.m. and 1:30 p.m. shows. All performances will take place at the Alan Jay Wildstein Center for the Performing Arts at 600 West College Drive in Avon Park. Parking is free. Tickets for the Matinee Series of performances range from $15 to $32. Because of limited seating, group discounts and subscriptions are not available.
Following CDC guidelines and recommendations from the Event Safety Alliance, there are new protocols for health and safety. Face masks are required, including during the performance. All performances run 75–90 minutes without an intermission. Concessions are not available and patrons may bring a plastic bottle of water into the theater. All areas of the Wildstein Center are sanitized and disinfected before every show. 
"Audiences love coming to spend the afternoon in Highlands County," said Cindy Garren, director of cultural programs at SFSC. "Do a little golfing on our Citrus Trail, visit the historic Hotel Jacaranda for a delightful lunch, shop, and see a top-notch show. Plus you get home before dark!" 
The Music of John Denver with Ted Vigil kicks off the popular series on Jan. 19 with a performance of Denver's inspiring and memorable music like "Rocky Mountain High" and "Thank God I'm a Country Boy." Tickets are $17, $22, and $28.
Comedian, musician and songwriter Jim Stafford had several hits in the 70s including "My Girl Bill," "Swamp Witch," and the gold record "Spiders and Snakes." His award-winning Branson show has been selling out since 1993. Performances are Tuesday, Jan. 26 at 1:30 p.m. and Wednesday, Jan. 27 at 1:30 p.m. Tickets are $22, $26, and $32.
Shades of Bublé, a three-man tribute to Michael Buble delivers swinging standards, Billboard hits, and big band standards in a high energy concert. Two performances will take place on Feb. 2. Tickets are $15, $20, and $28.
Rhinestone Cowboy Memories stars Jeff Dayton, who was Glen Campbell's band leader and right hand man for 15 years in a heartwarming performance of Campbell's biggest hits and the stories behind them. Two matinee shows take place on Feb. 9. Tickets are $15, $20, and $25.
"Key Largo," "Casablanca," "Just Another Day in Paradise," and "Son of a Beach" were international hits for Florida native and a member of the Florida Artist Hall of Fame, Bertie Higgins. Two performances are on Feb. 16. Tickets are $22, $26, and $32.
Turnstiles, starring Tony Monaco, is a passionate and energetic tribute to Billy Joel. "The audience loved them when Turnstiles performed on our stage a few years ago," added Garren, "And people kept asking to bring them back." Two performances are scheduled for Feb. 23. Tickets are $22, $26, and $32.
With selections from the Great American Songbook, classic Broadway and pop tunes from the 40s and 50s, America's Sweethearts, celebrate America's history with crystal clear harmonies and colorful costumes. Two performances are on March 2. Tickets are $15, $20, and $25.
Nashville-based Sail On performs all the classic hits of the Beach Boys plus a few brilliant extended songs from the Beach Boys catalog. Faithfully recreating the timeless music of surfing, cruising, and dreaming, two performances take place on March 9. Tickets are $22, $26, and $32.
Chi-Town Transit is a seven-member ensemble that exclusively plays the music of Chicago. You will be wowed with their renditions from the famed "rock band with horns." Two performances are on March 23. Tickets are $22, $26, and $32.
All programs, artists, dates and times are subject to change and/or cancellation. In the event of a cancellation, refunds will be issued to ticketholders.
Videos and information are available online at sfscARTS.org. Tickets can be purchased online, by phone at 863-784-7178, or visiting the box office located at 600 West College Drive in Avon Park. The SFSC Box Office will be closed for winter break, Dec. 19 – Jan. 3, reopening Jan. 4 at 11:30 a.m.
The performing arts program at South Florida State College is funded in part by the Florida Department of State Division of Cultural Affairs and by a grant from South Arts in partnership with the National Endowment for the Arts.