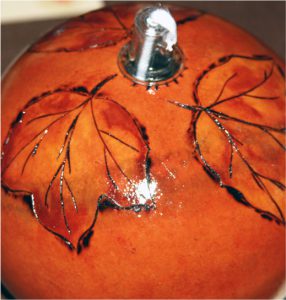 AVON PARK, Fla. – Aug. 28, 2019 – The South Florida State College (SFSC) Museum of Florida Art and Culture (MOFAC) is offering a Gourd Artistry Workshop with Jacqueline Andrews on Saturday, Oct. 12, 9 a.m. – 2 p.m., in the Art Department, Room A-15, SFSC Highlands Campus in Avon Park.
During the workshop, participants will learn the history of gourd decoration and make their own fall-themed gourd oil lamps. All materials will be provided for the class, including wood burning kits, paint markers, and alcohol ink. Participants who have their own wood burning kits are welcome to bring them. Participants may bring their own lunch or purchase lunch off-campus. The cost of the workshop is $40. The size of the workshop is limited to 10 students. To register for the workshop, contact Megan Stepe, MOFAC curator, by emailing stepem@southflorida.edu or calling 863-784-7240.
Instructor Jacqueline Andrews is a self-taught gourd artisan. The gourds she uses in her work mainly come from the American Southwest, where the climate is optimal for their growth. They produce hard and thick shells, which are perfect for wood burning and carving. Inks, dyes, paints, and stains are also used to add color and dimension to the design.
A long-time Sebring resident, Andrews has served as president of the Highlands Art League several times. She is a member of and a certified judge for the American Gourd Society, a member of the Florida Gourd Society, and an adjunct instructor at SFSC. She earned her Bachelor of Arts in Psychology from Rippon College in Ripon, Wisc.